Wishful thinking aside, content marketing is not a quick fix for lead generation. Just like any other B2B marketing strategy, it takes time to see results – even if you don't have the luxury to wait for them.
Many of us are supposedly doing everything right. We're publishing two great blog posts a week, working on webinars, eBooks, social campaigns…the list goes on. But at the end of the day, we're still not seeing enough leads! Why? Because our content isn't reaching the right target audience. The best way to improve this is with targeted prospecting.
In a recent Oktopost webinar, Trent Dyrsmid, Founder of Groove Digital Marketing, shed some light on the answer to our B2B marketing woes: targeted account selling, or targeted prospecting. The concept, which author Chet Holmes zeroes in on in his book, "The Ultimate Sales Machine," is based on creating a very specific list of ideal prospects that meet certain criteria.
Create a Manageable List of Qualified Prospects
The problem with cold calling is not just its outdated approach. The bigger issue that you feel like you're dealing with an infinite number of prospects. Chances are you'll only connect with each of these prospects once – which is the exact opposite of proper B2B marketing lead nurturing.
According to Trent, targeted prospecting is the most effective way to compile a list of high-qualified prospects. If you're selling a high-priced product, you might only end up with a few dozen prospects on list, as opposed to a low-priced one, in which you case you may have several hundred.
B2B marketing, and content marketing specifically, is much more successful when you have a specific list of contacts you can reach out to and nurture repeatedly, over a long period of time.
Where Do I Find this Magic List?!
The short answer:
LinkedIn
The much longer answer:
Option #1: Use LinkedIn Advanced Search Filters
As a marketer, before you begin your LinkedIn research, hold a few brainstorming sessions with the sales team to fully understand who your ideal prospect is.
Define what constitutes a high-quality lead by asking:
What size companies are you targeting?
Which specific job titles are you selling to?
What level of seniority do they have?
Which industry is most relevant for your products?
To find potential B2B marketing prospects on LinkedIn, at the top of the screen, where the main search field is located, click on the "Advanced" hyperlink to the right. You'll be redirected to the "Advanced People Search" screen, where you can start searching for your target prospects.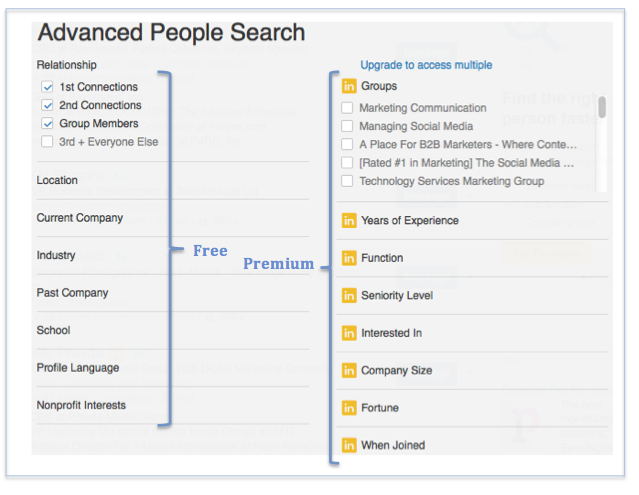 How Do I Search with a Free Account?
Before you consider upgrading to a Premium account, check if the filters available in the free version are sufficient for your targeting needs. The Advanced Search Filter in the basic account are extremely helpful – especially the location, industry, and profile language criteria.
If you're promoting a product or service that fits a wide range of budgets and industries, you'll probably find these filters adequate, without needing to upgrade to Premium.
Free LinkedIn Advanced Search Filters:
Relationship (1st Connections, 2nd, etc.)
Location
Current Company
Industry
Past Company
School
Profile Language
Nonprofit Interests
How Do I Search with a Premium Account?
To pay, or not to pay? There's no reason to continue the endless debate about whether a LinkedIn Premium account is worthwhile on the whole. However, there's no denying that the extra features it offers can come in quite handy when creating your list of prospects.
If you're marketing a high-end product, it may be worthwhile to upgrade, given that your potential pool of prospects needs to fit a very particular set of criteria. The Premium version offers Advanced Search Filters such as Job Function, Seniority Level, and Fortune 1000 – which can really make a difference when you're putting together your list.
Premium LinkedIn Advanced Search Filters:
Years of Experience
Job Function
Shared Groups
Opportunities Interested In
Seniority Level
Company Size
Fortune 1000
Recently Joined
Option #2: Use LinkedIn Discussion Groups
It's no secret that prospects prefer you build a relationship with them first, before you start selling. In other words, as Forbes Contributor Mike Templeman put it, "stop trying to kiss your B2B clients on the first date." In B2B marketing, engagement is the name of the game; LinkedIn Groups are a great way to engage prospects via an industry-wide discussion, instead of a direct personal message.
The quickest way to find relevant Groups is to look for one keyword in the main search field at the top of your LinkedIn screen, for example "Marketing." Next, click on the "stack" icon to the left, and select "Groups." You can also narrow down the Groups by adding a second keyword to the search, such as a geographic location. Before joining, make sure to read the Group Info Section to learn about stats such as the number of members, comments, job function, and more.

Best Practices for Engaging in LinkedIn Groups:
Check the Group Rules before you start posting
In the subject line, ask a question instead of writing a statement
Keep your questions short, and your message under 250 characters
Share a mix of original content and curated content
Express a personal opinion in the message itself
Only share valuable content; avoid promotional materials
Always monitor for comments, and respond promptly
*Bonus LinkedIn Targeting Tip
Is there an upcoming conference or event for your industry? Check out the list of sponsors on the website. Once you have the names of these companies, Trent recommends using LinkedIn to find the most relevant team members and adding them to your target list.
My Target List is Ready! Where Do I Find the Contact Details?
The short answer:
LinkedIn, Twitter, Rapporto, Vibe, Connect6°
The much longer answer:
Check LinkedIn First
In LinkedIn, you'll be able to access part of each prospect's contact details, based on your network relationship. When viewing a profile, in the section below the photo, click on the "Contact Info" tab.
If the prospect is a LinkedIn Connection, you can view:
If the prospect isn't a Connection, you can view only:
Twitter
Websites (Personal/Company)
In terms of direct messages, unless you have a Premium account – in which case you can send InMails to anyone, you can only send inbox messages to your connections.
There's a small loophole: if you and the target prospect are both members of a certain LinkedIn Group, you can actually send them a direct message. Search for the person in the Members section of the Group, and LinkedIn will give you the option of sending him or her a message.
No Luck? Give Twitter a Shot
Yes, this one's pretty obvious. Although many of us still live in our email inbox, sometimes, it's actually easier to get someone's attention on Twitter instead. As with LinkedIn, the trick is not to start selling right off the bat. Start by following the prospect's Twitter handle, or even better – create a Twitter List specifically for prospecting, and start engaging when a relevant tweet appears.
Likewise, you can also mention that prospect in one of your tweets, as long as it offers information that's valuable to them; for example, provide a link to a blog, eBook, or webinar that's up their alley.
If the prospect is well known in the industry, and also happens to be relevant to your marketing objectives, you can tweet them to request an interview, which you can then publish on your blog or turn into a podcast. Right before the interview, do a 10-15 discussion during which you also ask "buried" questions to qualify them about whether they'd be a qualified prospect or not.
This is an excellent way to connect with a prospect, and a strategy that Trent has successfully implemented on his BrightIdeas.co blog, which features a number of interviews with influencers.
Or, Just Install a Contact Discovery Plugin
There are a number of browser extensions and email add-ons you can use to either verify if a prospect's email is correct, and
which also shows you more information about that person.
It can be a bit of a guessing game to figure out the address, but at least you'll know it's the right one. These tools also provide rich contact details, such as social profile information and even interests.
If you're reaching out by email, you must provide the prospect with value in the form of relevant content, an interview offer, or even a compliment on an achievement or well-written article. Direct selling will most likely not get you anywhere, and worse, it can make you look like a spammer.
Do a bit of online research first. Depending on the specific prospect and the information available, carefully read his or her LinkedIn Profile, recent tweets, blogs or guest posts (if relevant), etc.
Rapportive used to be the contact discovery tool of choice for this – but its technical bugs have pushed marketers to start using a number of alternatives, outlined below.
Contact Discovery Tools: Alternatives to Rapportive
VibeApp: Displays a wealth of profile information when you hover over an email address, including name, designation, work history, company, social media handle and more. Works with Gmail, Outlook and other email clients, also has a Chrome extension.
Connect6°: A Chrome extension that provides real-time contact info, such as job title, employer, skills –even emails and phone number, as you browse the web and social networks.
What Do I Say to the Prospect?
The short answer: [Image Credit: Trent Dyrsmid]

The slightly longer answer:
Regardless of how you reach out to the prospect, first ask yourself: What's in it for them? Ask questions, be helpful, share your content, share curated content, and add value. This is the only way to nurture your prospects successfully throughout each stage of the B2B marketing funnel.
It's easier than ever for people to ignore your emails, social messages and calls, so before you start typing or pick up the phone, give it some thought. Whatever approve you take, try to make it as personalized and relevant as possible, based on your research, to make the prospect feel valued.