10 Best B2B Webinar Platforms for 2021
Remember conferences and meetups?! I can only vaguely recall my last conference. So many B2B deals closed, and so many connections made. Today, the very concept of shaking hands to close a deal seems like a distant dream from the past. Part of the "new normal" forced upon us by the COVID-19 pandemic is the shift to digital channels to maintain business continuity. 
It's easy to see that we are witnessing a golden age of online, digital-only events. Between January and April 2020, the number of brands running webinar ads has more than doubled from 223 to 463. This means webinars are now mainstream even with the most traditional of industries. Actually, forget about industries, webinar and online meeting software like Zoom and others are even being used for family gatherings.
Back in the B2B world, companies are increasingly shining a spotlight to online lead generation and engagement. Webinars in particular are ramping up and becoming an integral part of sales processes in 2020 and beyond. 
So what exactly is a webinar, and why are they so crucial to your B2B strategy in 2021?
What are webinars?
Webinars are lectures, presentations, seminars, or workshops hosted online using digital means.
Webinars are usually business-oriented events designed for sharing knowledge rather than directly promoting a sale. They are perfect for lead generation and nurturing, strengthening relationships, developing brand authority, and introducing products to partners in an interactive and engaging way.
Why use webinars in 2021?
If recent global events are any indicator, businesses are and will need to focus on remote solutions for internal engagement with employees and externally with potential and current customers. Since face-to-face presentations are out until further notice, the next best solution is to attend and host virtual events, including webinars.
The value webinars bring to the B2B sales cycle is not hard to see as 95% of marketers report they see webinars as vital to their strategy. Moreover, 73% of B2B marketers said webinars are the best method to generate high-quality leads, and between 20 and 40% of your attendees will become qualified leads. 
Not convinced webairs are right for your funnel? You're right to be a skeptic. Popularity should never be the only reason to make a purchase decision. So here are a few more reasons why you need to start doing webinars:
Since webinars are a lot more cost-efficient than physical events, webinar production can be scaled in frequency without the overhead of a physical event
The relative speed and ease of production make webinars a perfect channel to share uniquely relevant content before it becomes stale in an engaging and interactive way
B2B Webinar platforms offer tools that allow the audience to participate and engage in a personal and personalized way with the speakers and audience
Unlike in-person events, webinars are often recorded and made available for download on-demand, continuing to create value long after the webinar takes place
4 Considerations for Choosing Webinar Software
Before you charge headlong into the list of B2B webinar software we've curated, it's worth reviewing what to consider and what to look for in the webinar software to serve your business needs.
If you're looking to collect lead information from attendees before the webinar, search for a webinar software that offers landing pages as part of the service.
No one likes technical difficulties. To ensure your webinar experience is smooth for both host and guests, choose a software that has positive reviews (user reviews) on UX and test it thoroughly before running a live event.
Some webinars are reserved to a specific audience while others may be open to the public. If you want to ensure no uninvited guests show up, look for a webinar software that allows you to create unique links for each attendee.
Generating and nurturing leads means tracking attendance, engagement, and collecting data from participants. Having a tool that lets you easily collect relevant information from your attendees is important. It's even better if the software lets you sync or export the data into your CRM.
Should you use a dedicated B2B webinar software?
Just because you're looking to run a webinar doesn't mean you need to break the bank, or even open it. In many cases, the basic capabilities of video conferencing software like Zoom or Google meet will serve your needs. If that is the case, you might want to skip the search and save the cash, and use of these two popular video conferencing services to run your webinar.
If you need something more than just the basics (and have the budget for a professional webinar tool)? We've collected the top 10 webinar platforms that offer a wide range of features to match your business needs.
Top 10 Webinar Platforms
WebinarJam dubs itself as perfect for those who have no experience setting up webinar software for their business. One of its unique features is the ability to stream your webinar directly to your company's Facebook or YouTube pages. In addition, there is a "doomsday button" to seamlessly restart the stream if technical difficulties arrive.
Pros
Easy use and quick to get started
Advanced chat features

Up to 6 presenters displayed simultaneously

Webinars can be pushed to YouTube or Facebook Live

Pop-up offers mid-webinar

Consistently handles a range from 500-5000 attendees

Detailed analytics tools 
Cons
Video and sound delay lasting up to a few seconds

Lack of 3rd party AV tool integration
Price: starts at $499 / year.*
*If you activate their "exit intent" pop-up you get an offer for a 14 day trial for $1.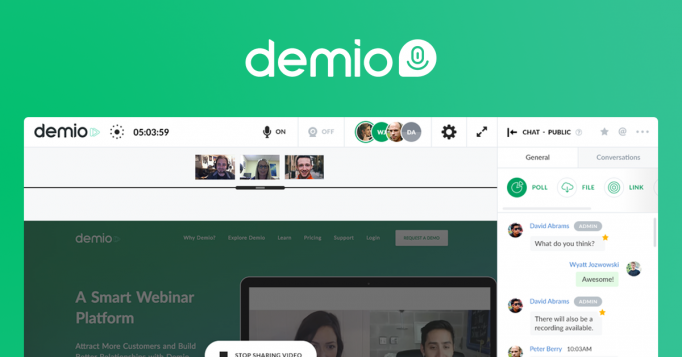 Demio is another webinar software that offers no-download access to webinars for your audience. The software offers support for automated webinars, live webinars and a hybrid of both. Demio also provides a "stay-registered" option, allowing viewers to register for a webinar series without signing up for each webinar individually.
Pros
User-friendly dashboard

Ease of use

Custom registration pages

Engagement features: chat, CTAs, and polls for live events

Evergreen webinars

Integrates with landing page builders

Excellent customer support
Cons
Basic landing page templates

Limited screen sharing

No video replay

No live chat

Gets expensive very quick
Price: 14 day free trial then starts at $49 / month for monthly pricing.
ClickMeeting is well-suited for small to medium-sized businesses. It offers all the standard functionality of a webinar platform with some special features like integrated monetization options, polls and surveys, as well as group and private chats during live events.
Pros
Ease of use

Both live and on-demand webinars

Streaming via Facebook or YouTube Live
Cons
Customer support leaves something to be desired, especially as it is limited to certain hours (Mon-Fri 3AM-5PM EDT, Sat 6AM – 2PM EDT, Sun 6AM – 2PM EDT)

Connectivity issues

Screen sharing can be buggy
Can get expensive
Price: free trial is available then starts at $30 / month for monthly pricing.
WebinarNinja is one of the fastest solutions to implement, and they promise that you can have your platform up and running in under a minute. WebinarNinja's integration with Zapier gives it an edge as it allows for integration with many popular CRMs.
Pros
Live, automated, series, and hybrid webinars 

Customizable funnel templates

Separate chat and Q&A tabs

Great support
Cons
Webinar recordings are limited to 2 hours max

Basic marketing features

Basic registration and thank you page templates
Price: free trial is available then $49 / month for monthly pricing.
EasyWebinar features integration with a range of lead generation tools, marketing software, and shopping carts. It also offers the ability to allow participants to become the presenter with the press of a button, with automatic detection microphone and video devices. Its generous attendee allowance of up to 100 participants, even on the basic plan, is a definite plus, along with WordPress and YouTube Live integration.
Pros
Several integrations
Live support 24/7

Unlimited live attendees via YouTube Live integration

Reasonable cost 
Cons
User experience is cumbersome

Outdated page templates and poorly implemented live chat

Limited customer support
Price: 3 months free trial (longest trial period) then $78 / month on a monthly basis.
LiveStorm is one of the premiere webinar solutions for medium to large businesses. The platform offers webinar hosting and video conferencing and is one of the most versatile in terms of its compatibility across a wide range of devices. LiveStorm also offers a freemium plan that lets you try the platform before committing to a subscription.
Pros
Browser-based

Live-polls, Q&A, chat, and upvotes

Automated promotional emails

Excellent customer support and analytics

Integrates with CRMs and marketing apps
Cons
Basic registration pages

Fairly expensive, especially for large audiences
Price: Free version is available without time limitation. Most affordable paid plan starts at $109 / month on a monthly contract.
BigMarker is an all-in-one video streaming platform for webinars, virtual conferences, and summits. It allows for up to 10,000 attendees for one webinar and includes comprehensive marketing capabilities, including designing and running email and social media campaigns from within the platform.
Pros
Ease of use

All possible webinar types

Many 3rd party integrations (Mailchimp, Salesforce, Zapier, etc.)

Customer support is excellent
Cons
Not ideal for sales webinars

Email integration is a little clunky

Pop-ups block webinar screen

Expensive
Price: free trial is available then starts at $99 / month on a monthly basis.
GetResponse email marketing software is an email marketing platform that also features a webinar marketing solution. It is another quick-setup platform while offering a range of email marketing tools, including automated email marketing and autoresponders. It also allows the creation of custom URLs, including SSL-encryption and quick-scheduling.
Pros
YouTube integration

Integrated whiteboard for notes and drawings

Detailed reports

In-depth reporting

CRM feature for managing customers at scale
Cons
No phone support available
Price: GetResponse Webinars are offered as part of the "Plus" plan, which starts at $49 / month on a monthly basis.
Adobe Connect is a webinar platform geared toward educators and businesses. This software includes the ability to distribute notes and plans efficiently to participants, choosing from available templates, or creating your own. 
Adobe Connect also excels for enterprises in improving critical communications and business continuity. It is unique in its ability to optimize and customize each webinar room to your exact specifications while offering multi-tiered security and privacy controls.
Pros
Ease of use

Great user interface
Collaboration tools
Analytics
Multi-layered security
Cons
Price

Limited mobile compatibility
Price: Adobe Connect Webinars start at $130 / month.
GoToWebinar, from the creators of GoToMeeting, is a webinar platform that allows up to 5000 participants per session and features a comfortable and intuitive interface.
GoToWebinar can monitor attendee attentiveness and other insightful performance statistics from within the GoToWebinar interface. You can also go deep into the statistics and data after the event is over to understand which aspects were the most engaging and successful.
Pros
Reliability

Automated recording and filing

Variety of integration partners
Cons
Ease of use

No customization
No sales features

Support is only by phone, no chat or email available.

If you plan on having more than 100 participants it can get pricey
Price: Free trial is available. Paid plans start at $109 / month
Webinars are an excellent channel for lead generation. But only as long as you make sure to choose a platform that eases the process and arms you with the necessary tools to effectively produce and run a webinar. 
There are many benefits to premium B2B webinar platforms, especially in terms of lead generation, customer experience, and performance analysis. The challenge for B2B marketers is often in picking one that is both scalable and forward-looking, but not packed with heavy features you don't (and won't) need.