How to Leverage Social Media Publishing for Lead Generation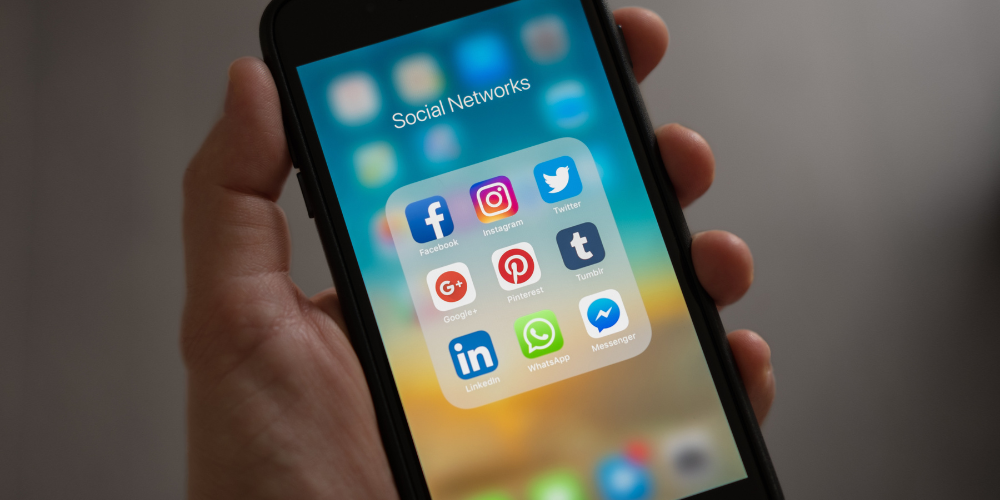 What's the center of the universe? The sun? Pfft. That's old news, Copernicus. These days, and for a while now (a while in internet terms, anyway), the very center of the universe has been social media. 
Yep, that's right, every tweet about American Idol, every mirror selfie, every Boomerang of a Vanilla Bean Crème Frappuccino, and every think-piece published to LinkedIn is part of the big, shining ball of social media around which everything else revolves. 
Okay, maybe coffee orders and selfies aren't the sum total of it all, but it's all connected. Individual social media users spend a lot of time on social media – upwards of five hours per day in the US – and that has created a unique ecosystem perfect for brands looking to grow their customer base, solidify their status above competitors, and sharpen their brand voice and persona to a well-honed point. 
Your mind is probably going to the B2C brands that have made a splash on the socials but, in B2B, the landscape is just as productive and just as fruitful. Social media lead generation is the definitive sweet spot, and here's why…
Jump to Section
Break Down That Wall Between Sales and Marketing
It's a tale as old as time. Your sales and your marketing teams are aiming at the same target, but there's a wall between them that only lets through a vague, hard-to-decipher mumble as they talk with each other. Maybe they cross paths at a couple of meetings each month but, for the most part, everything takes place on either side of that wall. 
And yet, the target remains the same: high-quality leads.
Your marketing team is in charge of your social media publishing strategy. This content will, in many cases, represent your first impression – the very top of the funnel. The majority of B2B decision-makers utilize a range of content before choosing which brands to invest their time and funds into, which is a compelling enough argument for a diverse content publishing strategy in and of itself. 
So, the content has to be good. It has to be really good. It has to be optimized for the exact audience you're looking to attract, which means everything your marketing team creates needs to be informed by what your sales team are looking for. 
Your sales team is in charge of nurturing those leads, but that process is part of the same funnel. 
Make Yourself the Center of the Conversation Through Social Publishing
There are times when the last thing you'd want to do is make yourself the main topic of discussion. It's not the best way to make new friends at dinner parties, and it's definitely not ideal if you're giving a speech at any of the following events: weddings, funerals, other people's birthday parties…the list goes on and on. 
But when you're in marketing, claiming the center of any and all relevant conversations is pretty much the whole point. It's about being the boldest billboard on the highway, the most memorable ad at halftime, and the most authoritative resource on Google's SERP, for which almost 55% of clicks land on the first three results. 
Social media is the land of a million conversations, and a good portion of them are relevant to your brand and its ideal customers. Using social media publishing, you can make major inroads toward thought leadership – a coveted position for any business, where your posts are treated as a key resource by members of your audiences. 
Of course, in order to be treated as a key resource – an authority on your topic – you've got to publish authoritative content that offers something new and genuinely valuable to your audiences. If you can do that, then you can consistently grow your prominence on social media. The more people who interact with the posts, the higher the odds that quality leads not yet on your radar will encounter it organically, and begin to show interest.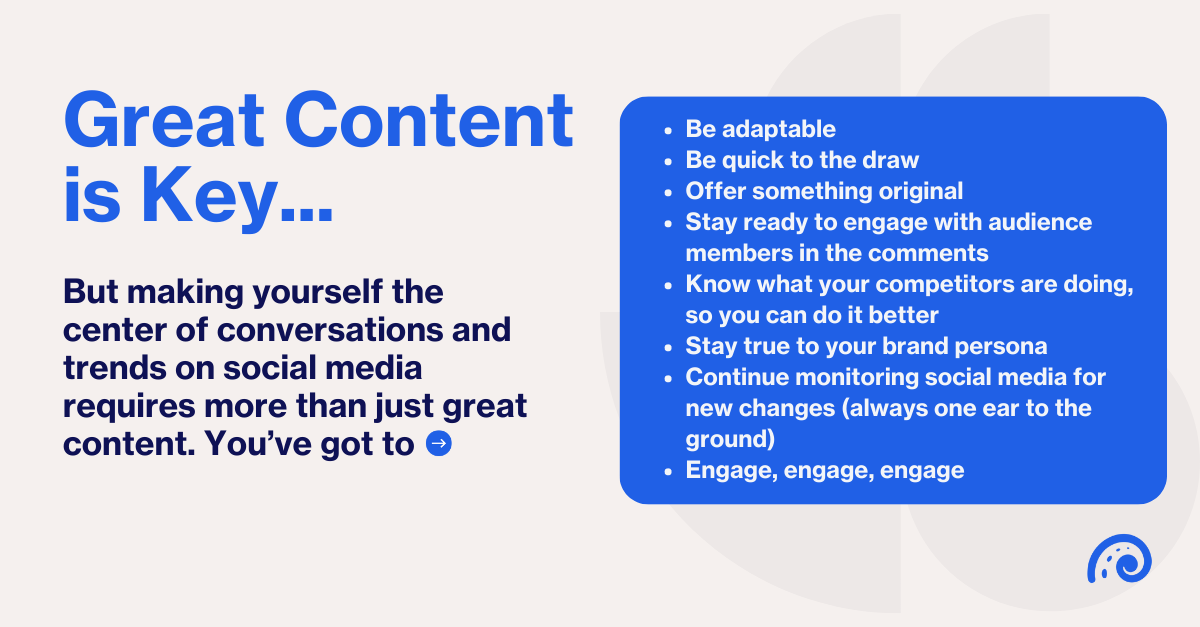 For that, your team will need to utilize the best B2B social publishing tools in order to remain adaptable. 
Embrace Automation
Social media puts a lot of demand on marketing teams. Automating certain aspects of your social media publishing strategy is like lightning the load – making it possible for your team to publish higher quality content at higher (and more consistent) quantities.
Automating content publishing by scheduling social media posts in advance instantly frees your team from the write-and-grind mentality of creating and publishing content to order. 
Deadlines can easily kill creativity – so much so that every deadline we create should come with a big, red warning label. Deadlines restrict our ability to experiment with new ideas; instead, it's easier and safer (and definitely faster) to stick with what we know how to do. 
That's not necessarily going to derail your content publishing strategy, but it won't take it to new heights, either. 
If you plan social media posts in advance, your social media publishing platform can ensure that everyone involved in the process can oversee upcoming posts, approve new content, ensure a rich supply of quality content is stored up for future use, and enjoy the freedom they need to innovate. Scheduling content is the key to creativity. 
This combination of human innovation and automation is what will underpin lead generation content marketing on social media. Why? Because
Experimenting with new approaches to content creation will enable you to appeal to a more diverse audience, with new leads making their way into the funnel. 

Bringing originality into a saturated market is your best bet for standing out, and attracting new leads as a result.

Having the space to create more content without the distraction of an impending publication deadline means you'll have a rich and diverse content store, giving you the edge over competitors who are still scrambling to produce topical content as-and-when trends arise

Automation gives your team the freedom to focus on more fulfilling, creative aspects of the job, rather than the easier, more repetitive parts of content publishing on social media.
Integrate Key Analytics Tools and Other Marketing Platforms
Social media marketing is big – major, even – but it's not the sum total of your brand's marketing efforts. Or, in other words, it shouldn't be – not if you want to master the art of B2B marketing.
It's easy for our attention to scatter…unless we integrate one tool with the next, one set of insights (say, from social media) with another (from email or site visitors).
This is why integration was always a core aspect of our social media management platform. The value of being able to combine analytics, offer full visualization across your marketing channels, and keep everyone on the same page in terms of audience insights, strategy, and lead scoring, as well as streamlining cross platform social media posting, cannot be understated.
Get Proactive About Reaching Out to Leads
The usual touchpoints for drumming up fresh interest from a lead that has gone quiet are still effective. Firing off an email or picking up the phone has marked the pivotal moment between lead and acquisition countless times, and will continue to do for many decades to come, but social media can be just as effective. 
Customers and leads are constantly reaching out to businesses on social media, and well-monitored brand accounts will be quick to respond. But, in many cases, there are opportunities for brands to engage with non-followers simply through a solid, real-time social listening strategy, provided they have the right social media listening tools to pull it off.
Simply by monitoring relevant keywords, you can be on a constant lookout for potential leads on social media. Maybe they're tweeting about a pain point, or publishing regular LinkedIn posts that get a lot of reach among your target audience. Getting proactive and utilizing opportunities to strike up a conversation on social media is one of the key benefits it offers B2B businesses.
Go with the Flow, Always
Things change – people change. Nothing stays the same across a lifetime, a decade, a year – or even, on social media, a day. The best social posting strategies are strong and forward-looking, with plenty of quality content scheduled ahead of time across your social channels and employee advocates. But that strength shouldn't be mistaken for rigidity – the crème de la crème of social media publishing strategies are flexible since social media rarely stays the same for long. 
To perform well on social media, you've got to be a part of that ever-shifting landscape. Your ability to repurpose quality content with the right social media publishing tools at the drop of a hat will be the ultimate test. Quality content is inherently flexible because it's quality content. The directive is that flexible content isn't always quality. Don't produce content that doesn't ultimately satisfy your first intention, so you can shoot from the hip later on. However, when the opportunity presents itself – a trending topic, a shift in cultural attention – for you to repurpose that quality content, and if you can get it right, the rewards are plentiful.