Supercharge Your LinkedIn Engagement with Oktopost's New Mention Feature!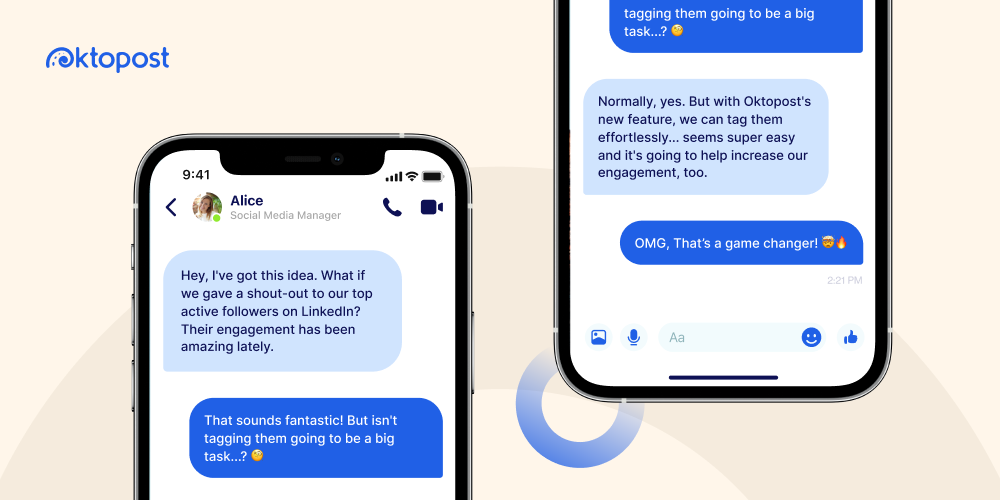 Every social media manager knows the power of a well-placed mention. Tagging another brand or person in your content is more than just a nod—it's an invitation to a conversation, a chance for further engagement, and a strategy to increase the exposure of your content. And when it comes to LinkedIn, the professional networking giant, these conversations can be truly game-changing.
In the past, to mention personal profiles, you had two options: either post natively, thus losing out on the myriad benefits of posting through Oktopost, or post through Oktopost and then edit the post natively—a time-consuming task, to say the least. Companies didn't even have the option to mention their followers, leaving them missing out on critical engagement and exposure opportunities.
At Oktopost, we've been listening to your challenges, and working hard to find a solution. Today, we're thrilled to announce a new feature that will transform the way you interact on LinkedIn.
Jump to Section
The Feature: Revolutionary LinkedIn Mentions
Oktopost's new feature allows you to mention not just your followers, but also everyone that has recently interacted with the content of your company page or personal profile. No need to post natively or tediously edit your posts, you can now mention anyone right within Oktopost.
Benefits: Supercharge Your LinkedIn Engagement and Relationships
The benefits of this new feature are manifold:
Increase Exposure: By mentioning relevant individuals and brands, you draw their attention to your content. This not only increases its visibility but can also extend its reach to their networks.
Foster Interactions: Inviting people into conversations around your content can spark further discussions and engagement. It also provides an opportunity to build relationships and network with key industry players, influencers, and potential clients.
Strengthen Relationships with Followers: When you mention your followers, you're showing them that you value their interaction and loyalty. This can amplify your brand and strengthen the relationships with your followers, turning them into brand advocates.
Potential Lead Generation: Increased exposure and interactions could lead to more visibility among potential clients, thereby increasing the chances of lead generation.
In Action: Engaging Industry Influencers Using Oktopost 
Imagine you're a social media manager at a company using Oktopost, and you notice that a prominent influencer in the social media marketing space follows your company's LinkedIn page. This influencer has a large following of 10,000 individuals, many of whom are likely interested in the same topics that your company specializes in. You decide to share a blog post about the importance of tracking key KPIs in social media marketing on your LinkedIn company page. 
With Oktopost's new feature, you can seamlessly mention this influencer directly in your post, inviting them and their large network into the discussion. This strategy not only increases the exposure of your post but also encourages an engaging discussion around your content. It shows the influencer (and their audience) that you value their opinion and insights, which can foster a deeper connection and even turn the influencer into a brand advocate. 
This is just one example of how Oktopost's new feature can supercharge your LinkedIn engagement and help you build more meaningful relationships with your followers.
Conclusion
This exciting new feature is just another example of how Oktopost is committed to making your social media management as smooth and efficient as possible. As we continue to innovate and expand our features, we remain focused on delivering value to our users and addressing their pain points. The LinkedIn mention feature is here to enhance your brand exposure, increase engagement, and strengthen relationships, one mention at a time. We can't wait to see how you'll leverage this feature to supercharge your LinkedIn engagement.
Stay tuned for more updates and improvements from Oktopost. Until then, happy mentioning!