How to Create and Boast a Brand Customers Trust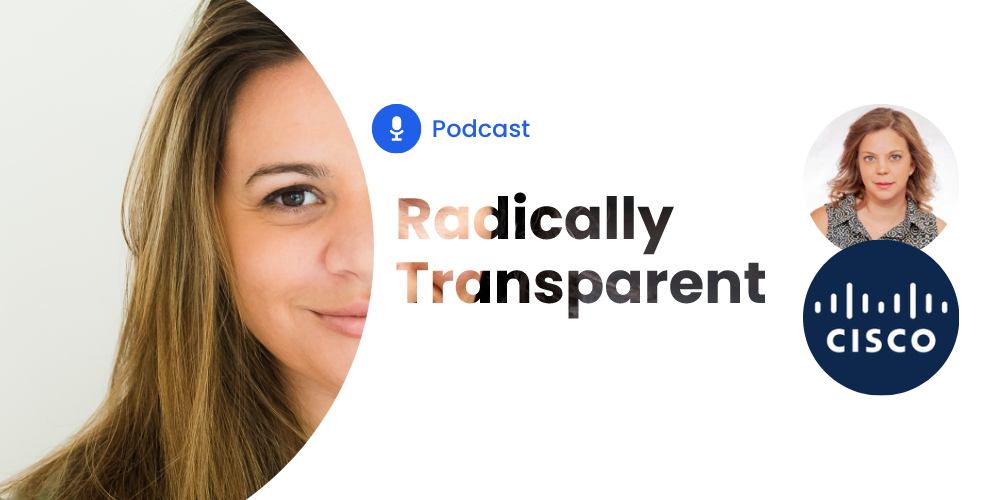 Listen to the podcast:
Or catch us on Apple Podcasts, Spotify, or YouTube.
Want to hear more from renowned B2B marketing leaders? Catch all episodes here.
Episode Summary
Marketing teams' holy grail is to create and boast a brand customers trust. But how is that trust built? And even more debated in marketing circles, how is brand trust effectively and accurately measured?
Introducing Talia Schmidt, Country Marketing Lead at Cisco, an expert in brand building and a featured guest on the Radically Transparent podcast.
In this episode, Talia unravels why at the very core of understanding the effectiveness of brand trust is data. She battles with why it's often easier to measure lead generation campaigns than branding and reveals where organizations can focus when it comes to figuring out a good way to measure effectiveness of brand campaigns over a period of time.
Throughout the episode, Talia reminds marketers that brand marketing is a long play. She's also transparent about why regardless of company size brand marketing is an essential and important part of any marketing function.
Hot Topics of this Episode Include:
How to build brand trust that ignites meaningful relationships
Understanding if what you're doing for the brand is actually effective
How marketers can prove the value of brand marketing through data
Meet Talia
Talia Schmidt leads the marketing efforts for Cisco in Israel as the senior marketing persona in the country. In her role Schmidt oversees the long-range strategy and planning for Cisco Israel. As part of the Cisco management team inIsrael, Schmidt is responsible for leading the marketing efforts, setting strategy and supporting the strategic and business goals of Cisco Systems in Israel. In addition, she leads the marketing domain across all company groups in Israel including new acquisitions, business units, development and R&D groups and sales organizations.
A Marketing Leader of 15 years with a record as part of founding teams of several Startup companies, she holds a strong background setting and executing strategy, and propelling growth in technology-focused start-ups specifically in B2B, cloud and SaaS -based technologies and products.
In previous roles, Schmidt was VP marketing, EMEA at AllCloud, the biggest cloud solution provider in Israel and was a founding member of Atera, A SaaS company for IT infrastructure management. Earlier career roles include executive positions as a member of the founding team at adCore, a SaaS company for digital marketing automation and additional leadership roles in marketing and product management.
Schmidt holds a Bachelor's degree in international relations and far eastern studies from the Hebrew university in Jerusalem and a Master's degree in Business Administration, from the international program at Tel Aviv University.
Watch the recording:
Subscribe to the Radically Transparent Podcast: