The New Media Library: Simplify Collaboration and Maximize the Impact of Your Visuals
B2B marketing is becoming increasingly visual, and the best place to flex your brand imagery is social media.
According to LinkedIn, posts with images typically result in a 2x higher comment rate. As to other networks, HubSpot reports that Facebook visual content sees 2.3x more engagement, while Tweets with images receive 18% more clickthroughs and 150% more retweets. For B2B social media teams charged with delivering high engagement, including compelling visuals in nearly every post is a given.
The question is – what to do with your exponentially growing archive of images, videos, and GIFs?
Digital Asset Management for Social Media
We're thrilled to announce our new Media Library, a smarter and easier way to organize all of your social media visuals. With Oktopost, remote and distributed marketing teams can now efficiently manage visual assets and collaborate with each other. Your colleagues can quickly find and share pre-approved, on-brand images for every social campaign – all in one centralized place inside your social media management platform.
Oktopost's Media Library is not only a more comfortable way to organize social visuals and collaborate on them, but also a powerful tool to maximize the impact and usage of your creative assets. Let's take a closer look at the benefits it can bring to your organization.
Centralize Your on-Brand Assets
Make your company's approved visuals easily accessible to all your team members, where they can quickly get whatever they need. The Media Library is one place for your entire organization to store, collaborate on and find social images.
Now you can upload media files without using them in a post, and users can download them directly from the Library.
Streamline Publishing with AI Image Search
Effective digital assets management can also streamline your social publishing workflows. Take advantage of AI-powered search to quickly find relevant images for your social posts: Oktopost is automatically tagging all files in the Media Library to make it easily searchable. You can always edit tags or add your own.
Leverage Evergreen Visuals
Evergreen content is the name of the game for B2B marketers. So why not capitalize on compelling visuals too? You can repurpose the most engaging images for your future campaigns to deliver the best outcomes. Each file in the Media Library is tagged according to the campaign it's used in.
Bonus Feature: Canva Integration
Canva is one of the primary image editing tools used by social media teams. And now it's available right from Oktopost: you can create original social graphics or use existing images and templates from your Canva account, without leaving the Media Library. How awesome is that?
Bonus Feature #2: GIPHY Integration
We know how much you love a good GIF. And it does have a place in B2B marketing – so we can add a touch of humor to our content. To help you up your GIF game, we've built an integration with GIPHY that allows you to search the world's biggest database of GIFs and quickly add them to your social posts.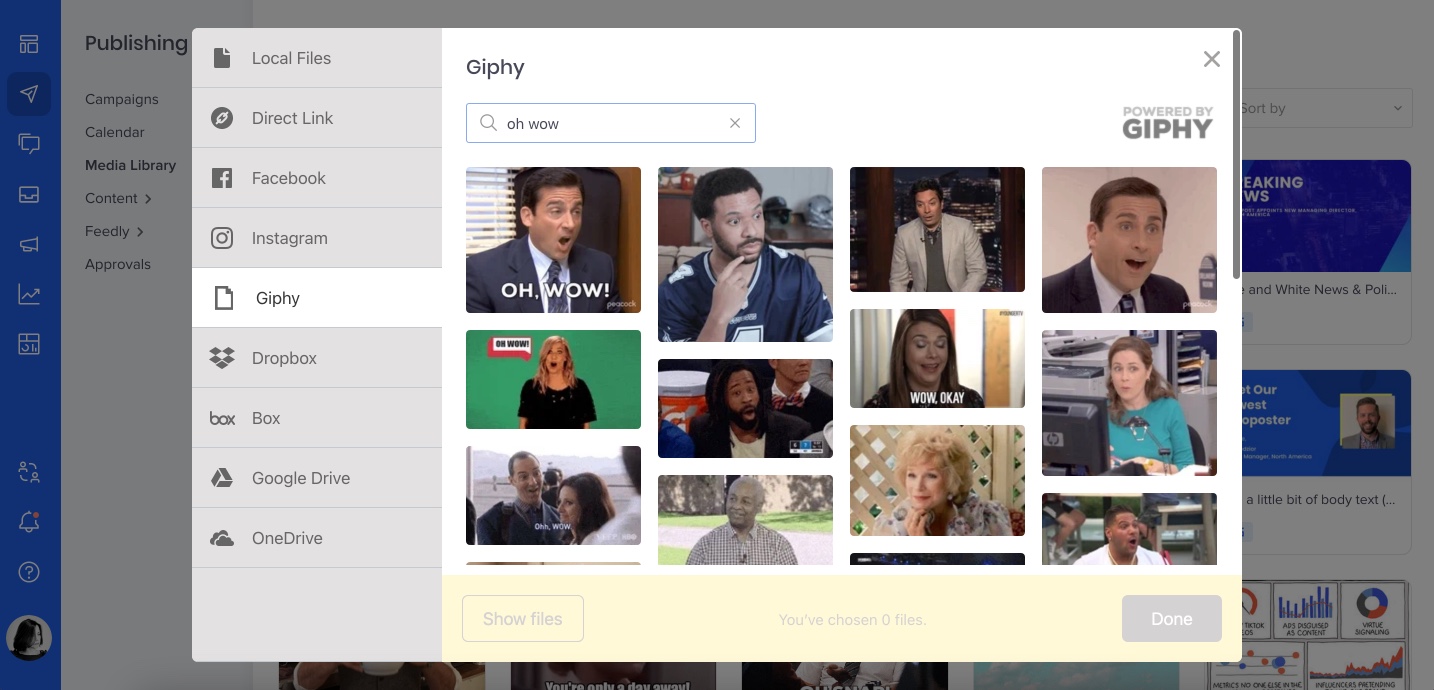 In the following months, we'll keep adding new features to make your social media asset management even smarter and easier – stay tuned for more updates. Meanwhile, take a tour of the new Media Library and let us know what you think!