Social Selling Benefits: 7 Reasons You Should Be Doing It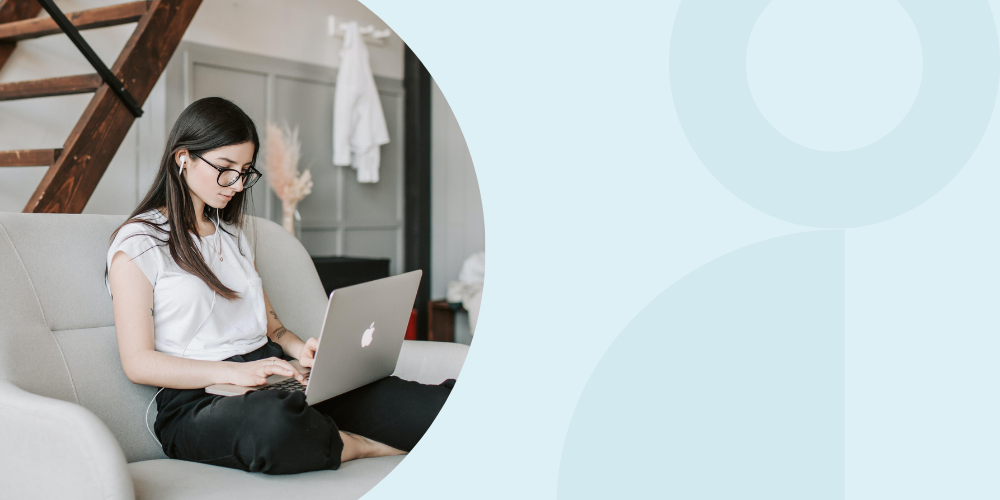 We have news for you–social media is no longer a useful tool restricted to marketers. Sales teams across the globe are now cashing in on its success with the advent of social selling. Social selling isn't just another sales tactic gaining some momentum – it's the future of B2B sales. 
With social selling, sales teams can harness the potential of social platforms to reach and exceed their sales quotas by leveraging relationships, engaging prospects, and tapping into a broader audience for increased conversions. Underestimating this transformative sales strategy will leave you losing your deals to your competitors. 
So, if you want to revolutionize your sales pipeline, attract high-quality leads, and maximize your conversion rates, we highly recommend you read on. We've rounded up the top 7 social selling benefits that will boost your sales strategy to close more deals confidently and effectively.
Jump Ahead:
What Is Social Selling?
Social selling is a sales technique focused on cultivating relationships with potential customers and nurturing a sales pipeline through personal social networks. This approach allows sales teams to educate, share insights, and position themselves as thought leaders in their industry. 
This modern approach to sales will make all the difference for sales teams by boosting their pipeline and conversion rates by reaching new prospects and engaging buyers with your content. Here's why it's making a difference: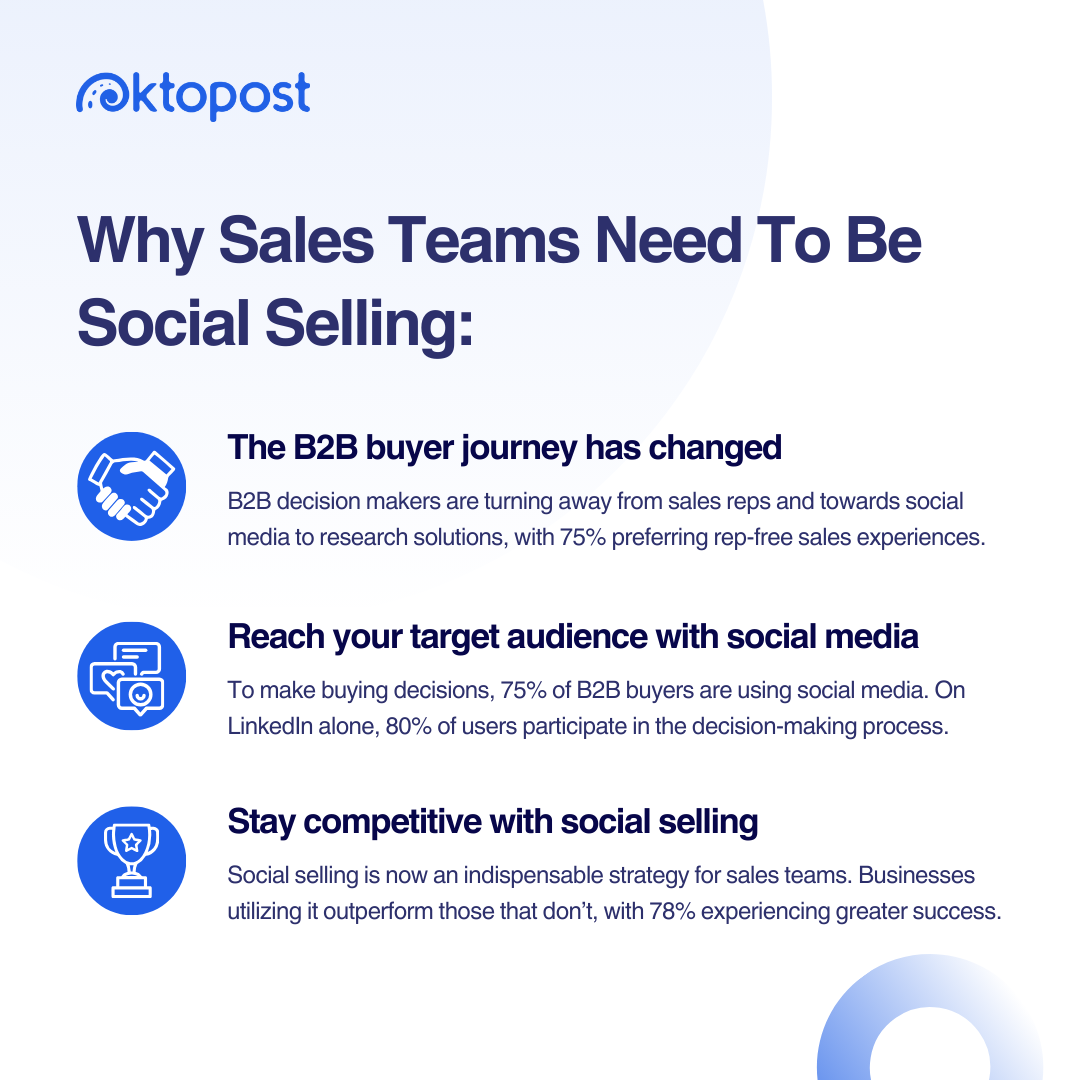 Sources: Gartner, LinkedIn, Cognism
The B2B buyer journey has changed 
The dramatic shift in the B2B buyer journey has driven decision-makers away from sales reps and towards social media to research solutions and make their buying decisions, with 75% of B2B buyers preferring a rep-free sales experience.
Social media platforms allow you to reach your target audience 
B2B buyers are now looking to social media when researching solutions. LinkedIn research shows 75% of B2B buyers use social media to make buying decisions, with 50% using LinkedIn specifically. There are a staggering 65 million decision-makers active on LinkedIn alone, with 4 out of 5 users participating in the decision-making process. 
Based on this data, it's evident that the adoption of social selling strategies is crucial for sales teams to effectively engage and directly influence their target audience within today's marketplace. 
Social selling is key to staying competitive
Engaging with these potential customers online not only cultivates brand awareness but also fuels your sales pipeline. 
Buyers prioritize trust in personal recommendations. Statistics show that 76% of individuals claimed that they're more likely to trust content shared by individuals, rather than corporate brands. Therefore it comes as no surprise that 78% of businesses that use social selling outperform those that don't. 
In addition to keeping your business competitive, social selling has become an indispensable avenue for sales teams to establish trust, nurture relationships, and ultimately attract and convert more customers.
The Top 7 Social Selling Benefits
For sales teams, the idea of adding 'social media advocate' to your list of responsibilities may sound daunting. But the returns will pay off when you see your conversion rates increase significantly. 
Here are our top 7 social selling benefits: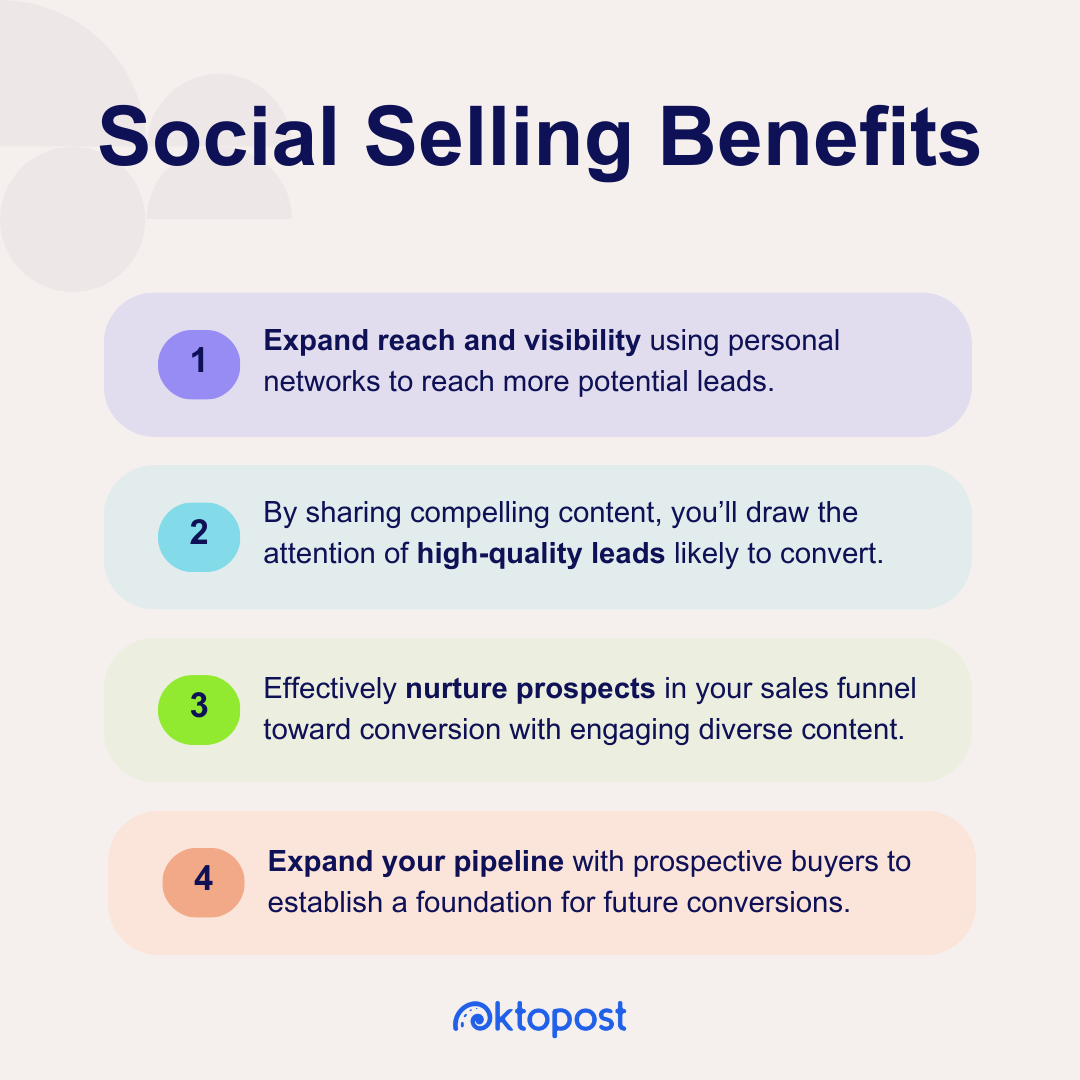 1. Increased reach and visibility
Professionals prefer to follow other professionals online, valuing personal relationships over corporate profiles. Buyers often look to experts to advise them on possible solutions and this is where you come in. 
Especially with LinkedIn's recent algorithm updates, using your personal accounts is even more important. This algorithm shift prioritizes content shared by trusted connections. This means your connections are more likely to see the content you share, rather than your brand's content on their feeds. 
By harnessing personal social media accounts, you can broaden your influence and reach a wider audience of potential leads to convert.
2. Attract high-quality leads
Through social selling, you can attract high-quality leads to your brand in ways traditional sales methods won't allow you to. 
The combination of compelling content, with the ability to connect with your target prospects and engage in conversations with decision-makers, will result in you drawing the attention of leads who are genuinely interested in your company's offerings. Rather than finding a prospect that looks like they fit your Ideal Customer Profile (ICP) on paper and sending cold outreach, these prospects are more likely to meet your buying requirements since they are attracted to the expertise you're sharing.
Therefore, showing up on their feeds with bite-size valuable and insightful posts that serve their interests will be nearly impossible for them to ignore. So, if you really want to build a pipeline of high-quality leads, you need to engage in social selling.
3. Effective relationship nurturing 
Social selling also lends you a helping hand in nurturing prospects already within your sales funnel. By offering diverse content that addresses your prospects' interests, pain points, and aspirations, you'll reinforce the value of your product, and its ability to resolve their challenges. This strategy draws prospects closer to you and your brand, eventually leading them toward a purchasing decision. 
Social selling provides an alternative approach to strengthening these relationships, by avoiding constant contact that runs the risk of your prospects turning away. This method is a more engaging way to nurture prospects compared to routine email cadences that may lack added value. This can make all the difference between losing a potential customer and securing their contract.
4. Expanded pipeline
Through social selling, you'll also attract potential buyers who might not be actively seeking services when they follow your profile. 
It's crucial to also continue nurturing and educating these leads, ensuring your product remains on their radar. Even if they're not ready to purchase immediately, your content and expertise will remain memorable when the time is right. 
This approach fosters connections with prospective buyers, laying the groundwork for potential future conversions.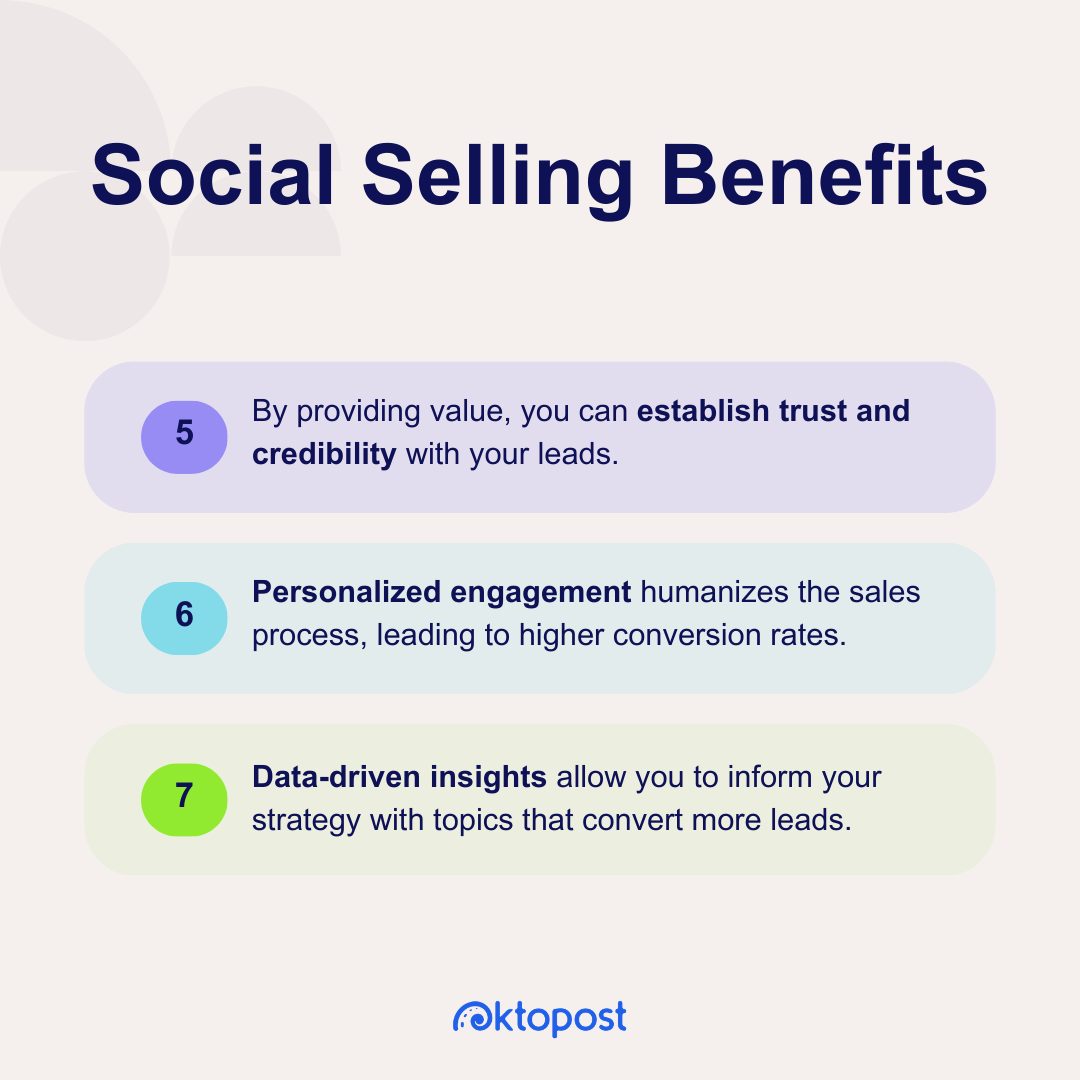 5. Establish trust and credibility 
The nature of social selling encourages you to leave your sales pitch at the door and prioritize providing value to your audience. This will position you as a thought leader and expert in your industry from the outset. 
Establishing trust and credibility through social selling not only enhances your brand's reputation but also makes your messaging more compelling to buyers, leading to increased deal conversions.
6. Personalized engagement
Social media platforms offer sales teams a unique opportunity to engage directly with their target audience in a timely and personal manner. Active engagement, including participating in discussions, promptly addressing queries, and joining meaningful conversations, humanizes the sales process, making you more approachable and trustworthy. 
Social media platforms allow your audience to start conversations with you based on topics they specifically care about or to elaborate on a post you have published. Through these personalized conversations and interactions, you can demonstrate a genuine interest in helping your target audience find a solution, solidifying a memorable and positive perception among potential buyers. 
This increased trust significantly influences the decision-making process, leading to higher conversion rates and a smoother transition from prospect to loyal customer.
7. Data-driven insights 
By tracking your engagement, you can easily see what content is growing your audience and resonating with your leads.
Simply monitor which of your posts gain the most engagement (likes, comments, and shares) in order to inform your social selling strategy. If you see content around industry trends gain more traction from quality leads than content around your company's product updates, it's probably worthwhile to continue sharing your expertise about your market. Once you start noticing what your leads are engaging with, you can use this invaluable data to inform your sales conversations resulting in a higher conversion rate.
You should also keep an eye on your following – not just the follower count increasing – but who is following you. You want to make sure your content is attracting the right target audience, that is likely to convert further down the line. If you're attracting followers that do not fit your ICP, you should probably start making a few changes to the content you're sharing.
By following these simple metrics, you'll get first-hand, accurate insights into what is working and what isn't, enabling you to adapt the content you're sharing to draw in more leads and convert more prospects.
Hit Your Sales Targets With Social Selling
It's time for sales teams to harness the vast opportunities and benefits social selling has to offer. 
By providing you access to key decision-makers, social selling can significantly shorten the sales cycle by expanding your reach and positioning you as an expert in your field. This ability to foster meaningful relationships, trust, and conversations with potential buyers, will transform your sales pipeline and have you closing more deals with high-quality leads.
With the aid of an employee advocacy tool, executing social selling becomes effortless in just a few clicks. To learn more about how social selling can revolutionize your sales strategy, contact us today.