Streamline Your Social Customer Care With the New Inbox
Today, when remote work has become our new reality, social media is turning into a prime communication channel for people and businesses alike. B2B companies leverage social to deliver fast and responsive customer support as well as tap into conversations that are relevant to their brand.
Oktopost's Social Inbox brings every mention, comment, and direct message from all of your social media profiles into one place, where you can manage, reply, and assign social inquiries to your team.
We've had a major update to the Inbox in the works for the past month, and today we're happy to present it to you.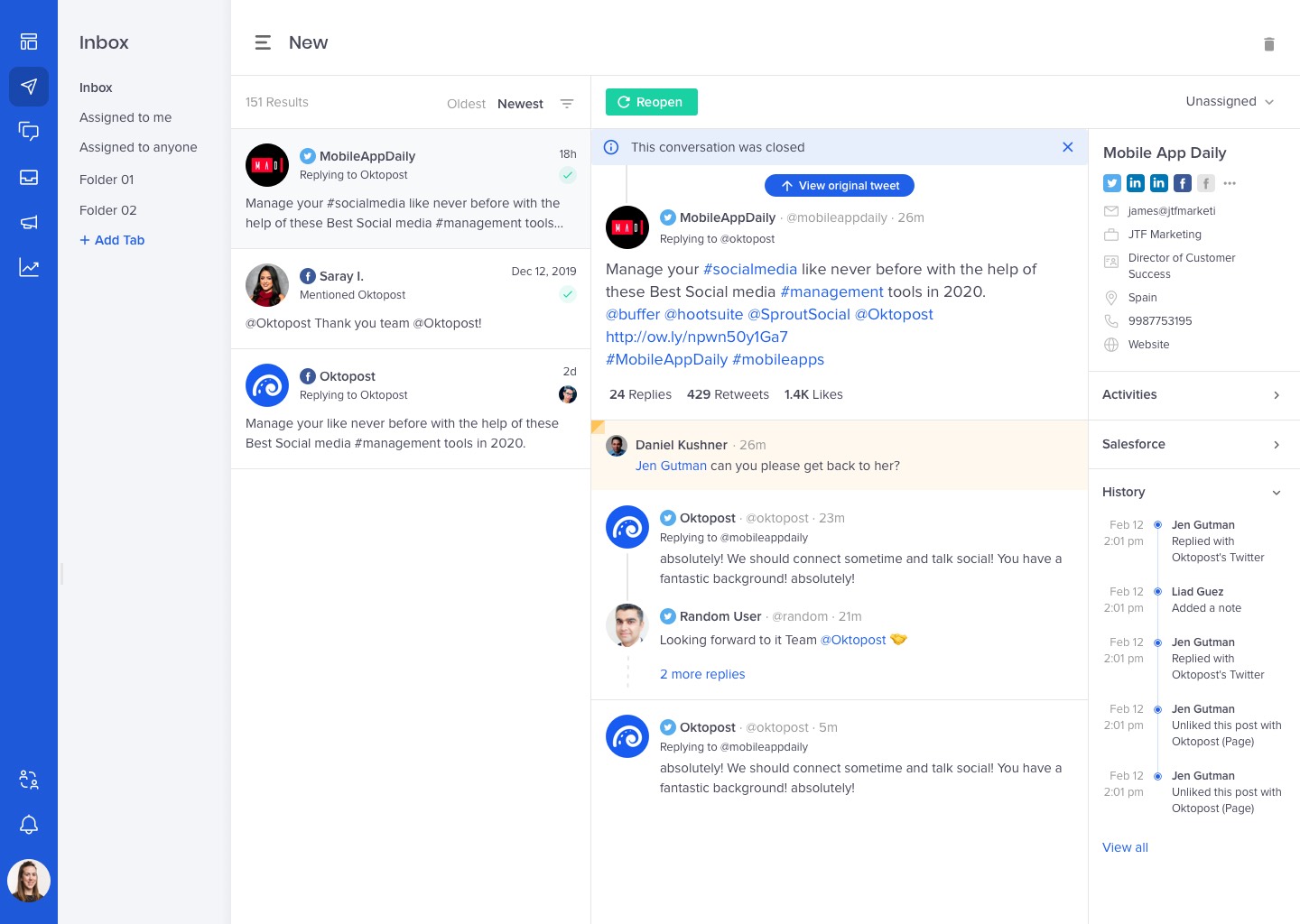 Facebook Ads Support
Many B2B marketers use Facebook Ads to connect with the relevant audience and generate leads. To help our customers get even more value from this channel, we've added support for Facebook Ads.
From now on, you can track and reply to responses to your ads and sponsored posts in the Inbox. You will also see profiles that replied to your ads in the People Database, so you can sync these leads and their engagement data with your marketing automation and CRM.
Usability Improvements
Every social network has its own user experience. And while Oktopost is very different from all of them, we wanted to align some of the elements with the native UIs – so you can navigate and perform tasks as quickly and efficiently as possible.
We've tailored each Inbox conversation to a corresponding social network for a more native experience, while still providing one seamless interface with an array of vital B2B capabilities for all your social media inquiries.
Media Attachments
In this update, we've also improved how we handle various media attachments. Oktopost now displays Twitter Cards instead of plain links.
You will also be able to see images and stickers in Facebook and Twitter direct messages as well as attach files to your DM replies from the Inbox.
Messenger Handover
In this new reality, B2B companies need more advanced tools to communicate with their customers and prospects on social media. To meet the demand, we're implementing the Facebook Messenger handover protocol that allows for a smooth transition between chatbots and live agents.
It will enable our customers to simultaneously utilize a bot for handling automated responses and use Oktopost for customer service with live agents. And instead of 24 hours that businesses have to respond to a user, according to Facebook API, Oktopost users will have 7 days to seamlessly continue bot conversations.
Most of these changes are already available in your Social Inbox and others will be gradually rolled out to all accounts by the end of June. We hope this update will help elevate your social customer service and make your work a little easier.
As always, don't hesitate to share your feedback with us.