Twitter Is No More: Unveiling X's New Brand Toolkit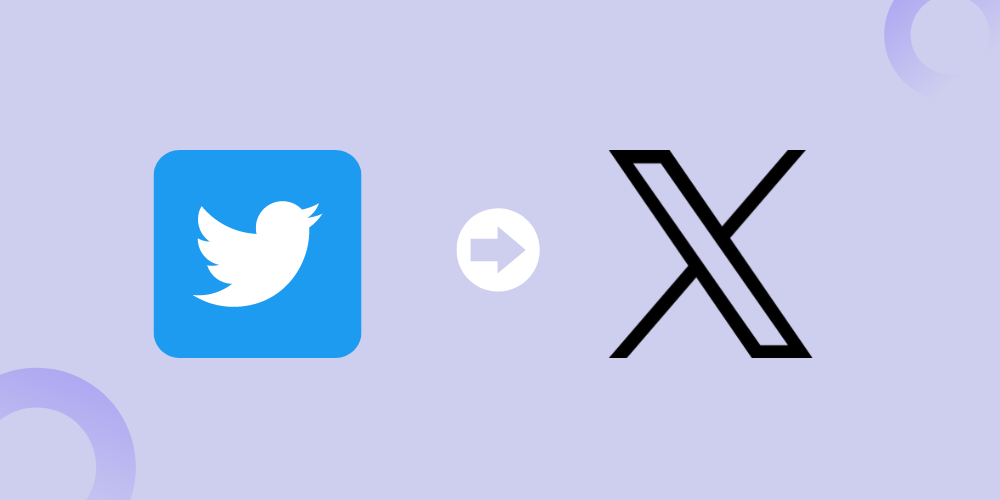 It's official – time to say goodbye, Twitter, and hello X! 
X, formerly known as Twitter, recently released its new brand toolkit, solidifying their rebrand led by new owner, Elon Musk, and ensuring their 540 million users know how to use their visual assets.
With this change, their iconic bird logo as well as their blue and white brand colors are now history.
For better or worse, Musk is clearly looking to refresh the brand. As marketers, it's important to have our fingers on the pulse of these trends so that we understand what these changes may mean for the future of this popular social platform. 
So let's dive in!
Why Do Companies Create Brand Toolkits?
Building a brand is no easy feat. So the last thing you want is someone to come around and butcher your precious logo. For this reason, more and more businesses protect their visual identity with brand toolkits – a way to establish brand consistency across multiple platforms and content types. 
Brand toolkits give brands a say in how they're represented from a visual and design perspective, ensuring that both internal and external teams are consistently using the correct colors, fonts, logos, and other key assets according to the company's distinct visual identity.
So, What's New in X's Brand Toolkit?
Twitter Brand Colors Have Changed Dramatically
Instead of blue and white, X's new brand colors are black and white. This is a radical change from its former look and feel, perhaps indicating that there are more significant changes to come with regards to brand values and product offerings. 
Twitter Brand Assets Have Completely Transformed
The new and updated brand assets included in X's brand toolkit include:
X Logo– The visual representation of X's new brand. This is available in both black and white.

Logo Handle Lockups– This is how you publicly showcase your brand's handle.
 


Logo Partnership Lockups– This is how you'll display your brand's partnership with X.
Post Templates– This is the right way to share a post originating on the X platform.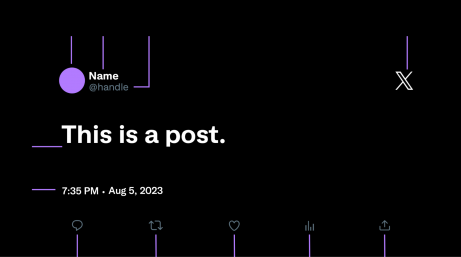 There is currently no mention of fonts or other visual elements. But as you can see, X's new visual language is far less bright, fun, and whimsical – a change many creatives, marketers, and users disagree with due to Twitter's massive brand loyalty. 
Twitter Brand Guidelines Are Still in the Works
X's recently released brand toolkit mentions that all shared posts must be original and cannot be changed in any way, including spellcheck. New updates about how to actually use these materials are likely to come in the future as they roll out more information on their new branding, but as of now, the specifics are not yet known to the public.
A New Identity is Born
While X hasn't yet updated all online assets, moving from a blue bird to a black "X" is certainly not subtle. 
Just about a month ago, the brand toolkit still featured the original bird logo, the term "tweet", and other elements synonymous with Twitter's identity.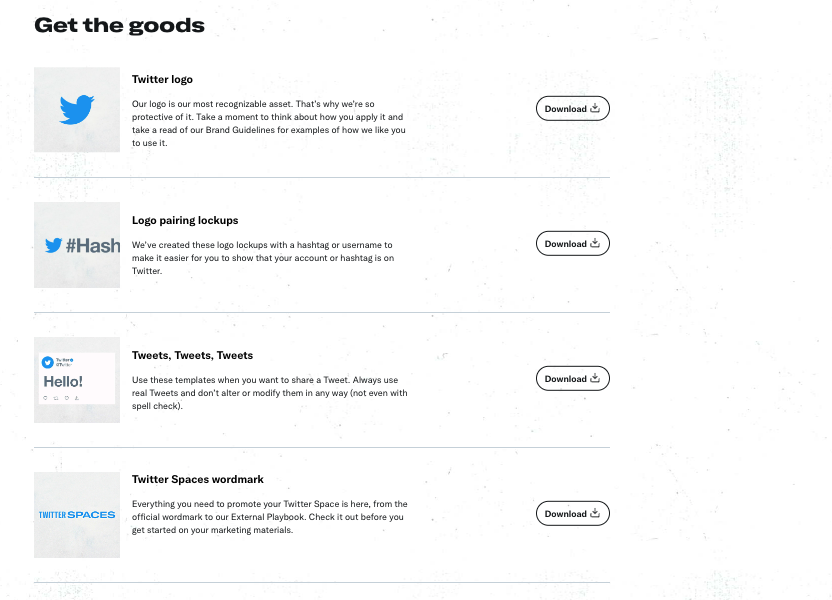 Today, no trace of Twitter exists within X's brand toolkit. The visual look and feel has drastically changed. Twitter's light and approachable language choices which includes phrasing such as "Get the Goods" has been removed in favor of a more business oriented, no-nonsense approach. It's also important to note the change from "Tweets" to "Posts" that can be seen in the last asset.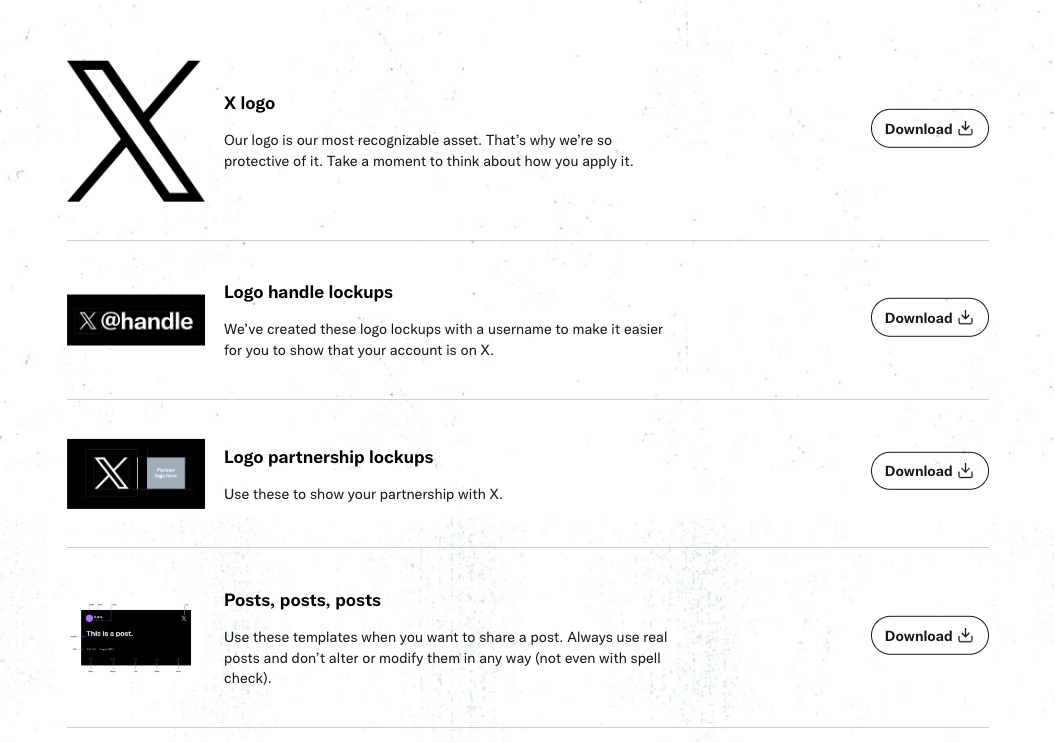 Going even further back to 2020, Twitter's brand toolkit was far more detailed specifying design elements such as fonts, spacing, sizing, shapes, and more. Perhaps we'll see these updates in the coming months as X continues to define their branding. But as of now, X's rushed rebrand initiative has made defining all visual elements in detail a difficult endeavor.
Why the Rebrand?
X's rebranding is controversial, to say the least. So why would Elon Musk–someone who has developed many successful businesses–choose to abandon a brand with so much existing brand equity? After all, he may be a quirky character, but he must have some business acumen. 
So is this rebrand simply Elon Musk's effort to make Twitter his own or does it have some strategy behind it?
In all likelihood, Twitter's rebranding strategy has a lot to do with its new vision of becoming a "future state of unlimited interconnectivity" as stated by X's CEO, Linda Yaccarino.
X is the future state of unlimited interactivity – centered in audio, video, messaging, payments/banking – creating a global marketplace for ideas, goods, services, and opportunities. Powered by AI, X will connect us all in ways we're just beginning to imagine.

— Linda Yaccarino (@lindayaX) July 23, 2023
With the advanced AI features described above, it's possible that X wants to evoke a more sophisticated and futuristic look and feel. 
Musk himself also addresses the disconnect between the name "Twitter" and how he sees the company's mission moving forward.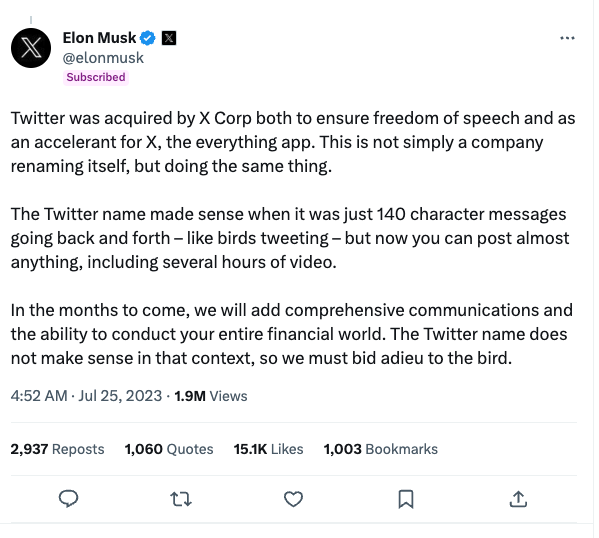 In addition to financial exchanges, Musk also shares his desire to launch features such as immersive video streaming, while creating a space where journalists, influencers, celebrities, and the everyday person can exchange ideas freely–no matter how unhinged or profound those ideas may be.
If you're a journalist who wants more freedom to write and a higher income, then publish directly on this platform!

— Elon Musk (@elonmusk) August 21, 2023
Immersive video on this platform is starting to get pretty good.

Just tap on any video & swipe up when you want to move on.

— Elon Musk (@elonmusk) August 6, 2023
This radical new vision may be another reason to leave the beloved Twitter brand behind in Musk's view.
What's The World Saying About X?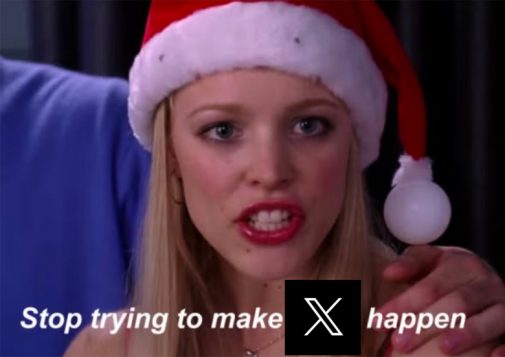 Is Musk a genius–or should he stop trying to make X happen? The reviews are mixed. Here are some reactions to the Twitter rebrand from across the internet:
I'm not sure that the move to rebrand Twitter as X is wise.

Twitter's branding was actually really clever and hit upon a series of positive feelings and changing that might have significant consequences.

The Twitter theme is of birds tweeting at one another in the trees,… https://t.co/dBEoUr5jNs pic.twitter.com/e4kmH4PGsh

— Carl Benjamin (@Sargon_of_Akkad) July 24, 2023
World-class logo.

Welcome to X. pic.twitter.com/TDjvFdeaSc

— Justen (@JustenCharters) July 24, 2023
No offense intended, but the Twitter rebrand to X may be the most detrimental change musk has made to the platform. The corporate futurist oversimplification of the branding feels soulless and appeals to a small percentage of people. Simply; the populous isn't ready for it.

— Casual Man (@heyCasualMan) August 22, 2023
While there are plenty of negative reactions to this rebrand, let's remember that in general, people tend to be adverse to change. So as the world adjusts to X, it's only natural that we'd see a bit of outrage.
Even today, not all reactions to X are negative. In fact, according to research by Civic Science, users of the platform were more likely to have a positive reaction to the news than nonusers.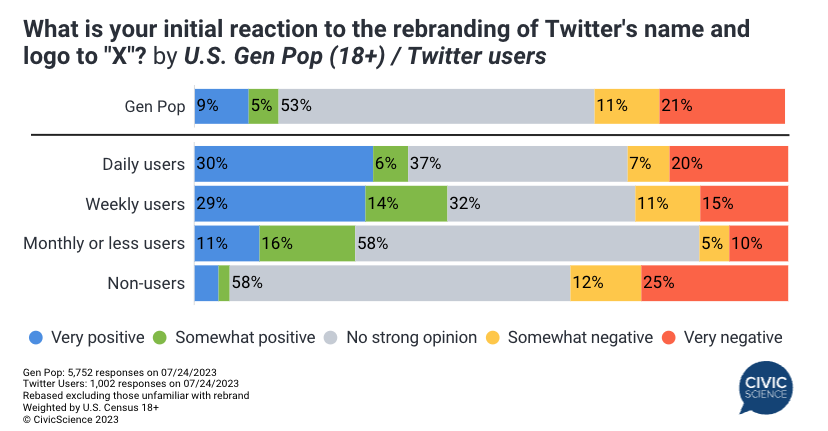 To back up that research, here are some positive reactions from X users:
A little awkward saying/typing "X" instead of Twitter. Let's be honest! But…

Innovation and blockchain adoption from big tech is a necessity. Whether you like Elon or not, I believe this is a positive step for the crypto and the rebrand will be evidence of this in the future.

— MacBurn (@macburn_xyz) July 27, 2023
The fact that the X rebrand discourse (both positive and negative) is taking place ON THE X PLATFORM should tell you all you need to know.

The tech and the users are still here. Stick to YOUR plan, it's allllll gonna be okay🤝

— Mads (@startupwithmads) July 24, 2023
Most notably, Reddit founder, Alexis Ohanian, had a pragmatic approach to the Twitter rebrand. He states that while he will miss the iconic blue bird and believes that the phrase "tweet" is too ingrained in our lexicon to be replaced, Elon Musk likely wants to redefine what the social media site does and what it represents. Therefore, the X rebrand is the first step in a much bigger direction. Eventually, he believes that the X brand will take off, but the term "tweet" is here to stay.  
Now that the dust has settled a bit, wanted to share some thoughts on the Twitter rebrand to and how it reminded me of early conversations I had with @paulg about the brand for @Reddit ↓ pic.twitter.com/ogahmzUz0t

— Alexis Ohanian 🧠 (@alexisohanian) August 14, 2023
Wrapping Up
Our take? We believe that Twitter was a highly beloved brand and making such a radical change poses an inherent risk to the social giant's success.
But there are also many examples of successful rebranding such as when Dunkin' Donuts became Dunkin'. While this change is much less drastic, it certainly proves that not all rebrands cause an uproar, and they can in fact, even be embraced.
We believe that overtime, as X unveils more products and features, it will become clearer what Musk is trying to achieve. If the offerings match a need in the market and appeal to a newer, more tech obsessed audience, then perhaps this new brand makes sense.
Ultimately, only time will tell if Twitter's rebrand will be viewed as a brilliant and strategic move or the beginning of the end for one of the most iconic social media platforms in the world.
What do you think about X's new look? Let us know on our social channels!