How to Use Social Media to Generate More Leads for Your Business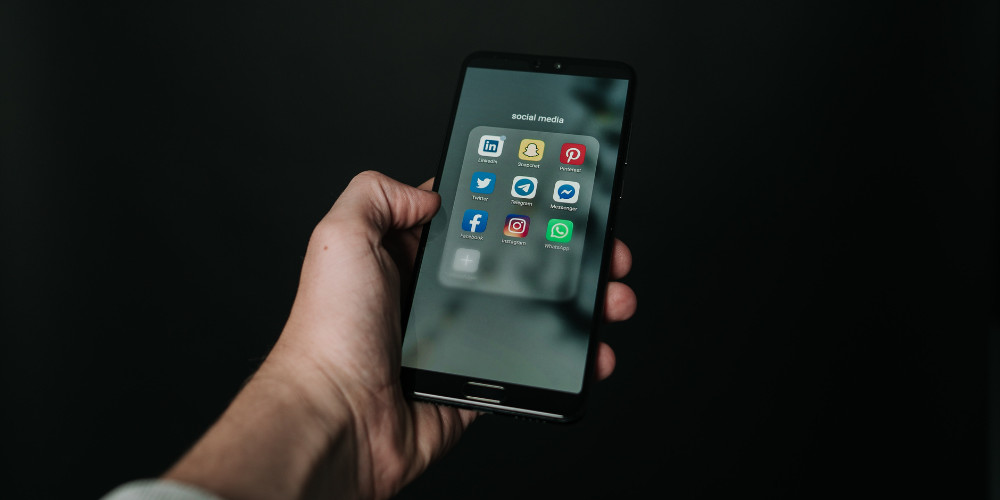 B2B marketing teams share a common aspiration: generating as many Marketing Qualified Leads (MQLs) as possible. These potential leads exhibit a certain level of interest and engagement with the company's offerings and are more likely to result in 'closed won'. While moving MQLs down the funnel may seem simple, a study by the RevOps Co-Op indicates that nearly 80% of B2B tech businesses have been unable to reach their goals over the last few quarters. That's why, now more than ever, optimizing lead generation strategies to identify and nurture these MQLs becomes paramount to any organization's revenue generation efforts. 
This is where the strategic utilization of social media comes into play. While some businesses still put social media in the categories of brand awareness or community management exclusively, research claims that 75% of B2B buyers use social media to make buying decisions. That means if you're not using it as a resource to nurture, engage, and foster relationships with potential buyers, you're missing out on a golden opportunity to drive more revenue.
Thankfully, even if you're not using social media for lead generation currently, it's never too late to get started. We're here to share tips and best practices we've discovered along the way.
Jump to Section
Get to Know Your Audience
The first step in using social media for lead generation is actually understanding your leads. This may sound self-explanatory but hear us out. While most marketers acknowledge that understanding their audience is key to any successful marketing campaign, a recent study shows that only 42% know basic demographic information about them.  
If this is the case, then where are we getting our insights and ideas about our audience's pain points, challenges, and needs? Often times, it's from our own internal resources. In other words, we may just be drinking our own Kool-Aid. 
So how can we get to know our audience without bothering them with surveys, phone calls, or emails? 
The easiest way is through social media. Here are some great tactics you can use:
Social Listening
Social listening refers to monitoring conversations about your brand, products, competitors, and keywords, analyzing what is being said by who, and then acting on that information. 
In essence, social listening is all about extracting answers to key questions about your industry and using this to define how you will create content for lead generation. 
You should ask yourself: What are your customers interested in? What are your competitors' customers lacking? What's engaging key audiences right now, and how can you leverage that to generate stronger interest in your own social posts?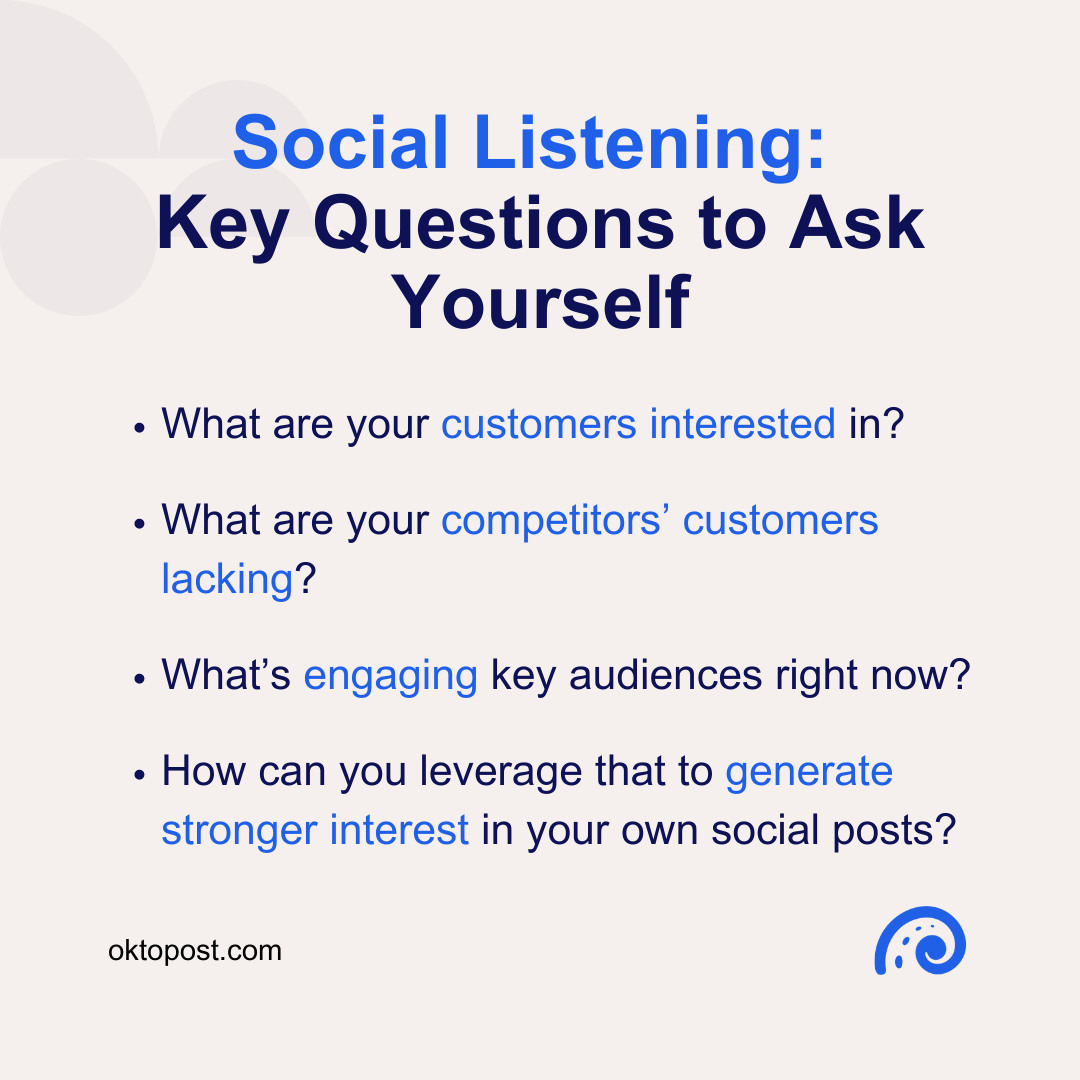 With social listening, you can gain a better understanding of who your audience is and what makes them tick. You can then use this information to drive online conversations, connect with your audience, and write content that actually solves their problems. 
Sentiment Analysis
At the end of the day, your company's mission is to provide something valuable to your audience. Sentiment analysis is the best way to understand whether you're achieving that goal or completely missing the mark.
Sentiment analysis refers to analyzing brand mentions and other relevant data to understand what your audience truly thinks about your company and its products or services. With the right social media tools, you can generate key insights into your brand's reputation, strengths, and weaknesses. By having such a clear snapshot of your reputation among followers and leads, you can learn valuable insights about what you're doing right and what you still need to improve upon. 
Community Management
Think about it–who do you know best and therefore, trust the most? For most people, it's their family, friends, and people in their extended community. For this reason, the importance of strong community management on social media cannot be overemphasized. By building an online community, you are creating a space where potential leads can connect with like-minded individuals, gain resources and ideas, and learn new techniques for solving their problems. This builds trust, loyalty, and brand recognition while also enabling you to get to know your audience on an even deeper level.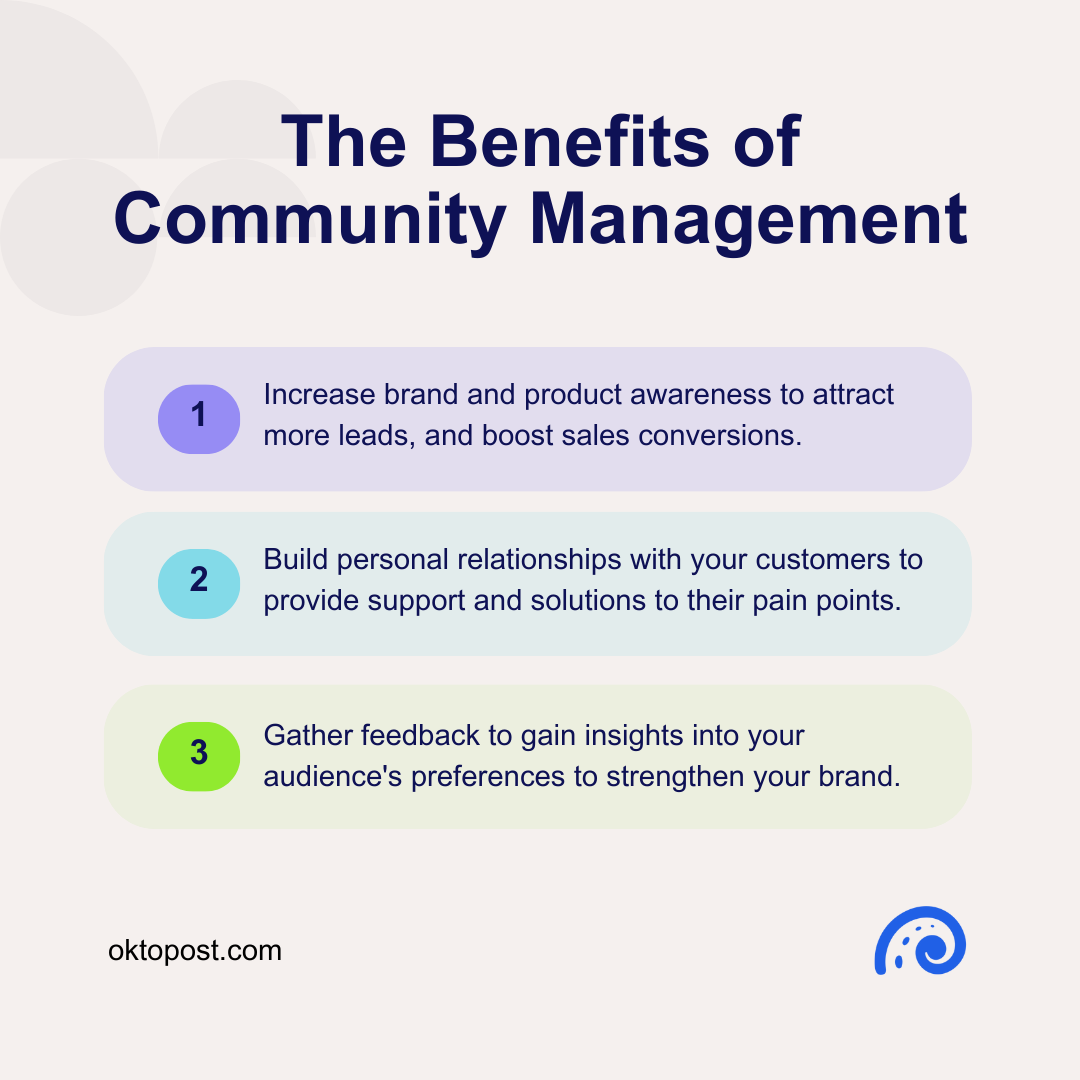 Another aspect of strong community management is, of course, customer support. It may seem like a disaster when a customer posts a problem they had with your company on social. But in reality, it's an opportunity to show your audience that you understand their challenges and care about their needs. By playing an active role in your community and addressing problems quickly, you provide social proof that you listen to your customers, solve their issues, and engage with them online. This can make or break a deal for your business. In fact, a brand that responds to customer complaints on social media can increase customer advocacy by as much as 25%.
Social community management might sound like a lot of work to implement, but trust us when we say the end result is worth it. If you need more convincing, look no further than these B2B brands: 
While it may seem like you need to be in multiple places at once in order to help your social community thrive, a centralized platform can help you manage your community across multiple channels so you can stay engaged with your community using one dedicated UI.
Social Analytics
Once you've posted on social media, how do you know if the message resonated with your audience?
Clicks, likes, and impressions are key indicators. But having analytics that dive deeper into conversions will show you which content really hits home. You'll see which campaigns are most successful, which topics drive the most interest, which platforms are working best for your brand, and more. 
By having the right analytics, you can gain an accurate, tailored, and informative overview of your social media performance, your audience, and which social campaigns contribute to ROI.  You can use these actionable insights to constantly inform, adjust, and rework your social media marketing strategy to cater to your audiences and stay a step ahead of your competitors on ever-changing trends. 
Proven Strategies to Drive More MQLs from Social Media Content
Now that you know your audience and can create content that appeals to their needs and interests, you need to start building a social media strategy that will turn audiences into leads, and leads into loyal customers. It's not just about creating quality content and hoping the right people see it. You need to implement the right positioning and techniques to give your content that extra boost. These are our top strategies for creating social content that converts:
Employee Advocacy
The most valuable resource your business has is your people. B2B customers are far more likely to be influenced to purchase your products from your employees, not your corporate social media accounts. And the proof is in the stats: 76% of individuals stated that they're more likely to trust content shared by individuals rather than content shared by brands. So, how do you bridge this gap and utilize your staff to start converting more leads?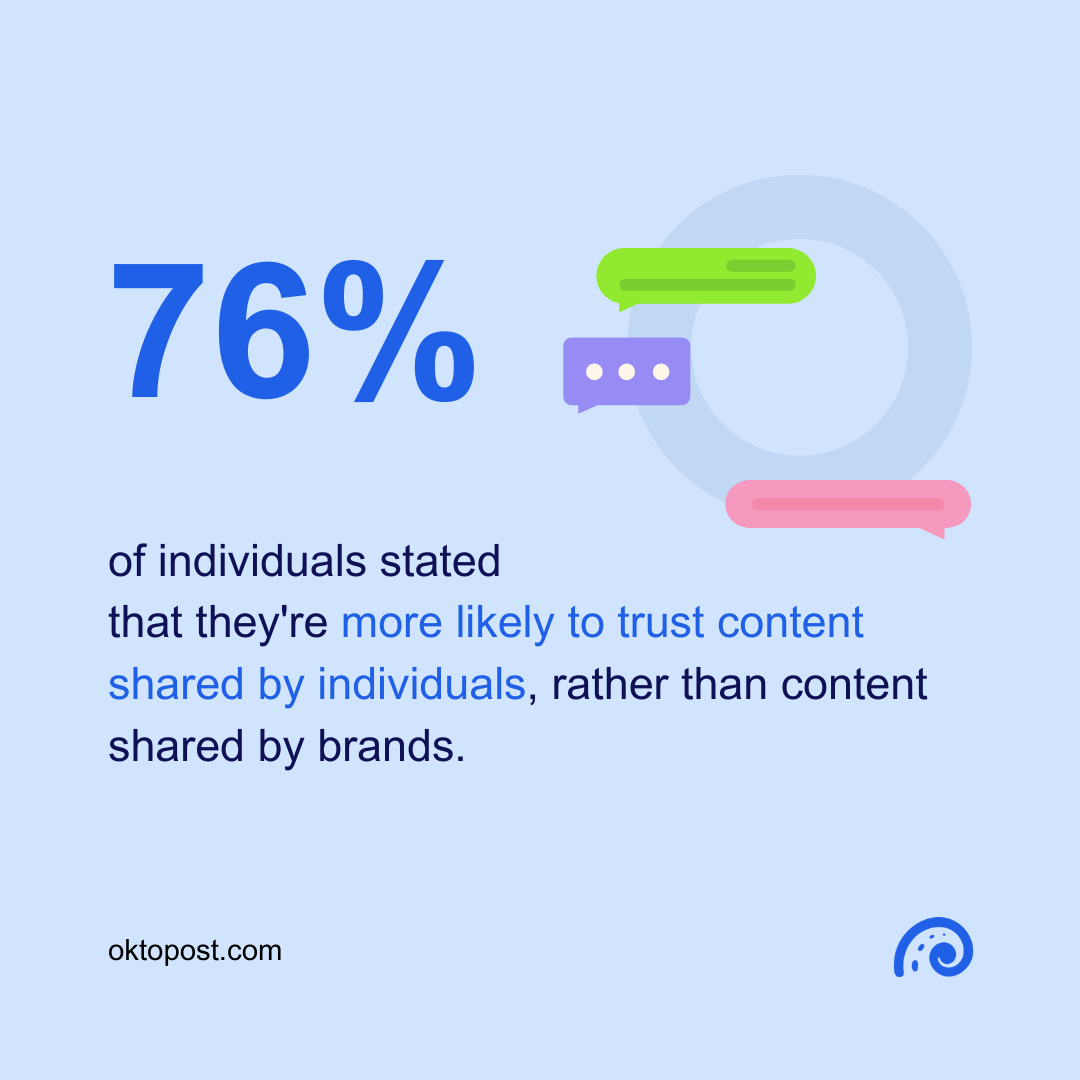 Source: Peer to Peer Marketing
If you're not already running an employee advocacy program, you should be setting one up now. Our research shows that nearly half of CMOs agreed that employee advocacy was their best-performing social initiative, and there are plenty more statistics that demonstrate the value of employee advocacy. 
By diversifying your social media presence beyond your corporate channels, you can identify new leads and expand to new audiences in your employees' networks. 
This is a great method to make your social media strategy feel more organic. It caters to a widespread desire to work with humanized brands among modern B2B audiences. Plus, employee advocacy provides you with a strong marketing campaign underpinned by social proof rather than plain old self-promotion.  
B2B Influencer Marketing
If you want to gain access to the most valuable audiences out there, then B2B influencer marketing should become a core part of your social media strategy. Statistics show that B2B influencer marketing campaigns have higher conversion rates than other marketing tactics with an average conversion rate of 13%. They also produce three times the number of leads as traditional marketing methods.
B2B influencer marketing campaigns tend to have these higher engagement rates for several reasons. As we've said before, people like to buy from people and influencers are no exception. 
Influencers are seen as thought leaders and experts who create engaging content that provides value to their followers. Their audiences seek their expertise and want to interact with their content. This will result in great exposure for your brand.
Most companies mistakenly think influencer marketing is out of budget simply because they can't afford the top influencers. But don't let the term micro-influencer throw you off. Despite having smaller followings compared to those with massive audiences, these influencers offer substantial value to businesses that collaborate with them. This is because their micro-status is typically built on niche relevance, resulting in highly focused audiences. Identifying a pertinent micro-influencer means connecting with an audience better aligned with your brand compared to larger voices. Even more beneficially, this approach leads to more qualified leads flowing through your sales funnel.
User-Generated Content and Social Proof
Giving your products and services a human voice is a tremendously powerful tactic on social media. That's why user-generated content (UGC), such as testimonials and social media posts from your users are so crucial. It raises awareness in a way that feels a lot more organic than corporate marketing. 
Buyers want to hear other customers' experiences with your brand, and similar to the appeal of employee advocacy, they are drawn to buy from people's referrals over your business's claims. Research shows that people are 90% more likely to buy from a brand recommended by a peer, and in the B2B space, 84% of B2B decision-makers state that their buying process started with a referral.
Increasingly, brands are utilizing UGC by interacting with it or reposting it to their own socials. This exposes it to a wider audience without diluting the original power established when a customer decided to post about your brand.
Putting It All Together
The relationship between social media and lead generation holds a powerful long-term value for your marketing strategy. Once you understand your audience and learn how to target them with the methods provided above, you'll be able to generate more leads, nurture them to become MQLs, and eventually, help your business reach its revenue goals faster.
However, without the right tools for social listening, content publishing, and community management, businesses will face an ongoing struggle to really harness the power their social channels hold. This is where Oktopost comes in—by supporting businesses with a seamless, integrated platform to help you manage your social media strategies all in one place, it's easier to realize social media's potential for lead generation without any added stress.