5 Best Practices for Implementing an Employee Advocacy Program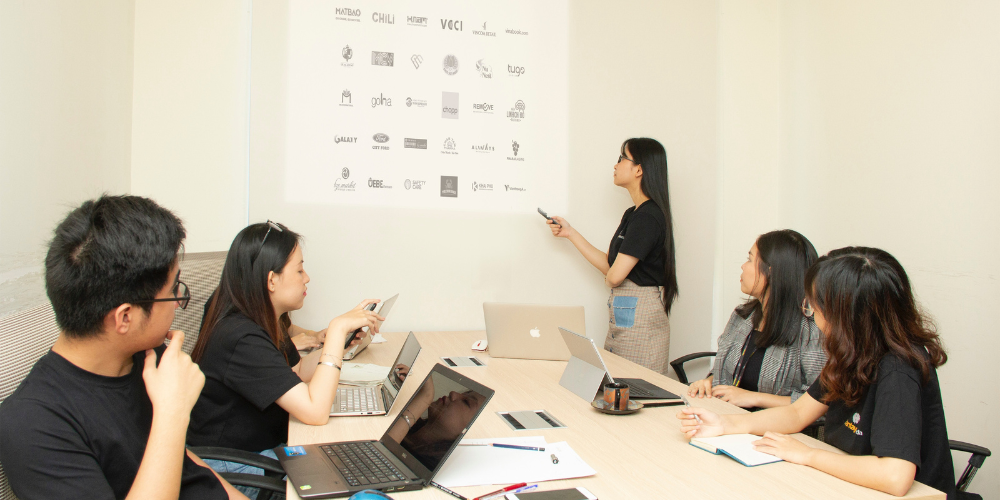 It shouldn't come as a surprise to you that B2B buyers are drawn to buying from people over businesses, especially people they trust. 
While we love talking about the benefits of loyal and engaged customers in generating more brand loyalty and revenue, what about the untapped potential of engaged employees? 
Your employees hold an incredibly high value for your businesses provided you understand how to showcase their enthusiasm in a way that feels authentic. The most impactful and rewarding way to do this is by executing an employee advocacy program on social media. After all, results show that having an employee advocacy program increases social brand engagement by 25% to 40% at minimum. 
These metrics don't lie – take a look at our top employee advocacy statistics if you need a little extra convincing.
Jump to Section
Why Turn Your Employees into Advocates?
Employee advocacy is about representation and putting a human face to your business. The power of social proof stems from the fact that people trust other people's opinions more than they tend to trust faceless business entities. Research shows that 84% of people value recommendations from people they know over all forms of advertising. 
When your employees are willing to publicly praise your brand, it can serve as proof that you're doing right by your staff. And if your employees are happy, it's safe to assume your customers will be happy as well. Another benefit of employee advocacy is extending your reach far beyond your brand's current social community. Because each employee has their own unique audience, their posts can tap into previously untouched markets and consumers, driving more qualified leads to your business. 
However, getting employees on board isn't as simple as sending out an office memo or making a one-off announcement in a company meeting. That high ROI is reserved for businesses that can motivate their employees in the same way they motivate customers toward loyalty.
5 Best Practices for Your Employee Advocacy Program
Now that you're clear on why employee advocacy matters, here are our top five best practices for turning your employees into enthusiastic brand ambassadors. 
Make Social Media Advocacy Manageable
It's easy for a motivated team to launch headfirst into an advocacy program, only to burn out or realize that other parts of the job have suffered. The key is to harness that motivation and interest with the right tools. In other words, you need the right employee advocate platform – something that centralizes your efforts and makes all the right resources available to anyone who has opted into the program.

The key to effective employee advocacy is longevity. No strong social media marketing campaign can focus exclusively on the short-term – it's all about consistently working toward long-term goals for driving engagement, clicks, and conversions. The exact same is true for driving advocacy on social media.
So how do you drive longevity? By making advocacy as easy as possible for your employees.
Utilize your employee advocacy platform for storing and repurposing content, tracking progress, and identifying opportunities to boost your social media ROI through the right real-time monitoring and listening strategy. All these features should be intuitive and accessible in just a few clicks, so your employees don't have to take time out of their busy work schedule to search for the right content or measure their post's impact. 
Your advocacy platform should also be streamlined into your employee's existing workflow. A great way to accomplish this is by embedding it into the technologies they're already using on a day-to-day basis. For example, if an advocate from your sales team can access all content, pre-written posts, and relevant metrics inside the CRM they're already using, you're removing a barrier to entry, making it as easy as possible for them to engage in advocacy efforts.
Nothing will prove sustainable in the long term if it's handled like a once-and-done task. Launch your employee advocacy efforts as a strategic initiative, and build it into your existing social media strategy. This means treating it as a core element rather than an optional program.
Make it Motivating 
Motivation is at the very heart of advocacy on social media. The most effective way to do this is to make sure your employees are always aware of the positive impact their hard work has on the overall business.
To do so, you'll want to be able to share a handful of illustrative KPIs – stats that measure the impact they're having on your social media ROI. Share the results of the new leads generated by your employee advocates all the way through the funnel, so they can witness the impact they're having on your business's revenue.
Make it Make Sense
Ideally, the end result you want is a cross-section of the entire business to buy into your advocacy program. The problem is while marketing and sales teams are used to representing the business in public spaces like social media, others aren't. 
This means your employees can be reluctant to buy into the idea of employee advocacy for fear of doing it wrong. And a lot of times, a lack of interest and motivation stems from your employees simply not understanding what's expected of them.
The solution? Use your advocate platform to store a strong supply of pre-approved content for your advocates to post whenever they want. This can make all the difference between high employee engagement and widespread disinterest. 
You should also create a dedicated session to educate your staff about social media best practices for employees. This way, there's no risk that they'll do something wrong or misstep, which will help both sides feel more positive about advocacy.
Make it Rewarding
It's no secret social advocacy is extremely valuable – and the more employees who participate, the greater your ROI will be. That's why plenty of organizations incentivize advocacy.
Good, old-fashioned recognition goes a long way when motivating employees. Of course, there are other ways to incentivize employees, from financial bonuses to other perks for putting that extra legwork into the business. 
The bottom line is: don't let the value of what they're doing fall by the wayside. The day you do is the day things start to fizzle out.
Make it a Part of the Culture
What's better than a business fuelled by team members who really believe in the value of your products or services, who are proud to be employed at your organization, and who are willing to shout about that on social media? 
The more you can make your advocates a central part of the business's culture, the more productive and positive your culture will become. 
If advocacy starts to feel strategic and important to your business, then it's only natural that more of your employees will become advocates themselves. 
Finding the Right Advocate Marketing Platform
This is the biggest piece of the puzzle–finding a tool purpose-built to centralize and clarify your strategy for employee advocacy.
Oktopost is designed to empower employees to get involved in employee advocacy and, most importantly, enjoy doing so. It makes all content available in one place, and offers users the tools they need to repurpose and re-write content quickly, in a way that remains in tune with your brand voice and industry standards. 
Our platform is there to give you the support your employee advocacy strategy needs and enable you to realize the full potential it can hold for your business. So, what are you waiting for? Launch your very own program and reap the benefits of employee advocacy today, with Oktopost.