Employee Advocacy: Where Digital Experience Meets Real Life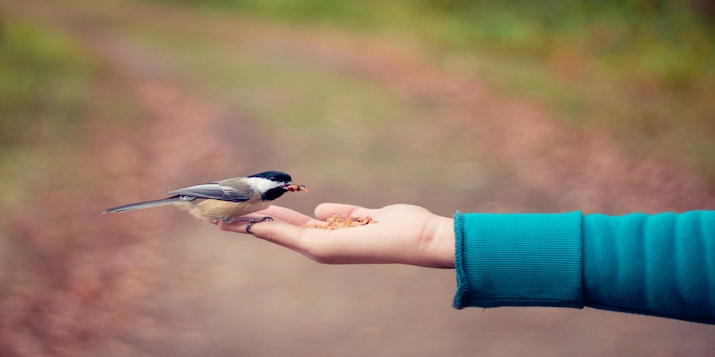 Savvy business people today know the key to reaching their ideal audiences and gaining conversions is through a comprehensive customer experience. A customer experience that is thoughtful, interactive and creative captivates customers in a way that brings them naturally to your company and persuades them subtly.
Customer experience is defined as the interaction between a company and customer throughout the entire buying process and the life of a relationship. This means from awareness to loyalty, companies should have a strategy for engaging a customer, whether that's through a content journey, a social media conversation or an in-person event.
The Customer Experience Has Evolved Almost a Full Circle
What began as primarily face-to-face interactions between a salesperson or a marketer and a customer has transformed into almost entirely a digital platform. Email, social media, live chats, etc. took all the personal touch out of how a customer connected with an organization. While this was incredibly convenient for marketers in reaching more decision makers, it started feeling too broad and careless.
We are now entering the era of personalization, where B2B companies are connecting with customers on a more personal level.
Now, customers want the element of real, tangible experiences back. They seek and respond well to the experience that fully immerses their senses and emotions. Showing, not just telling, is becoming important again. And in this age of digital advancement, companies are poised to bring the best of both real and digital experiences to their customers. They can blend technology with ideals of physical interaction to create the perfect customer experience.
That might sound like a tall task, but it doesn't have to be such a demanding process. Companies can start small and bridge real and digital customer experiences through a simple social strategy. Employee advocacy programs have many benefits, putting a face to a brand being just one.
Face to a Name
An employee social media advocacy program helps employees at all levels of a company become active advocates for a company. Taking advantage of your workforce's follower base and their specific interests expands your social opportunities. Instead of casting one net, you are casting many. In fact, messages shared by employees have 561% more reach, than those shared by company accounts. Which enables marketers to catch far more conversions and engagements than you do with a single account.
As the use of social media as a marketing tactic spread, so did customers' mistrust in the brands that used this way of communicating. From an easy way of sharing information or gaining followers, businesses had to reevaluate how to use social media wisely.
The employee advocacy program infuses an element of personality and reality into the overall strategy. If someone who works at company X is sharing industry relevant articles and fostering conversation, customers are more likely to engage and perceive the employee as a thought leader. Here are just a few statistics that express this point:
77% of buyers are more likely to buy from a company whose CEO uses social media.
Employee social marketing-generated leads convert 7x more frequently than other leads.
80% of organizations believe their sales force would be more productive with a greater social media presence.
Just as 83% of people trust word-of-mouth recommendations from friends and family above all other advertising and marketing, employee advocacy works in a similar manner. The freedom to take a side, express opinions and instill individual experiences into a social narrative presents a personal point of view. From a corporate account, a social post might be stiff, promotional and purely click-bait. If executed correctly, the same post coming from the CEO, the VP sales or even the marketing manager will sound friendly, trustworthy and inspiring. Those differences in emotions and takeaways can have a tremendous impact on who responds and converts.
[Tweet "Put a face to your company's brand with #EmployeeAdvocacy"]
Taking the Customer Experience IRL (Into Real Life)
Employee advocacy is a strong digital approach to the customer experience plan of action. At each touchpoint of the customer lifecycle, employees can be reaching out, cultivating community and propelling customers forward with personalized detail. The power of employee advocacy in bridging the digital –physical divide, is that you have a real person on both sides of the digital experience. Simply using the digital platform as a point of connection, then removing it creates more opportunity for tangible experiences.
For example, if your company will be attending an event, your employee advocates can promote the event and excite followers about certain aspects of your booth. You can also host a meet-up between your employees and customers at the event. Then finally your social employees can meet your social customers for a chance of in-person connection. It's one thing to follow influencers and leaders on Twitter and it's quite another to hear them give a keynote address or ask them a question over dinner.
To encourage these types of interactions, you must build and maintain your social advocacy program. The more you advocate internally for employees to share company content, and the better they understand the benefits, both personally and for the company, the more likely it is the program will succeed.
As every business strategy has its challenges, so does social advocacy. However, the challenges of engaging employees beyond their daily responsibilities takes only creative thinking and straightforward rules to begin. With the proper guidance and evidence of the results, employees can feel more satisfied with their company and entertain a real connection with the customers they are trying to help.
Digital —> Physical Customer Experience
Employee advocacy is the smallest link between the digital and real customer experiences, opening new doors to what physical experiences entail.
It would be outrageous not to capitalize on the advantages digital marketing holds, and rely solely on in-person engagement. However, it does makes sense to borrow ideas from both on and offline experiences.
Employee advocacy is one catalyst to thinking about this potent combination. If a customer's entry point to a company is learning something new from an employee's social post, then the full experience begins with social media and ends with in-depth, in-person engagements. Whether those engagements include employees or content or something entirely new, marketers must be thinking how it all comes together for a single story of modern parameters: digital meets physical.