Your Content is Dying! Here's How You Can Help it Live Longer
As a B2B marketer, you're most likely investing valuable time, research, and money into producing a vast sea of high-quality, compelling content. In 2016 88% of B2B marketers said they were using content marketing as their main strategy, with lead generation (85%) and sales (84%) being their most important goals. Unfortunately, only 6% of respondents consider content marketing to be very effective!
Every time writers and bloggers publish a new content piece, they hope to captivate their audience and inspire their readers. At the same time, they fear that their content will not generate the results they desire, or that it will go unnoticed.
There is, in fact, some rationality behind this fear – specifically when it comes to blogging.
A recent study by Izea and the Halverson Group examined the lifespan of 500 blog posts and found that while a blog post's popularity spikes immediately within the first week of its publication, it doesn't take long before it dies down dramatically and essentially becomes forgotten.
As you can see, 72% of the blog's impressions are generated in the first 30 days of its publication. Following this, the blog simply dissipates into thin air.
The issue really boils down to NOT how marketers can improve their content, but rather what marketers can do to ensure that all of their content – be it blog posts, webinars, whitepapers etc. – continues to spike in impressions and garner leads?
Share, Share, and Share Once More
Although it may seem pointless to post the same old content over and over again (especially when you've just created brand new pieces), social media posts have a ticking expiry date.
Facebook posts: 2 – 2.5 hours
Tweets: 18 minutes
LinkedIn statuses: 24 hours
Once the expiry date is up, your posts become irrelevant in people's newsfeeds and dwindle off.
The perks of creating evergreen content are it's lack of time-sensitivity, which gives you the freedom to post it multiple times over a longer period of time. You can define a message schedule for each network to guide your posting habits. For example, each content piece that you create can have a total of 60 unique messages which are scheduled over the course of 3 months. This can be broken down into:
30 tweets
15 Facebook posts
15 LinkedIn posts
These unique messages should vary in images, quotes, questions, hashtags, GIF's, title etc. Take a look at the different Tweets we wrote for the same blog article on employee advocacy:
Whether you're in #sales #marketing or #CustomerSuccess learn how #EmployeeAdvocacy can help you succeed https://t.co/NeqhDpymPY

— Oktopost (@Oktopost) November 17, 2016
Here are true perks of being an #EmployeeAdvocate https://t.co/QqsTTxJwWI pic.twitter.com/MEU6ZnTsdL

— Oktopost (@Oktopost) November 18, 2016
Want to be 2 times more trustworthy than your CEO? Become an employee advocate https://t.co/XWkjkSQoTL pic.twitter.com/AQNVfBNk7J

— Oktopost (@Oktopost) November 7, 2016
If you're serious about your content and about generating leads from social, then you need to drive as much traffic from social to your website. One great way to do this is managing a social editorial calendar. This can save you those long hours of planning, scheduling, and publishing your large-scale content, allowing you to prepare posts in advance and ensuring that you have a consistent social presence. In addition, it gives you a complete bird's-eye view of your entire social pipeline and content promotion, which can be categorized by campaigns, networks, profiles etc.
Driving traffic to your content or website doesn't have to be so direct. It can also be achieved like this:
Take your Audience Through a Rabbit Hole of Links
You know what it's like when you start reading something on a Wikipedia page and end up getting lost among the links you've clicked, that lead you from one article to another. In the end you find yourself reading about Philosophy.
The same rabbit hole analogy can be applied to your blog posts. Every new article that you write should be linked to your older articles or resources.
Many bloggers don't interlink the right way, so here is what you should do:
Put your links in the beginning of the article – because search engines love those links more than the ones buried at the bottom of the page.
Reference to related blog posts in your article – this will guide readers smoothly to your older posts.
Download SEO Smart link for bloggers – this is one essential WordPress interlinking plugins which automatically interlinks keywords and phrases in your blog articles with corresponding posts, pages, categories, and tags.
The next thing you shouldn't forget about is your marketing automation platform (if you have one).
Make It Easy for Readers to Share
Shareability is an important element in sparking readers' interest and driving traffic to your website. That's why you need to make it easy as possible for people to share your content online.
Set up your blog with social sharing icons as we've done: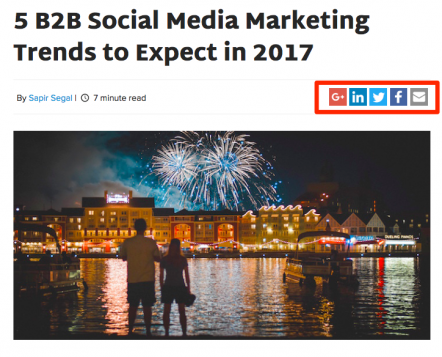 You can also add social icons on the side of the screen so even when readers scroll up or down they always have the option to share.
Don't forget to add a click-to-Tweet plugin which gives readers an already-made message that they can easily click and share (c'mon…we know you want to click it!)
[Tweet "Here's how you can stop your content from dying: #contentmarketing"]
Experiment with these different plugins to see which one generates the most clicks for you.
Leverage your Content The Right Way
Social media and interlinking aren't enough. The best way to leverage your content is by driving effective lead nurturing programs. 79% of marketing leads never convert to sales because the company lacks a proper lead nurturing strategy.
As your leads start to come through your content and move towards the middle of the funnel, it's crucial that you continue to provide them with thoughtful, personalized content that targets their specific needs, industry, and company size. This includes newsletters, buyer's guides, eBooks, case studies/customer success stories, and product reviews.
Lead nurturing centers around relationship building with prospects because it helps you build a meaningful conversation with them in order to turn them into customers.
Who and How Should you Nurture?
Anyone and everyone who has shown interest in your content. Whether they subscribed to your blog, signed up for a newsletter, watched a webinar or downloaded an eBook or whitepaper.
Once you've established who to target, you can begin to segment your audience according to where a prospect is in their buyer's journey. Based on this information, you can create fictional personas to understand your prospective customers better and be able to tailor specific content to each persona.
Next, you should map out your content plan. That means figuring out which content will be more effective in moving leads towards the bottom of the funnel.
Consider these nurture program suggestions by Pardot:
Event Follow-up: After a lead has participated in a third-party event or a webinar, you can take the opportunity to follow up with a content piece that is specifically related to the material covered in the webinar or event.
Thought Leadership: Remain engaged with your prospects by providing them with content that is tailored to their needs, interests, and industry – this could include blog posts you've written.
Sales Enablement: One of the most powerful aspects of lead nurturing is that you can control the sender of the program. Create an automated nurture program that sends directly from your sales reps to their customers. This way, your marketing programs can be working in the background building relationships while reps are actively reaching out to their customers.
If any of your leads are coming through social media, then a social media management platform like Oktopost enables you to capture these interactions and connect them to your MAP. This paints a clearer picture of your leads' journeys and assists you in building rich nurture programs.
Don't let good content die. Promote it constantly on your social networks, make it easy for people to share, lead readers to your older posts through interlinking, and take advantage of your MAP to nurture leads!