Marketing Automation vs Sales Automation
It's a struggle out there and supplies are limited. B2B marketing and sales professionals are fighting a daily battle to convert a finite number of leads. With profit margins constantly shrinking, there is little to no room for error or inefficiency. This is why automation of B2B marketing and sales activities appears inevitable.
It's clear that organizations looking to scale up embrace automation tools and solutions to boost their marketing and sales operations. However, they often miss the distinction between these two methodologies.
What is Marketing Automation?
Marketing Automation is the use of software and Web-based services to execute, manage and automate marketing tasks and processes. It replaces manual and repetitive marketing processes with purpose-built software and applications geared toward performance. 
There are numerous definitions for the industry term online. However, the best way to understand marketing automation is to review its main capabilities.
Marketing Intelligence

– This essentially

refers to the use of tracking codes to monitor online behaviors.
Business Development – Automated business development relies on email marketing, social marketing, SEO, and content marketing.
Advanced Workflow Automation – This step encompasses the complete automation of internal marketing processes and functions.
Did You Know?
business spending on marketing automation tools is expected to exceed 25 billion USD by 2023.
A comprehensive marketing automation solution should encompass the following parameters to help the relevant stakeholders do a better job.
| | | |
| --- | --- | --- |
| | Stakeholders | Tools |
| Social Marketing  | Marketing Manager, Social Media Manager, PR Manager | Social Media Post Schedulers, Analytics, Brand Watchers |
| Email Marketing | Marketing Manager, Digital Marketing Manager | Automation Platforms, Analytics, CRM Integration |
| Lead Generation | Marketing Manager, Head of Content, Content Writer | Websites, Blogging Tools, Analytics, SEO Tools |
| Web Analytics | CEO, VP Marketing (CMO), Marketing Manager | Visual Software to Measure Results in Real-Time |
| Customer Tracking | VP Marketing (CMO), Marketing Manager, Head of Content | Landing Page Gens, Customer Journey Tools, Analytics |
Needless to say, the modern marketing automation solutions are usually connected to the sales automation platform, mainly the CRM solution. Automating the aforementioned aspects of marketing operations introduces a wide range of benefits that can no longer be ignored. These include:
Create Quality Leads –

Get a clear view of your B2B space and gain intel about your leads to clinch the advantage. With the right Customer Relationship Management (CRM) software and quality content, you can reach and engage your target audience more effectively.

Scale Up Faster

– What used to take years previously can now be done in a matter of months. For example, companies that use automation to manage their leads can expect a

10% or more bump in revenue

within 6-9 months. This is almost a necessity in today's competitive markets.

Value for Money

– Besides the time that is being saved, marketing departments can also save money and resources. Lesser people are required to manage the logistical and administrative aspects of the marketing operations, regardless of how fast the company is growing.
As shown in the diagram below, marketing has taken over some major aspects of the funnel, most importantly the Consideration and Intent stages that used to be handled by Sales personnel until recently. This has made selecting the right marketing automation solution extremely important today.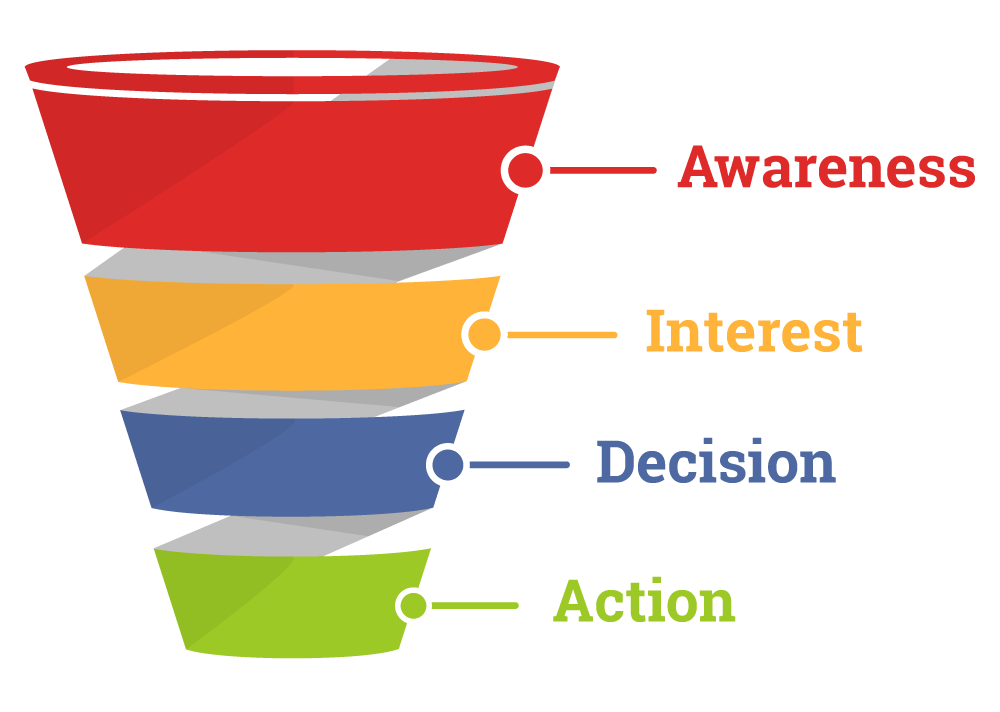 The Marketing and Sales Funnel: Then and Now
Although the advantages of marketing automation clearly outweigh the cons, they still do exist and need to be taken into consideration.
Learning Curve – Besides the fact that marketing automation solutions can be quite costly, properly implementing them and blending them into your ecosystem will require training and onboarding. This is an ongoing process as these solutions evolve and become more feature-rich.
Overfeeding Leads

–

There's a danger that marketing automation leads companies to communicate with their customers too frequently.
Mistakes are Costlier – As explained earlier, these automation solutions are capable of managing thousands of leads and customers at a time with just a few clicks. But everyone should be aware that a wrong click can lead to disastrous results (i.e – wrong email to a wrong segment).
What is Sales Automation?
The centerpiece of any sales automation platform is the Customer Relationship Management (CRM) tool, which helps organize, track, and nurture leads. When this crucial sales backbone is managed automatically with minimal human intervention (and errors), it introduces a wide range of benefits.
Automated Activity Logging – All non-sales activities, such as logging emails and phone calls, are done automatically and are also visible to all managers and stakeholders for future reference. Gone are the days of manually performing all these tedious administrative actions.
Automated Record Creation – Leads come in all sizes and forms. They can visit your website, catch you at a conference, or respond to outbound activity (i.e – email campaigns). Sales automation software can immediately generate CRM records when these things happen.
Automated Communication – Sales emails and personal email sequences can now be automated and sent at predetermined intervals. These intervals can be tweaked as per the performance data. Meeting scheduling is another important thing that is now automated.
Automated Lead Management – Many sales automation tools allow managers to set automatic lead assignment rules based on their own criteria, which reduces the number of little decisions that need to be taken in real-time, something that significantly improves productivity.
Automated Guidance – With automated guidance and reminders implemented in a CRM, sales reps always know what they have to do next in order to keep their deals moving forward, ensuring that important tasks are completed on time. This is great for new team members.
Sales automation creates the consistency that's necessary for a team to accurately measure the health of their sales funnel and make improvements. Furthermore, using a sales automation solution today can allow you to track a wide range of metrics that can help you optimize your performance.
Sales KPIs – CEO (and Senior Management), Head of Sales


Total revenue, Market penetration, Net Promoter Score (NPS), Average lifetime value (LTV), Revenue by territory/market, YoY growth

Activity Sales Metrics – Head of Sales, Sales Reps


Number of made calls and sent emails, Number of conversations, Number of demos, Number of scheduled meetings

Outreach Sales Metrics – Head of Sales, SDRs


Email sales metrics (open, response, and engagement rates), Phone sales metrics (call-backs, prospects who move ahead), Social media metrics

Channel Sales Metrics – Head of Sales, Sales Devs, Account Managers


Partner performance (revenue, margin, average deal size), Partner customers stats (retention rate, average cross-sell and upsell rate) 

Sales Productivity Metrics – Account Managers, Customer Success


Time spent on selling, Time spent on manual data entry, Time spent on content, Average number of sales tool used daily
All in all, automating the sales activities provides all aforementioned stakeholders with the opportunity to focus on what they do best – selling.
Did You Know?
SalesForce Automation can lead to an 18% reduction in sales cycles.
Marketing Automation vs Sales Automation 
As evident to all, having both marketing and sales automation platforms is the ideal scenario for any organization, regardless of its size, sector or age. However, it's important to understand the differences between the two methodologies, which have different purposes for a wide range of scenarios.
| | | |
| --- | --- | --- |
| | Marketing Automation | Sales Automation |
| Purpose | Create Leads | Close Deals |
| Actions | Build Client Base, Nurture Leads | Track Lead Score, Close Deals |
| Components/Tools | CRM, Content, Social, Emails | CRM, Marcom, Emails, Calls |
| Main Responsibility | Marketing Flow Optimization | Make Calls to Schedule Meetings |
| Implementation Stage | All Stages (New, Growing, Old) | Not a Must for New Companies |
Common mistakes made with marketing automation solutions:
Ignoring Top-of-the-Funnel Activity

– You may have a state-of-the-art automation solution for your middle-of-the-funnel, but it's not worth much if you don't have a sound Lead Generation strategy. This requires sound content, strong email campaigns, and good social marketing.

Lack of Proper Nurturing

– Many organizations fail to bring in quality leads. But even when they manage to do so, they ignore the importance of nurturing (timing, frequency, etc). When this is not done properly, leads eventually move on and sales reps are left wondering what went wrong.
Common mistakes made with sales automation solutions:
Dependence on Email Templates

– Yes. It's great to work with email templates and forget about your email sequences. But sales reps often forget that this functionality is to allow them to customize their emails frequently rather than just automate them with no proper tweaking.

"Attacking" too Early

– Premature meeting requests should also be avoided at all costs. Just because your CRM system has been defined in a certain way doesn;t always mean your lead is ready to strike a deal. He usually needs to go through the entire funnel before he is "read-hot".
Furthermore, having no segmentation is bad on both fronts. Taking shots in the dark can get you some success initially, but you need to understand your target audience and create proper segmentation for sending them the right material for optimal conversion as you ramp up your marketing and sales.
Summing Up
You may have expected this to be an epic clash of technologies, but the bottom line is actually one of peace and coexistence. Your individual preference may dictate which type of automation you pick, but both are extremely crucial to creating a dominant source for producing revenue for your business.
You may not need sales automation if you are just starting off, but getting it to compliment your marketing automation platform can help you grow fast(er).