Natalie Lambert on Why Measuring TOFU Content is Painful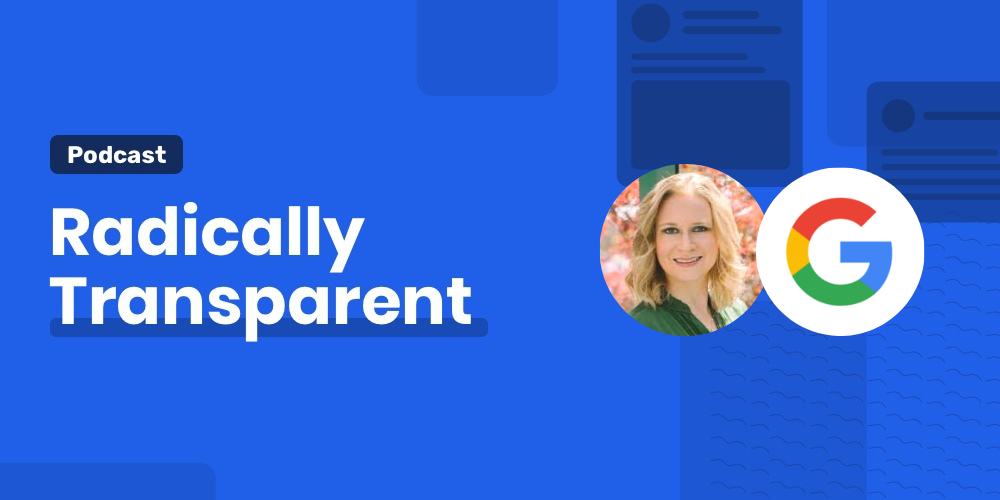 Natalie Lambert, Global Director of Storytelling for Google Cloud at Google, takes the hot seat today.
Listen to the podcast:
For more thought leadership on measuring TOFU content and measurement, check out our Radically Transparent podcast on Apple Podcasts, Spotify, YouTube or LinkedIn.
Watch the recording:
Want to hear more from renowned marketing leaders? Catch all episodes here.
Meet Natalie Lambert
Natalie is on the Google marketing leadership team responsible for messaging, customer intelligence, social media, and content strategy for Google Cloud. Prior to that, she was the Chief Marketing Officer at Instart, an enterprise security company acquired by Akamai.
Before joining Instart, Natalie served as the Chief Marketing Officer at Sapho, an enterprise productivity company acquired by CItrix. Previously, she spent seven years at Citrix where she held multiple product marketing leadership positions, including having responsibility for the company's multi-product solutions, thought leadership efforts, and positioning of Citrix as a leader in digital workplace technologies.
Natalie began her career at Forrester Research where she was a principal analyst covering end user computing. In that role, she advised clients on technology investments and best practices surrounding the enterprise computing environment. Natalie has been widely quoted in the press, including outlets such as The New York Times and The Wall Street Journal, and has written for Wired, Forbes and CIO.com.
Episode Summary
Understanding the impact of all the various things B2B marketers do is hard to quantify. Today's marketing leaders do not have the ability to say that a specific tweet or single podcast has led to a true sales lead.
Natalie Lambert, Global Director of Storytelling for Google Cloud at Google dives head first into the challenges of measurement, especially with top of funnel content going down the funnel, understanding the peaks and valleys of success and ways to quantify activity that leaders may not even know if or how it participated in a customer's purchasing decision.
Stay in the Loop
Radically Transparent, is a podcast geared towards the modern-day B2B marketer. Host Jennifer Gutman and her guests are a mixture of renowned marketing and sales leaders from B2B marketing organizations around the globe.
Each episode shines a light on the inner workings of B2B leadership– including what keeps successful CEOs, CMOs, VPs and social media teams up at night, professionally. The conversations are real, raw and authentic all while revealing to listeners the unfiltered, not-so-known truths of today's most interesting marketers.
Quickly becoming one of the Oktopost's most popular original podcast shows on the internet, new episodes air every Thursday on Radically Transparent, a podcast channel, built for marketers, by marketers.
Catch all episodes here.
Like What You Heard?
Help us get the word out! Leave a rating and review on Apple Podcasts by heading on over to the Library Tab under Shows. Click on the podcast subscription and scroll down to Ratings & Reviews to give it a star rating.
It'll take you less than a minute and it'll help us spread the word about Radically Transparent.
Subscribe to the Radically Transparent Podcast, brought to you by Oktopost, today: