Oktopost's Social Listening: Tap Into Conversations That Impact Your Business
To stay top-of-mind for your customers, you need to be two things: relevant and valuable. To tick both boxes on social media, your strategy can't be a monologue. It has to be a two-way street: before you even say something, you might want to listen to what your audience, your competitors, and the entire industry are talking about.
The practice of social listening was adopted by the B2B marketing community from our B2C counterparts—very much like social media itself. The volume of B2B mentions might be lower, but the potential cost of every missed negative post is so much bigger.
Seeing the positive effect of social listening on their brands, more and more data-driven marketers are looking for a powerful solution to support this strategy.
Today, we're happy to announce Oktopost's Social Listening.
As part of the platform, the new module will provide our customers with best-in-class tools to tap into social conversations that impact their businesses.
The benefits of social listening span departments from Marketing to Product to Customer Support. Let's dig into some of the use cases to understand how Oktopost can help your entire organization leverage social media to reach your goals.
Monitoring brand health
With social listening, you can measure and manage your reputation by monitoring brand mentions and seeing how the mention trend changes over time.
With a Query set up around your brand name, Oktopost will grasp the number and sentiment of social mentions as well as the media coverage across news and blogs, while also giving you a location breakdown and the most used words mentioned in connection with your brand.
You can always edit and refine settings for a live query to make sure you're getting only relevant information. Oktopost also allows users to set up a mention limit for each query to control the amount of data the system will collect.
Benchmarking and competitor analysis
Social listening is also a great way to analyze how your presence stacks up against competitors and industry leaders.
By using Themes within your social listening query to layer brands or campaigns, you can understand the share of voice, comparative sentiment, geographical distribution, and more.
For an even more granular analysis of an individual competitor, Oktopost allows you to listen to their social media profiles instead of using keywords-based listening.
The Profile Analysis will enable you to zoom in on what your competitor is posting about, identify their most used words and hashtags, and understand the sentiment around their social campaigns.
Tracking customer conversations, industry trends, and influencers
B2B marketers also use social listening to keep track of industry hot topics and new frontiers before they become official trends—so they can get an idea of the environment their businesses will operate in tomorrow.
Keeping a hand on the pulse of the industry can also inform your content marketing strategy and focus on the topics your customers truly care about.
Another marketing program you can improve with Oktopost's social listening is influencer marketing. Our tool helps identify industry thought leaders, people you would want to closely follow or potentially partner with to showcase your brand to the larger market.
In the Authors tab, you can track top social media users writing about any subject and estimate their reach and sentiment.
Research engine for agile product teams
If for marketers social listening is a way to analyze conversations and trends at scale, product teams are using this tool to get unbiased feedback from customers, uncovering their individual needs, challenges, and pain points.
With Oktopost, your product team can get a wealth of data for their research: from conversations around real-life use cases to competitor reviews and product feedback.
Our Overview dashboard also transforms individual pieces of feedback from around the web into actionable data that can inform your product development and business model.
Additionally, you can quickly export your social listening reports in PDF or CSV formats to share with the wider team.
Listening for customer success
Social media is where everyone is. If a customer or prospect has a question, chances are they will reach out to you on social.
In recent years, many of those inquiries moved from DMs to public posts, which helps people and companies hold their providers accountable. Your Social Inbox will aggregate all network mentions, but if the customer didn't tag your company, spelled your name incorrectly, or took their issue to a forum or blog, you won't see it.
That's where our social listening can help: it will pick up every public mention (even without @ or #) and spelling variation—so you can engage back and avoid damaging your reputation or, in some cases, losing a customer.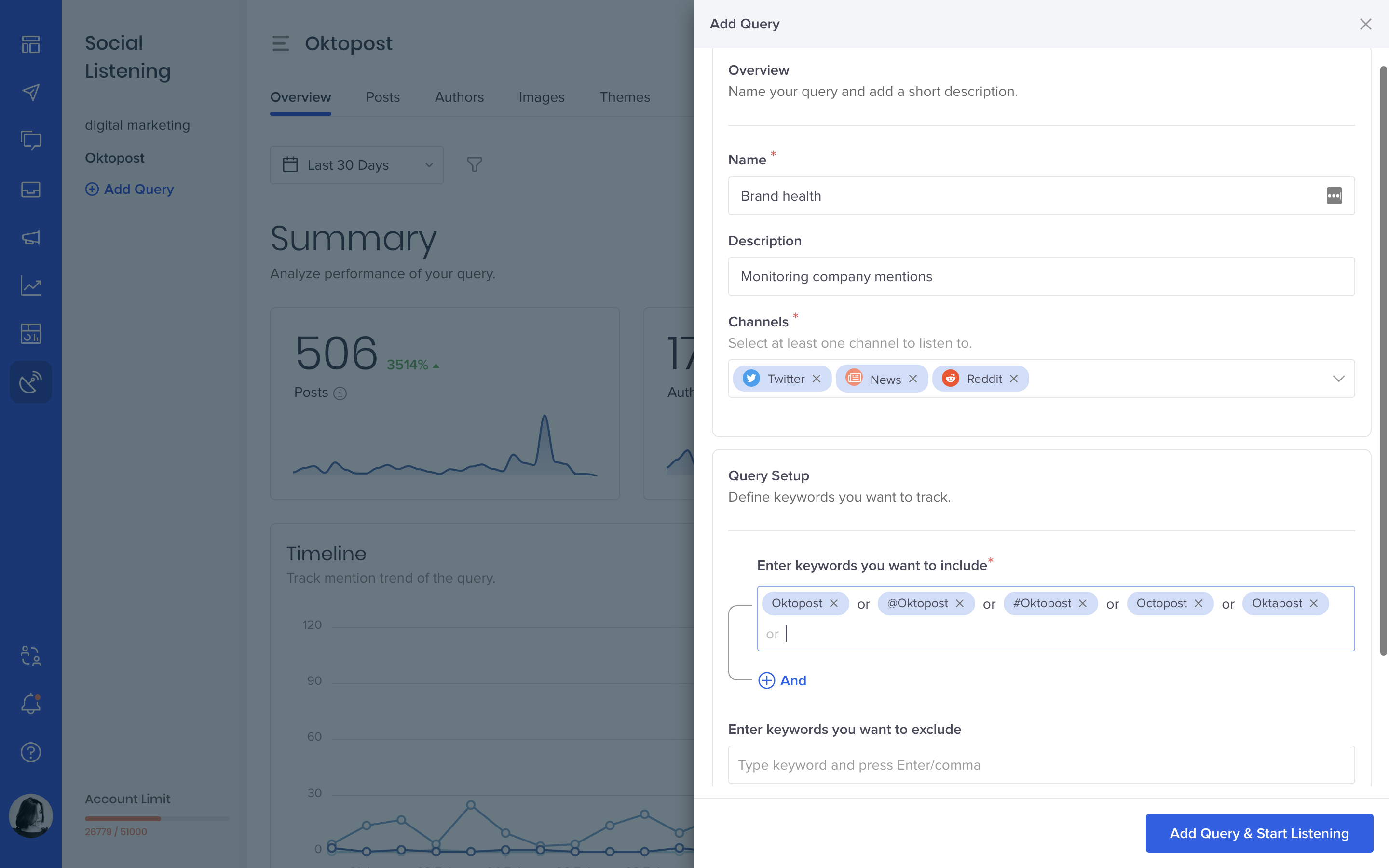 That is just a handful of use cases supported by our new feature, which is already available in your account. Explore it today and let us know how social listening supports your B2B strategy.