Social Data Analysis: The Pros and Cons of Social Data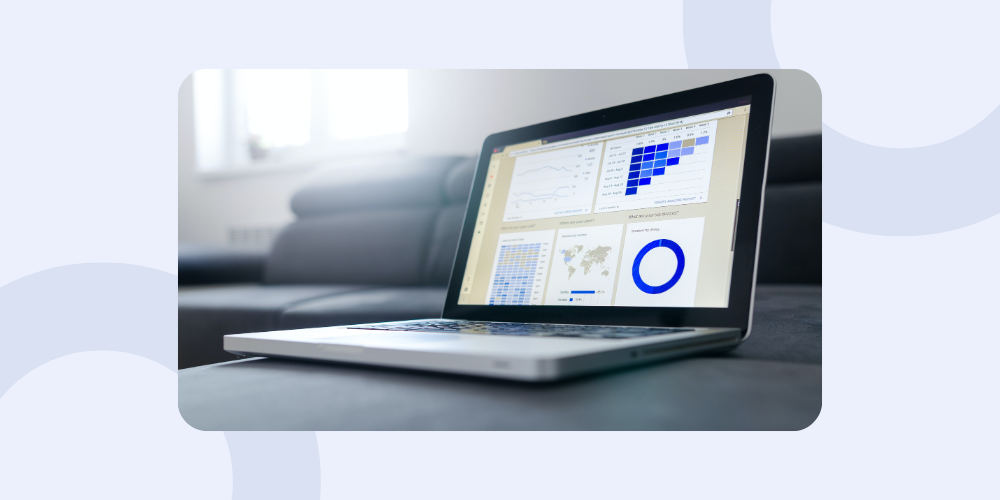 In today's social media-driven world, information about customer behavior, public sentiment, and user preferences is at the tip of any business's fingers. But when it comes to social data, it's not about how much data you have but rather how you leverage it. 
It's not just about networking anymore. 75% of B2B buyers use social media to make buying decisions. Your buyers are online, scrolling through their favorite platforms and engaging with your brand (and others). Their research and engagement can turn into precious data for your business. Discover what interests them, the content they enjoy seeing, their pain points and frustrations.   
Ultimately, brands can leverage social data to optimize marketing strategies, manage reputation, foster better customer relationships, and sustain profitable growth. But this process comes with its own set of challenges. Social data analysis requires the right tools and thought processes to collect, analyze, interpret, and apply the data accurately.
Jump ahead:
What Kind of Social Data Can You Analyze? 
Deciding which key metrics to analyze can be challenging with endless social data available. You'll want to choose metrics that align with your business goals for a complete 360º view of your customers and lead engagements on social. 
To best understand which content types and topics resonate with your audience, measure engagements such as likes, comments, shares, clicks, retweets, or reposts. These metrics indicate that your content was compelling enough for a user to take action, so you may want to post similar content in the future.   
But what's equally important is that the engaging followers are from the right audience. Track follower demographics such as location, company, gender, title, and industry to ensure you are attracting the right audience and to identify if any of your current followers are potential prospects. 
For a competitive edge, benchmark against competitors' social media data to reveal where your content may fall short. If your strategy includes paid ads, analyze campaign metrics to optimize performance and budget allocation. Additionally, monitor keywords, hashtags, and sentiment analysis to understand how your audience perceives your brand. Finally, measure site traffic to understand which social media channels deliver traffic to your website.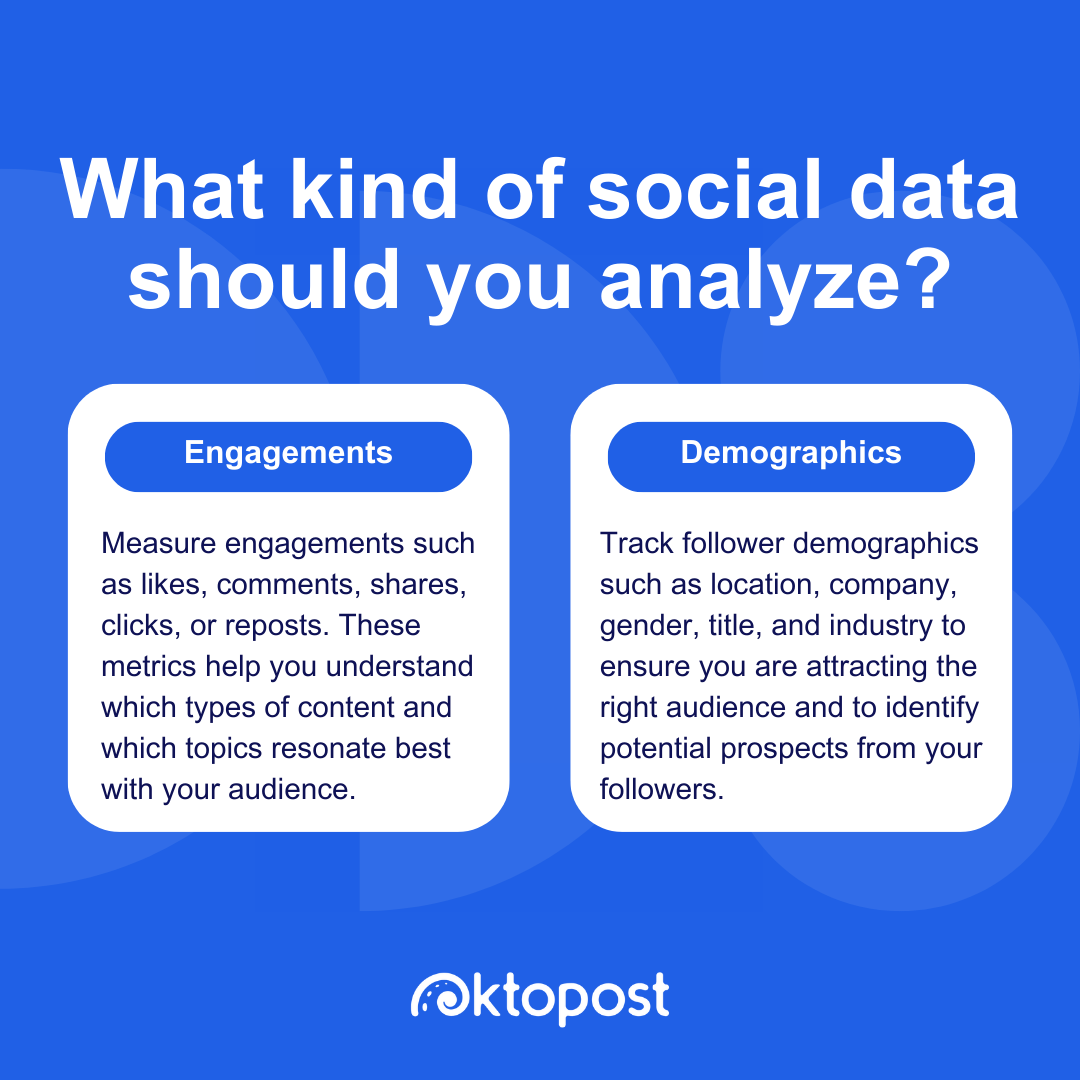 What Are The Key Components of Social Data Analysis?
1. Data collection 
Social data analysis starts with data collection. This first critical step involves identifying the relevant social platforms and data points to focus on based on your business goals. You can collect data manually and use tools such as Microsoft Excel or Google Sheets to track metrics from the social networks you will analyze.  
Alternatively, you can use a social media management tool that automates data collection and creates dedicated reports with critical social platforms and data points. Even if you collect data manually, connect all your social networks to a unified social media management tool like Oktpost to make this process seamless and accurate.  
2. Social data processing 
After collection, you need to process raw social data to ensure it's in a proper format to be analyzed. This process involves filtering out irrelevant data, fixing inconsistencies, and structuring the data. If your organization engages in employee advocacy, it would be at this step to remove or keep engagement metrics garnered by your employees. 
3. Analyzing the data
Once your data is processed, your analysis can begin! When analyzing data, especially from social media, it's helpful to zoom out to understand the big-picture trends and focus on specific details. For example, you may discover increased comments for a particular campaign. But, upon diving in deeper, you identify that more than half of the comments received were negative. So, while the high-level metric could look positive, the sentiment analysis at this step provides crucial context. 
You can apply the same principle to follow growth and audience demographics. Overall, the goal is to identify trends and patterns within the data. Ask yourself, what story is the data telling me? 
4. Using data visualization tools 
To take data analysis a step further, utilize data visualization. Visually representing data through bar charts, line graphs, or funnels turns complex data into easy-to-understand formats. If you're using Social BI within Oktopost, select the right chart type and filters to represent your findings. This step is crucial for social media professionals presenting data to leadership or stakeholders. Pro tip: make sure your data visuals and reports accurately dictate the story you are trying to tell! 
5. Decision-making
The final and arguably most critical component of social data analysis is decision-making. Set an uninterrupted time to sit with the data and understand how it can improve your strategy. Is the content earning the most engagement aligned with your brand's message? If not, it could be time to change your content pillars. Are the content types you invest heavily in, such as videos, outperforming other content types that require less production and resources? If not, consider scaling back production in those areas and shifting focus towards the formats that drive higher engagement. This process completes the loop from data to value.
Social Data Analysis Pros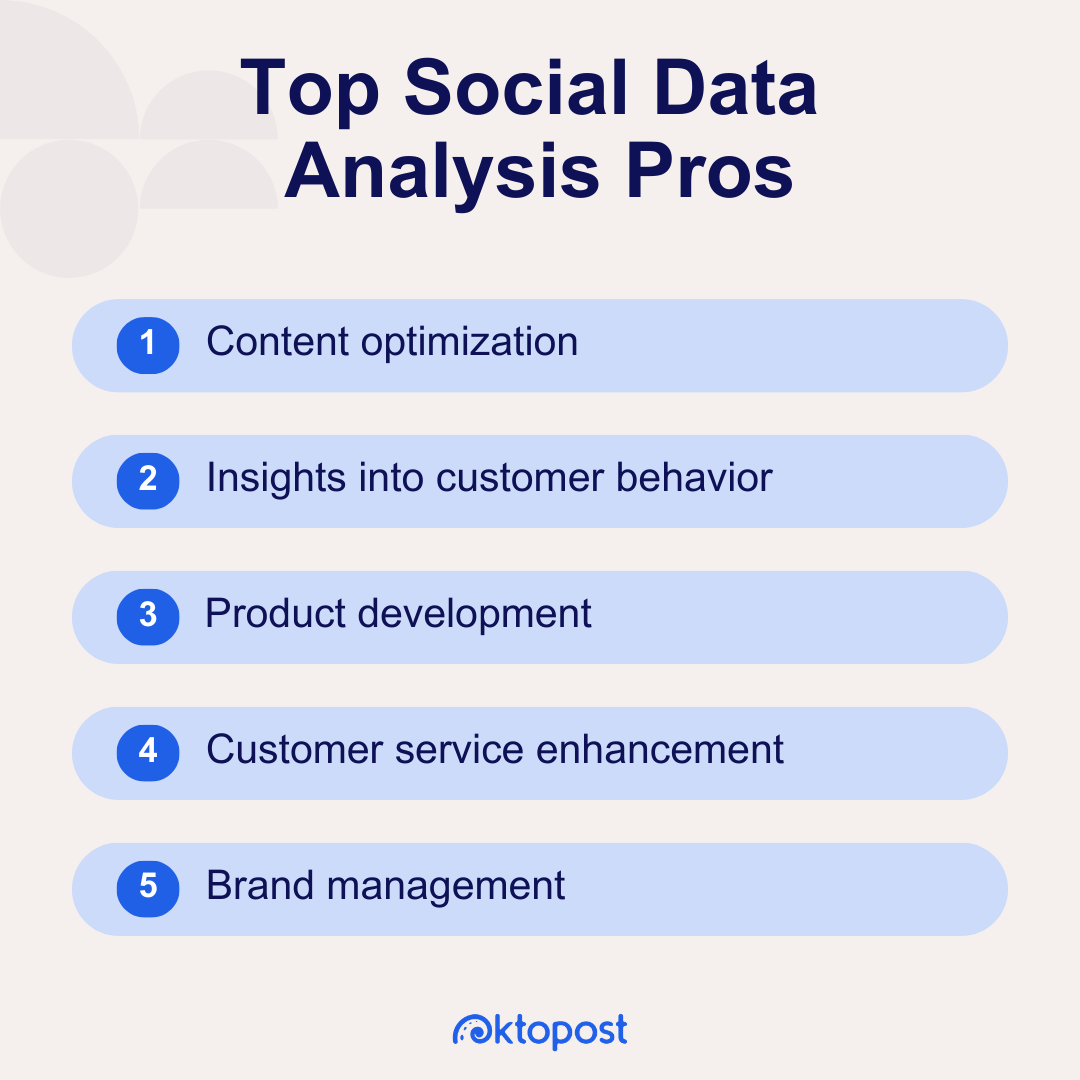 Content optimization 
It's not enough that your content reaches the right audience – it also needs to resonate to turn prospects into qualified inbound leads. By analyzing social engagement data, you gain insights into which topics resonate most with your target audiences.
With Oktopost, you can organize content by campaign and utilize tags for granular reporting to understand which topics resonate and at which funnel stage.  These insights allow you to double down on creating more of the content that works and reduce time spent on underperforming content. 
For example, you may find a particular content topic consistently earns high engagement across social media. You can use this insight to develop blog posts, videos, and other digital content focused on that high-interest topic. 
Insights into customer behavior 
There's no better way to understand customer behavior and preferences than by analyzing past social media interactions. Uncovering which platforms your audience is most active on and what content types resonate offers invaluable insights into your strategy. When you can analyze how your customers interact on social networks, you gain the power to create tailored content strategies that align with their interests. 
For example, examining historical engagement data may reveal video content performs best on LinkedIn. At the same time, short image posts get a high reach on X. You can structure your organic content and advertising campaigns around this for higher chances of success. 
Product development 
Your social media data holds valuable insights to inform your product development. By collecting comments and social listening queries that pertain to specific product offerings, you gain unfiltered, real-time customer feedback that can set you apart from your competitors. 
Consumers typically voice product opinions on social media and call attention to outages, bugs, pain points, and desired features. By tapping into social data, you can address customer needs and let their feedback guide your product roadmap. 
Customer service enhancement 
Analyzing social media conversations such as comments and DMs highlights the key questions and concerns customers turn to social media for help. With this knowledge, social media teams communicate with customer success teams to identify common issues proactively and improve processes to address them.
For example, analyzing social data may reveal that billing inquiries are why customers DM your corporate X account. With this knowledge, customer success managers can address billing questions on onboarding calls. 
Brand management 
Your social media data can depict how your brand is perceived online. Analyzing brand metrics collected from social media, such as sentiment, keywords, and mentions, allows you to identify potential issues before they escalate.
Social Data Analysis Cons
Data privacy
Data security can be a challenge when collecting and analyzing social data. Therefore, recognizing the significance of individual privacy rights and the responsible processing of personal data is crucial. Make sure you use a social media management tool that operates with these guidelines, such as Oktopost, which ensures compliance with GDPR requirements and maintains a secure environment for social data analysis. 
Siloed data
When data remains siloed, you can't accurately collect or analyze data to understand how your current strategy is performing. Marketing operations, sales, and other teams may hold valuable data outside the social media function. When data is not unified, you can not accurately apply insights to your broader strategy. 
Data accuracy 
Spam, fake accounts, and biased user-generated content can skew the accuracy of social data analysis. While data processing is crucial for ensuring accuracy, manually discarding unusable data can be highly time-consuming, making data accuracy a significant hurdle. 
Resource-intensive
Comprehensive social data analysis requires the right technology, tools, and dedicated teams. However, making the case for these often expensive resources is difficult, especially for small departments lacking prior data to demonstrate ROI.
Cultural challenges
Global social data analysis poses unique challenges, with cultural nuances often lost in translation. To tackle this, teams can bring local cultural experts and community insights to add context to regional social data. However, smaller departments with tight budgets and limited resources may be unable to invest in this. 
4 Steps to Use Social Data Analysis to Power Your Marketing Strategy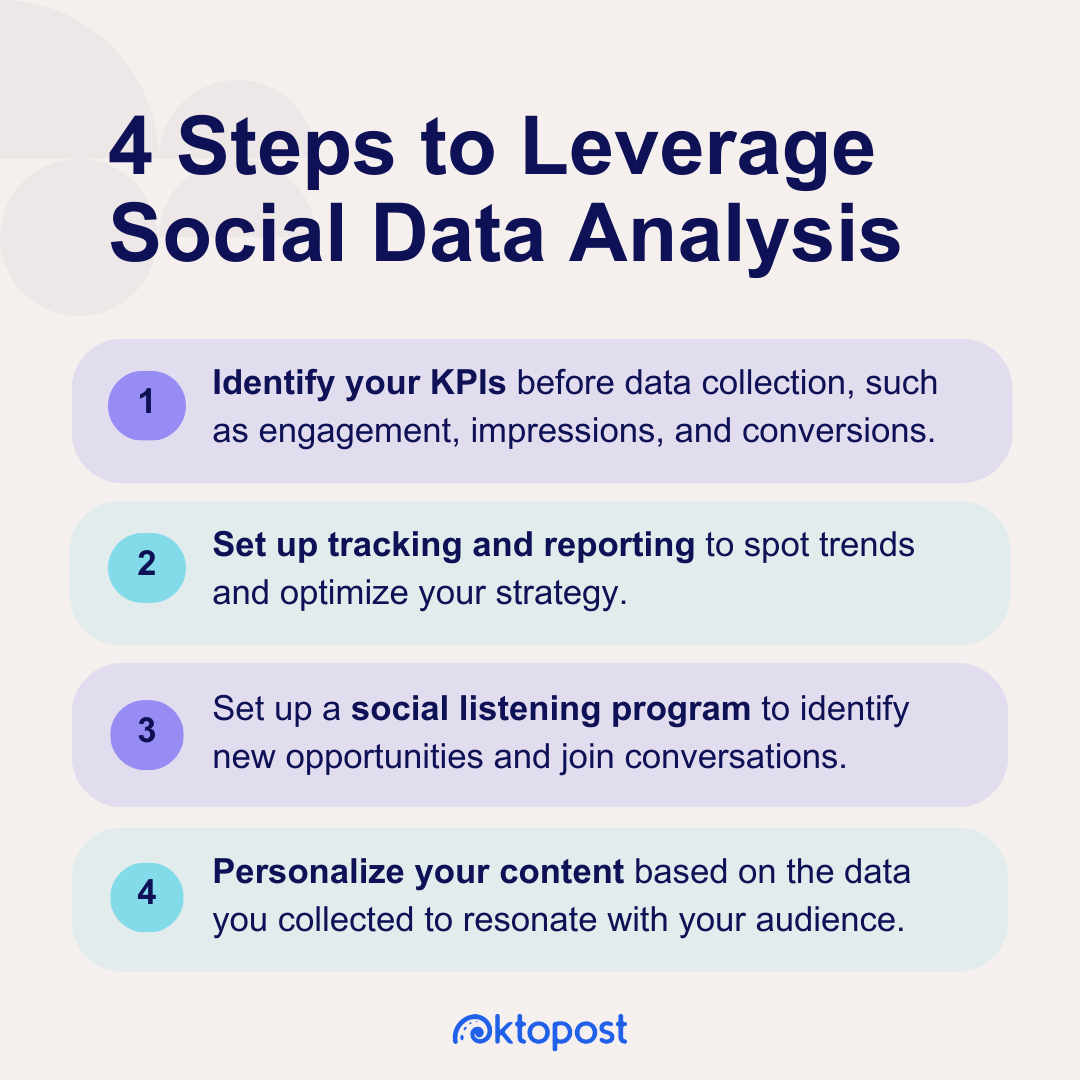 Identify your KPIs before data collection: To make your data actionable, determine the metrics needed to progress towards your goals. Social media marketing KPIs include engagement, engagement rate, impressions, reach, and conversions.
Set up tracking and reporting:

Using a social media tool like Oktopost takes the heavy lifting off. You can quickly analyze data across platforms with automatic data capturing and advanced reporting. Without the hassle of manual reporting, you can create more frequent reports to spot trends and optimize your strategy.

Set up a social listening program: After analyzing the conversations on your social channels, take it one step further and set up social listening streams. This lets you monitor external conversations among prospects on public forums, competitor pages, industry hashtags, and more. Social listening gives you that visibility so you can identify new opportunities and join conversations organically to position your brand as a solution.
Personalize your content: Social data analysis will help you see what content resonates so you can customize social posts accordingly. These insights can also inform your overall content strategy across channels. You can personalize email campaigns, website content, ad messaging, and more with a clear picture of audience preferences from social data.
Make Your Data Actionable 
Social media data provides invaluable insights to improve your marketing efforts. But analytics are only as good as what you do with them. Regularly monitoring and reporting on your identified KPIs allows you to spot trends and opportunities to refine your social strategy over time. 
Effective social data analysis requires balancing data privacy, unifying siloed data sources, maintaining accuracy, and securing resources. Your organization will gain rich customer insights, optimized content, product feedback, brand monitoring, and more when done right.
The data is out there. Now, turn it into marketing success with the power of social media analytics. With Oktopost, you can access the data you need to take action and drive results through social media. Explore more here.