Why Social Media Publishing is Essential for Your Business Growth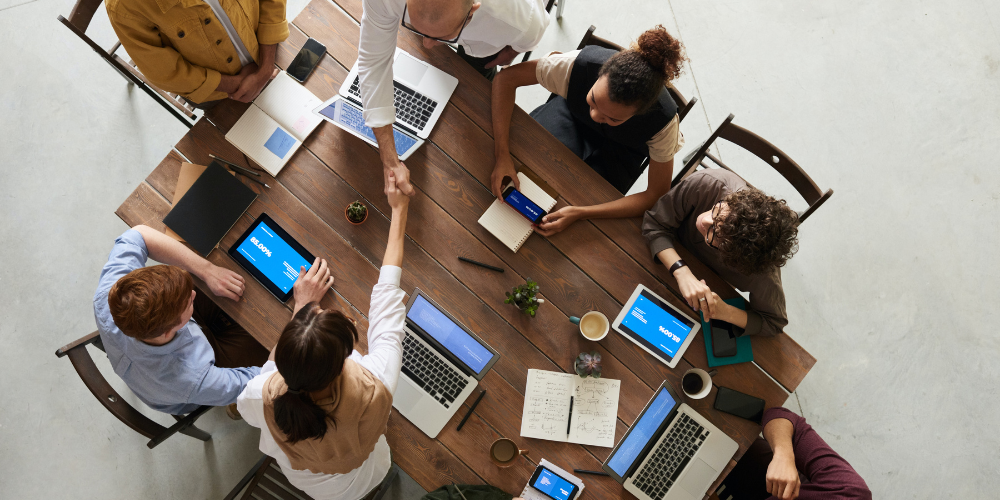 Once upon a time – although maybe not very long ago – social media represented a budding complement to the well-formed marketing strategy. It was an optional extra – a way to boost your business's digital presence, maybe communicate directly with a few customers here and there, and to post the occasional update or product launch.
It's been less than twenty years, but the world of social media has gone through countless revolutions since then. While, in those early days, posting was a more or less spontaneous, off-the-cuff exercise, no business should attempt to make their mark on the platforms without a clear and creative social media marketing strategy.
That is, of course, the crux of it: social media is practically synonymous with digital marketing and, on the list of priorities, everything else now falls dutifully behind it. For any business looking to make the most of the world wide web, social media is the key.
But why is that, exactly? Surely it's not just a case of numbers. While social media is undoubtedly a popular place to be, with some 4.2 billion users, that can't be the only reason why social publishing is key to business growth.
You'd be right in saying that. The reality is a lot more nuanced, and a lot more worthy of your attention…
It represents a Key Point-of-Contact
For many businesses, the primary point-of-contact between themselves and their customers is their website. There are plenty of ways to make a website more engaging – to make your brand voice stand out and to really grab visitors and convert them into return customers. From improving content creation to embracing dynamic design, the website requires a regular investment of time and energy if it's going to do the most it possibly can.
But, as a point-of-contact, the website is strongly rivaled by social media:
Because it's more dynamic
The point of social media is to post regularly – to interact with other posts and comments and to maintain an active presence that you just don't get elsewhere. True, you can – and should – update your website's blog and news board regularly, not just for your customers, but for your SEO, too. You can send emails and other comms to customers who have signed up for them. But nothing is quite as dynamic as social posting.
Because updates are seen instantly
From posts to stories, social media is a little like the city that never sleeps. While customers will only ever be on your website some of the time – and, often, for a specific purpose – visits to social media are far more spontaneous, far less structured, and, typically, far more regular. In 2022, we spend an average of 2 hours and 27 minutes on social media each day – far more time than we would devote to a single company's website. True, your followers won't spend all that time looking at your page, but the little-and-often approach to self-promotion is incredibly valuable.
Because updates are self-promoting
No need to match any website change or blog post with an email or social media post – thanks to the way posts are featured on followers' feeds, anything you post will find its way to your followers without additional work. True, it takes work and skill to ensure your posts will find their way to the top of followers' feeds and get as much attention as they deserve, but with the right strategy, this is more than possible. Provided you're making full use of a strong social media management platform marketing, scheduling posts for maximum impact will ensure the right content reaches the right people.
Because the floor is open for meaningful interactions
Blog posting and email marketing – and, of course, traditional advertising – are largely one-sided. Even customer surveys maintain some distance between the brand and the customer. That's not to say it's not valuable to your brand. On the contrary, a diverse and varied approach to marketing will always be the key to business growth.
At the same time, however, it pays to take advantage of those marketing platforms that enable you to actively build relationships with your followers through meaningful interactions and participation in topical conversations.
Because it provides the best opportunity to convey your values to visitors
Each and every time you partake in one of those meaningful interactions, you're using an opportunity to convey your company's voice and values to a wider audience. A strong grasp of your brand voice is fundamental to standing out from your competitors, and to attracting a wider pool of customers.
It's Scalable
Social media is as available to start-ups as it is to SMEs and global conglomerates. The platform is the same one that will see you through years of growth and development, and the right social media strategy is always primed for redevelopment as and when the needs of the business and its customers change.
This is something we continually emphasize here at Oktopost – the fact that no social media strategy should ever feel set-in-stone. Social media itself is constantly evolving. How we posted ten years ago, five years, or even 12 months ago was a product of its time, and it's the job of the social media marketer to keep on top of those changes as and when they occur.
Scalability promotes growth, and scalable social media marketing software promotes growth both within and beyond the social media channels you use. With our own platform, you can take advantage of a range of tools, from customer data platforms to community management tools, to ensure growth doesn't interrupt flow.
It's Essential for Lead Gen
Social media isn't a collection of platforms to be used, but a tool to be wielded. For the world of B2B social media marketing in particular, lead generation is an incredibly profitable pursuit, provided you understand how to make the most of it.
First, it's where you'll find your audience. You may already think you know them, but social media offers a unique perspective – and a broader view. Next, you can use social media to post engaging, original content that can be honed to perfection towards that audience. On LinkedIn, social posting can demonstrate your business's unrivaled authority in its niche, while the more casual platforms set the stage for regular, meaningful interactions that restate and reaffirm your brand's voice.
It Enables Social Listening
They always say it's more important to be a good listener than a good talker, and the sheer scope that social listening holds for business growth is a testament to that. Social listening means you can keep up to date with your market – know what content will feel most relevant to them, where your competitors have the edge (or where you have the edge over them), and identify areas that need more of your attention.
There are so many ways you can leverage social listening for lead generation and market research and, ultimately, business growth.
It Sits at the Centre of Social Proofing
Social proof holds a lot of power, so why not leverage it right where it unfolds? 83% of us admit to being influenced by word of mouth when it comes to our purchases – and that rings just as true whether we're buying for ourselves, or looking for a B2B supplier.
Social media is shaped by its individual users. True, it's an essential destination for brands, but the people behind it are the reason it is so essential in the first place. With the ever-growing importance of brand authenticity, poor customer experiences and impressions have nowhere to hide on social media. That can be daunting, but it's also the reason why social proof represents one of the most valuable returns you can expect from a strong social media marketing strategy.
Word-of-mouth recommendations are key for customer acquisition, and they also confirm that your existing customers are emotionally engaged with your brand.
It's Measurable
The idea that social media marketing is like a leap of faith or shot in the dark, with very few KPIs to offer, is nothing more than an urban legend. In fact, a strong social media strategy yields an incredible variety of insights, from buyer journey and conversion rate to sentiment, impressions, the performance of your social posting, and ROI.
Social media strategies need to be flexible – ready to adapt to the changes that will inevitably happen. That flexibility and readiness to change will be underpinned by your use of social media metrics – the analytics you generate with every new post or comment.
In this way, social media can be linked with revenue growth and used to drive that growth further still. This is exactly what Lewis Silkin found when they started working with the team here at Oktopost to create an efficient platform for social media management – on top of a 140% boost to engagement rate, they were equipped with the data to reinforce the strategy, and improve stakeholder buy-in with concrete evidence and forecasts – and they're definitely not alone. Our work with Everest Group to develop their employee advocacy led to network growth of 40% – a clean, clear stat to grab stakeholder's attention and make social media management costs a worthwhile sacrifice.
The days when social media marketing for businesses was an optional extra are long gone. Utilizing your accounts through an efficient social media management platform – and, as a result, making your target market even more available – is key, not just for keeping pace with competitors, but for seeing tremendous business growth and a compelling ROI that is not just valuable now, but scalable long into the future.