Social Videos in B2B Marketing: Drive Results Across the Funnel
In the last 5 years, social videos have exploded!
But what's all the hype about?
As it turns out, integrating video into your social media efforts is no longer a tactic that B2B marketers can ignore. According to Wordstream, 82% of Twitter users now watch videos, YouTube has over a billion users, and over 500 million users watch videos on Facebook every day. Not to mention by 2019, 82% of website traffic will be made up of video content.
Across the board, B2B marketers who harness social videos see a positive impact on ROI with growth in engagement, conversion rates, SEO, and sales pipeline.
Despite this, many marketers require a little bit more convincing to get started with social videos, especially if they lack the resources, budget, and creative abilities. On the other hand, some B2B marketers are only focusing on one type of social video – namely top-of-the-funnel, explainer videos.
We're here to tell you: this is a huge mistake. You can drive forward your social video strategy across every stage of the funnel to truly realize its potential and ROI.
Social Videos Throughout the B2B Marketing Funnel
The buyer journey isn't a linear process – your audience doesn't go from being "aware" of your brand to fill out a web form. Depending on your audience's goals and intentions, video can serve as brand awareness, lead generation, and even customer retention tool.
While there's no silver bullet for social video success, it's clear that creating one "product explainer" video (and calling it a day) isn't going to deliver sufficient results. The key is to build a strategy that aligns with your audience's needs at every stage of the B2B marketing funnel.
To get started, we're going to walk through the 3 main stages of the marketing funnel where you have different opportunities to use video as a vessel for guiding, educating, and converting your buyers into long-term customers.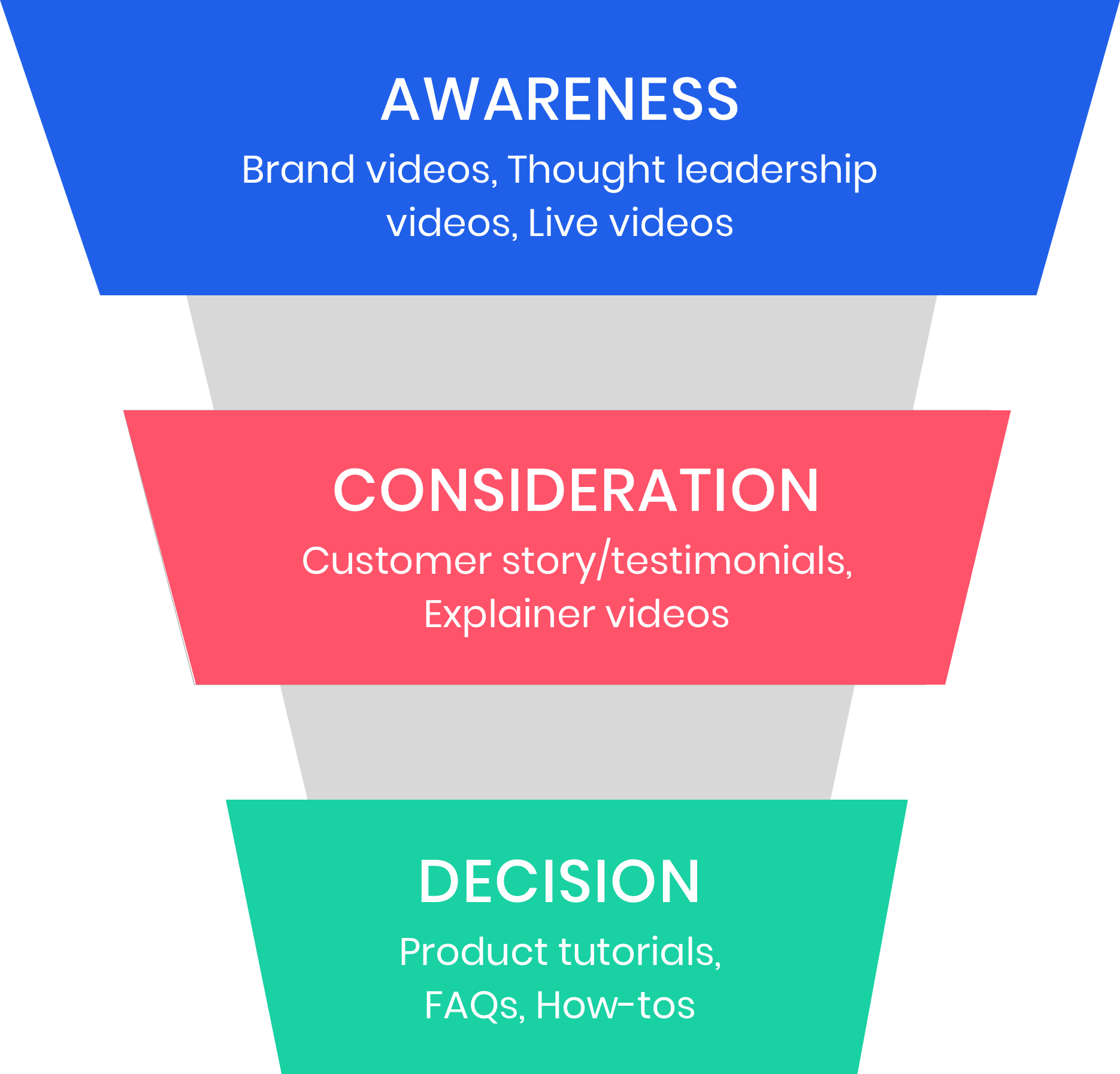 TOFU: Social Videos for Building Awareness
At this stage of the funnel, social videos aren't an opportunity to persuade buyers to buy your product or service. Rather, it's a chance to familiarize audiences with your brand and position it as an expert in the field.
In other words, social videos can be used as a bite-sized format to demonstrate your credibility and authority on a particular subject. Keeping the information digestible is key to increasing video views and sustaining engagement throughout the video.
Some example of awareness-building social videos include:
Brand Videos
These are all about making people fall in love with your brand. B2B companies have done this successfully by sharing their company's history in 4 minutes, inspiring viewers with their workplace diversity, and promoting their unique differences.
This is how Deloitte decided to showcase its history:
And this is IBM's brand video presenting its diversity:
Thought Leadership Videos
Social videos offer an engaging medium to showcase your knowledge on a specific subject or introduce the latest news in your industry. Consider some of the following formats: interviews, panels, and how-tos.
Take an example from HubSpot, here:
Live Video
Live video allows you to stream content in real-time on platforms like Facebook, Instagram, and Twitter. This incredibly authentic format ensures your audience remains attentive as you deliver an AMA chat (Ask Me Anything) with the CEO or go live at a conference.
This is how Outbrain chose to leverage this format:
MOFU: Social Videos for Sustaining Interest
Now that things are looking great on the awareness front – buyers have caught on to your authority and knowledge – it's time to wow them with your product or service. The nature of these videos should be more educational; addressing audience pain points through the lens of your solutions.
Research shows that a viewer's understanding of your service or product gets a 74% boost from dual auditory and visual coding that comes through video. Clearly, this is your chance to delight viewers with real stories of existing customers and brand advocates.
Consider the following social video types:
Customer Case Study/Testimonials
Needless to say, real-life examples serve as social proof for your product or service. They also give your audience a sense of familiarity and relatability. Software companies like Marketo have done an amazing job in demonstrating the value of their product as well as their market leadership through the eyes of global customers:
Explainer Videos
If your solutions or products are more complex, explainer videos can help to break them down into a very simple and intuitive story. Many B2B companies opt for live-action, animated, or whiteboard videos, while others feature real people. Here's a great example by WalkMe of how it's executed:
BOFU: Social Videos for Driving Purchasing Decisions
Once buyers understand your unique value proposition, it's time to push them along in their purchasing decision. Whether you're offering a product or service, give your audience a more in-depth look at your offerings while answering some technical questions they may have – in the hopes that they will use you one day.
Focus on creating the following social videos:
Product Tours & Tutorials
These have become increasingly important in helping people visualize the different features and functionalities of your product as well as the best ways to apply them. Software company, Act-On has created this high-impact product tour, which showcases its most valuable features – check it out:
FAQs
Unanswered questions or fears can prevent buyers from adopting your solution. Creating a social video to address some of those questions will go a long way in reassuring your buyers that they're making the right decision. FAQ videos can also facilitate the onboarding of new customers. Here's an example from Cisco:
Supercharge your Social Video Strategy
Want to learn how you can create engaging social videos that give your brand a much-needed lift? On September 13th, we're teaming up with Powtoon's social video experts, Nick Liebman and Adam Davis for an awesome webinar, titled "Unlocking Social Video for B2B Marketing in 3 Simple Steps".
We'll be covering:
How to identify the right social video for reaching your goals and audience
How to promote your video across different social networks – from aspect ratios to messaging, and posting frequency
How to measure and optimize your social video for maximum results
See you there!