Using Social Media to Improve Lead Quality: Tips and Tricks for B2B Marketers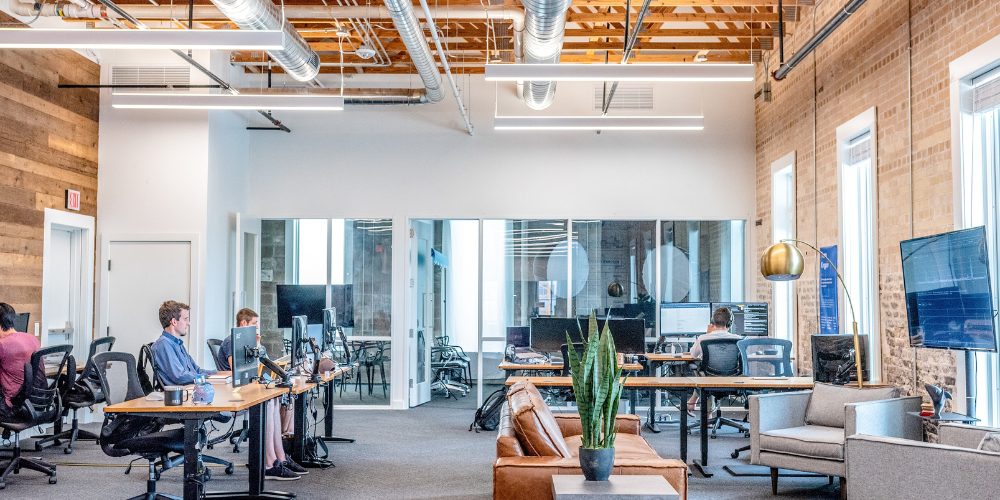 Social media and sales go hand in hand, and when paired perfectly together, they result in increased revenue. If you really want to prove the value of social on your business' ROI, you need to start using social media strategically to bring in high-quality leads. 
Your company's social pages are the first place your B2B buyers are heading to validate your product and hear real-life opinions on your brand. Research shows a whopping 84% of B2B executives use social media as a source for making purchasing decisions.
The buyers are ready and waiting, you just need to make your mark on social. 
Wondering where to start? We've broken down what you need to do on social media to improve the quality of your leads and get your business' sales funnel converting faster.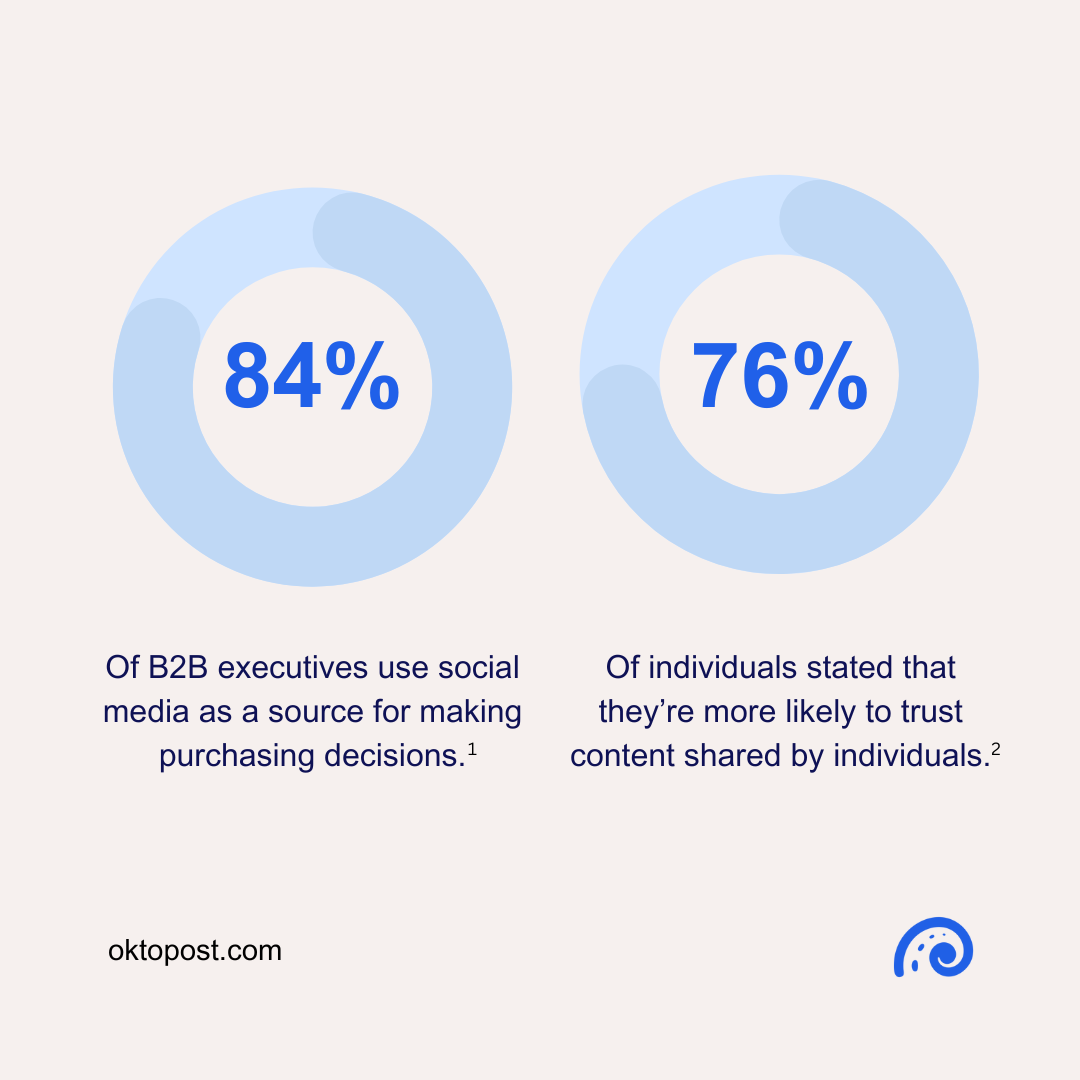 Sources: 1. MarketingProfs, 2. Peer to Peer Marketing
Jump to Section
Write for Your Ideal Audience 
It may seem a bit basic, but taking the time to zoom out and remember who exactly you're talking to is paramount to driving engagement on social media. You're not writing for social media but for quality leads on social media. Therefore, your content needs to be targeted to deliver the highest ROI possible. 
So with each social post, think about the people you're targeting. Who are they? What is their role? What are their biggest challenges? Show that you understand them and can bring them tangible solutions to their concerns. 
For certain audiences, using humor can be a great way to show empathy and relatability. But use this tactic with discretion if your customers tend to be on the formal side. Otherwise, this approach can backfire. Make sure to do your research to understand the types of content that resonate with your audience. Doing so can make or break your lead generation strategy.  
Score Your Leads
Not all leads are worth following. Countless salespeople have experienced a lead taking up its fair share of time, resources, and effort, only to turn into a dead-end. This is the occasional unfortunate reality of lead nurturing in B2B. Although there's no method to stop this from happening, there are ways of minimizing the amount of time and work you put into nurturing the wrong leads. 
Every salesperson knows that improving lead quality means improving those early filters and catching leads that are simply a bad fit for you. Factors that identify leads as a bad fit can range from their size, location, industry, technologies used, or any other combination of factors. 
Qualifying leads means automatically reviewing key indicators and attributing a score to each one. 
Wondering where social media comes in? Alongside a key factor like size or industry, an important indicator to utilize and question is your social media insights. Have they interacted with the business already? In what way? Have they followed your social accounts, commented on a post, or did they simply click through via a targeted ad and only spent a few seconds on your landing page? 
Once you have this information, you can leverage it in a variety of different ways. Say, for example, your sales team is trying to close an account, and an individual from that account is interacting with your social media posts, leaving a social trail on topics they resonate with. Wouldn't your sales team want, rather, need, to leverage this social data to move the lead over to 'closed won'? A lead scoring system that takes into account a carefully considered combination of traits and behaviors from social media will save you from wasting time on bad leads, and make your sales team all the more available to invest in those qualified leads instead.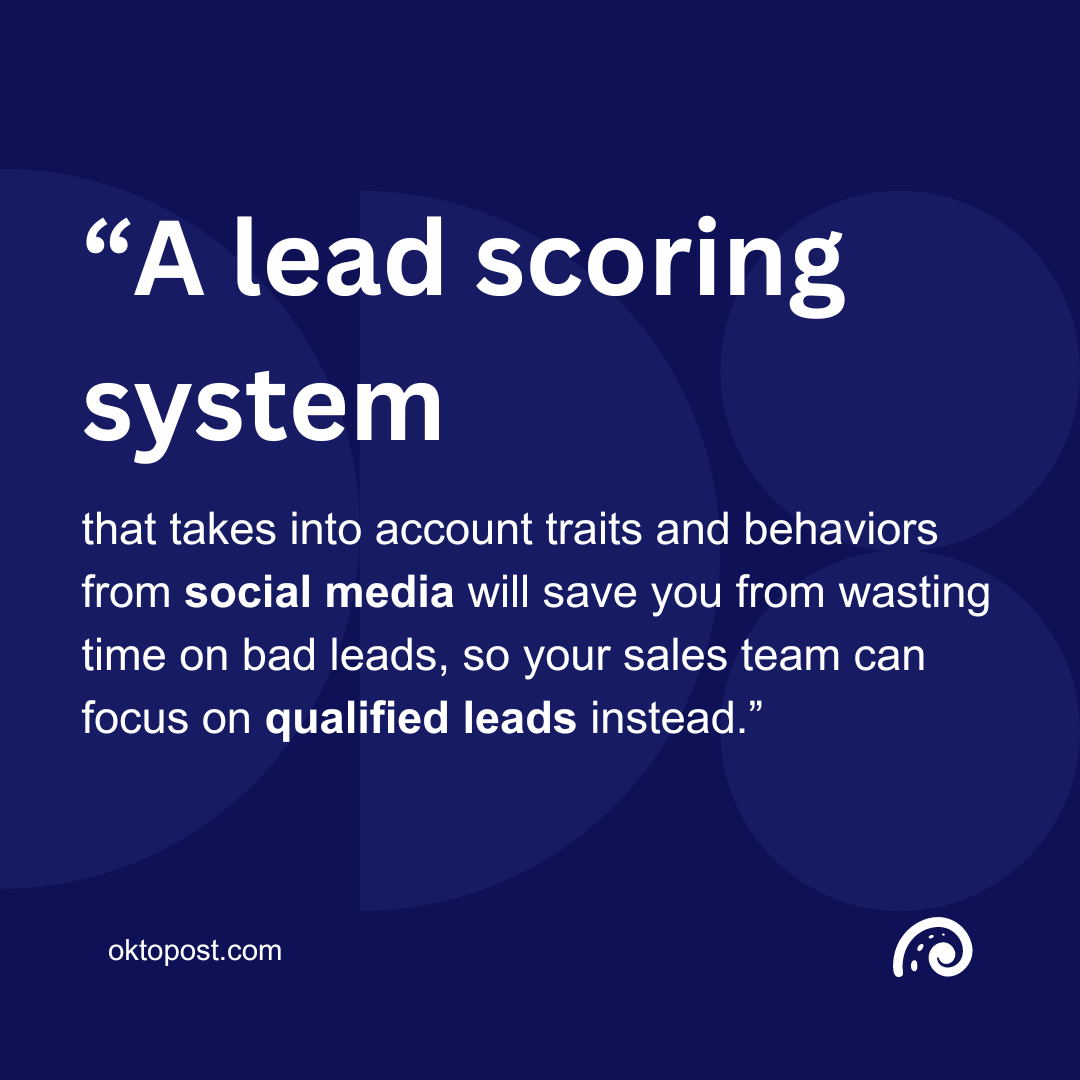 Utilize CTAs
Adding calls to action (CTA) to your social posts may seem like a small change, but it is an essential step in pushing leads through that final stretch of the funnel. 
One of the most valuable lead-scoring indicators you can utilize is clicks. Leads who read a post and then click through to your website deserve to be scored highly since very few of those early, top-of-the-funnel behaviors signify interest quite so clearly. 
Even the highest quality leads need a push in the right direction, and even the best sales teams need help getting those quality leads on their radar. Utilizing clicks as a key criterion for lead scoring is definitely the way to go.   
Leverage Social Listening
Some moments are certainly better than others when it comes to pursuing a quality lead. That's especially true when a prospect shows certain intent signals on social media. For example, when a lead signifies interest – such as a tweet featuring a keyword you're tracking on socials  – you'll want to act sooner rather than later. This is crucial on social media, where interest is constantly shifting and the focus is all about harnessing this interest for long enough to make an impression. 
By using the best social listening tools, you'll have the power to stay on top of these online conversations and intercept quality leads before they even appear on your sales teams' radar.
Implement an Employee Advocacy Program
Everything you post on your corporate channels will contribute to your thought leadership and share of voice on social media. Bit by bit, it will improve your visibility, prominence, and, in more concrete terms, your follower count, clicks, and post reach. And since 75% of B2B buyers use social media to support purchase decisions, it's never been more important for your business to have an active presence on social media. 
But there are ways to extend the impact your social posting has on your social media ROI even further. 
Employee advocacy takes your content beyond your corporate accounts and your current social community, exposing new audiences to your company via your employees. Research shows there is a 561% greater reach when messages are shared by employees over the brand's corporate social media channels. An even more important reason to leverage employee advocacy is that 76% of individuals stated that they're more likely to trust content shared by individuals rather than content shared by corporate brands. This is why it's worth making it a key part of your social strategy for driving new and more qualified leads to your business. 
Vary Your Content Across the Funnel
The common thread that runs between one successful content strategy and the next is variation. After all, it's no surprise that your followers on social media aren't all going to be engaged by the same content. 
To improve your lead quality with social media, you need to start varying your content for every stage of the funnel. 
When you plan out your social media strategy for the next quarter, you should be thinking about the types of content you are creating for the top of the funnel (TOFU), the awareness stage, the middle of the funnel (MOFU), the evaluation phase, and bottom of the funnel (BOFU), the conversion phase. 
Let's dig deeper into the types of content you would create for each stage, and what these stages mean. 
Leads that sit in the TOFU will represent the majority of your audience. To target them, you want your content to build your brand awareness, provide information on their industry, and present your brand as a thought leader in the space. 

As your leads move to the MOFU, your leads will start to engage with more advanced materials and evaluate if your product is relevant to their needs. At this stage, you want to create content that addresses their pain points and shows how your product or service helps with their needs and challenges. 

Once your leads reach the BOFU, your sales team will consider them hot leads and your content will have to power to convert them to the end of the funnel. You want to create content that positions your company as the solution they've been looking for and a must-have for their business.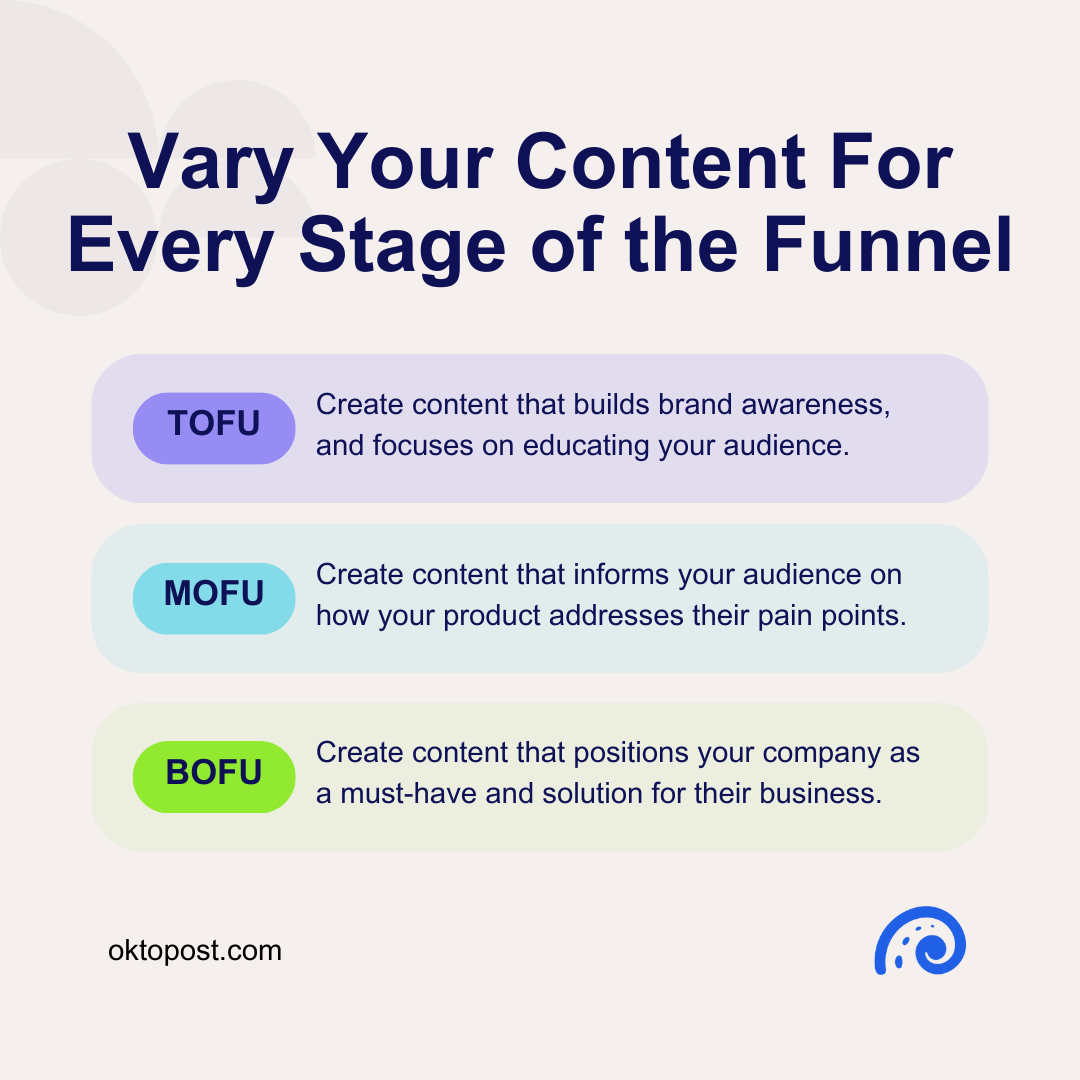 To push your leads down the funnel to converted customers, you need to nurture them with relevant and targeted content that educates and builds trust in your brand. For every stage of the funnel, you also need to create content for specific subsections of your audience and address the different pain points that each section of your audience has. This will ensure the best quality leads are moving down the funnel, ready for your sales teams to close the deals flowing from socials.
Final Thoughts
Social media holds immense value in improving lead quality for your company. Incorporating our suggestions above will transform the way your business thinks about social, ensuring your sales team is talking to the right people at the right time and can add value to a conversation based on the lead's interests and pain points. It's a win-win–you hand over more qualified leads, they close more deals, and together you drive more revenue to your organization. 
If you want more information on how you can turn these tips and tricks into action, and transform your lead quality to higher conversion rates for your business, contact us today.