Why Employee Advocacy is Critical to Your Brand's Success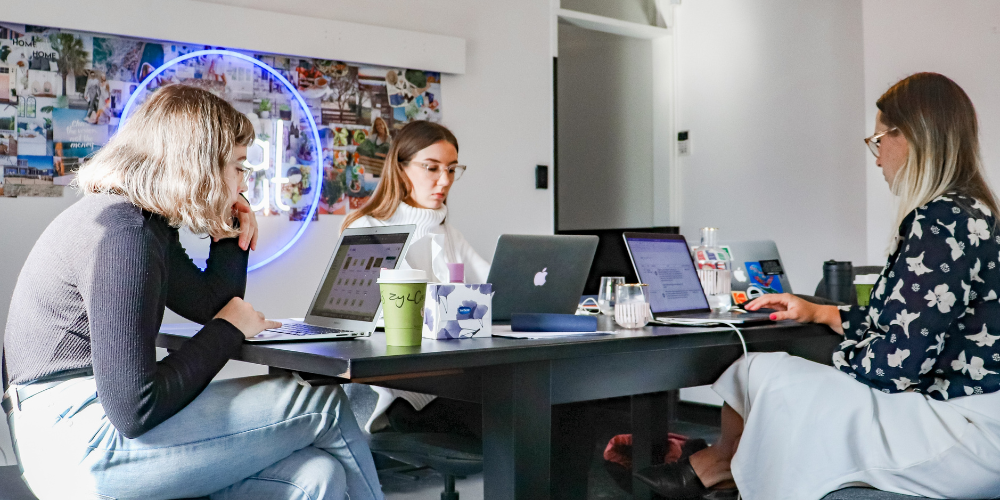 Your brand's most powerful advocates are right under your roof – your employees. Employee advocacy is pivotal to your brand's success in today's interconnected world. It's all about employees promoting your company on their personal social networks. They have a unique ability to boost your brand's authenticity and trustworthiness compared to corporate accounts. 
Studies reveal that almost half of CMOs consider employee advocacy their top-performing social strategy, so if you're not on board now it's time to get started. 
We'll share insights about why employee advocacy is a must-have for growth, brand awareness, and employee retention.
Jump to Section
How does employee advocacy help? 
The benefits of employee advocacy are twofold. First of all, it helps your customers see what kind of a business you are, and that you have something genuinely positive and worthwhile to offer. These days, customers want brands that care about something more than the bottom line, and what deserves more care than the people who keep you going? 
Second of all, it helps your workforce to see (and experience) what kind of a business you are. On the day-to-day, you want your employees to be happy, engaged, and enthusiastic; and an employee advocacy program will show your employees that you value and trust them. An added benefit of employee advocacy is its ability to attract top talent. Social hiring is a big part of running a successful business in 2023, and diversifying your impact on social media through employee advocacy is a powerful way to stand out from the crowd.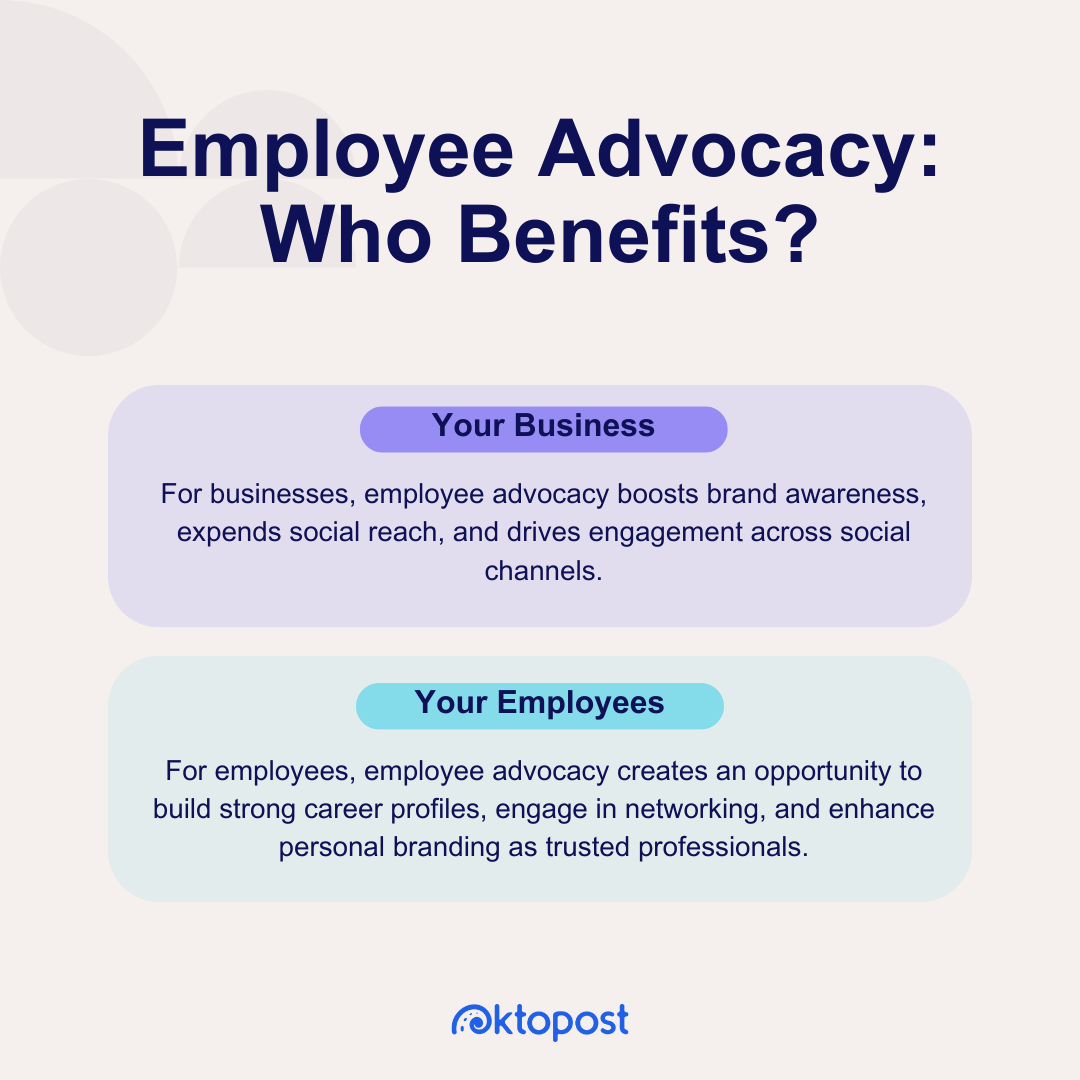 Employee Advocacy's Impact on Your Customers and Leads
There are plenty of promising employee advocacy statistics that showcase the impact of employee advocacy. Here's why your ability to engage and impress existing customers and promising new leads grows exponentially as you hone your employee advocacy strategy: 
1. Social Media Advocacy Boosts Your Efforts at Thought Leadership
When it comes to B2B social media marketing, thought leadership is right there at the top of the pyramid – and so are the brands that can master it. It's all about building your image as a knowledgeable, industry-leading, insightful, and genuinely helpful resource online, creating a culture of learning and personal growth within your audiences, and attracting qualified leads who already trust and respect your brand. 
What you publish to your own channels is essential to thought leadership. That's the core. But, if you want to continue expanding on that reputation, having your employees publish a range of quality content to their own channels (from employee boards) means that your name pops up more frequently, but always alongside truly insightful resources and information. 
2. Content Publishing Through Employee Advocacy Diversifies Your Reach and Impact
Social posting to your corporate channels is imperative. You need to do it regularly, and you need to do it to a consistently high standard in order to gain and maintain interest from your new and existing followers. 
However, a content publishing strategy that solely focuses on your own social corporate channels is inherently limited. For every ten people who come across your page and learn of your brand that way, there will always be one or two who don't. Widening your reach and publishing quality content to other channels – say, through employee advocacy – means that you can engage wider and more diverse (but still relevant) audiences.
3. Employee Advocacy Builds Trust
News alert: we trust brands that care about their employees.
Glassdoor found that an increase of 1 star in a company's rating translated to a 2.05-point increase in customer satisfaction. Why? Because positive emotions are contagious, and emotionally engaged employees rub off on customers. All those good feelings valued employees feel at work don't just stop with them; they continue doing good work for your business by encouraging customers to see you in a strong, positive light. 
Employee advocacy is the most definitive way to show your customers and prospects that yours is a business worth working with. True, you can post your own company updates that show a happy and united workforce, but that's much less effective than a workforce that consistently posts their own updates and insights. Provided you've laid out the social media best practices for employees and implemented an approval system for content, that trust can be steadily built over time.
Employee Advocacy's Impact on
Your Workforce
Your brand's success is in the hands of your employees, and a campaign for employee advocacy can give them new strength. 
1. An Employee Advocacy Program Acknowledges and Celebrates Their Value
Employee disinterest is a major problem for businesses these days. It can cost thousands (per employee), exacerbate your churn rate, and, in extreme cases, cause the business to stagnate or backslide. Crucial relationships between the workforce and between your business and clients struggle to develop as employees come and go. What causes employee disinterest? Lots of things, but they often stem back to one key bug in the system: the value the business attributes to them and their work. 
In fact, this is the top cause of unhappiness among employees, and it can derail the business. 
Employee advocacy helps by showcasing the fact that you recognize the value every single one of your employees contributes to the organization. Encouraging employee advocacy means that you consider them an intrinsic part of the team and workplace culture – someone you would be proud to have represent the company on platforms as public as social media. 
2. It Shines a Spotlight on Operational and Non-Customer Facing Teams
In any business, some roles are inevitably more prominent than others. Sales has historically been the star of the show, while other parts of the business – such as accounting or back-end development – don't get the same visibility. When it comes to company bulletins, smashed sales targets and new customer acquisitions practically write themselves, whereas continuity and ongoing business support are more easily overlooked. 
There are plenty of solutions to this common problem, from simply expressing gratitude and sharing positive feedback more often to revisiting compensation and development opportunities, but it all hinges on a shift in the company's culture.  
Employee advocacy can be that shift in culture. Employee advocacy isn't just another thing to add to the to-do list; it's a brand new venture that the entire workforce can contribute to in a meaningful way. A diverse range of voices from across the company – not just the most prominent, customer-facing roles – is the difference between a good employee advocacy strategy and a great one.
3. It Enables Employees to Cultivate a Stronger Professional Reputation Among Relevant Audiences
More than any other advocate platform, LinkedIn plays a pivotal role in B2B employee advocacy. Its unique position among professional audiences – and particularly B2B decision-makers – means that individuals, as well as businesses, stand to benefit enormously from consistently publishing quality content.
B2B micro influencers emerge across all industries and niches. They gain ground thanks to their insight, wisdom, expertise, and passion for the role they've assumed in their industry – and the business they work for. 
An employee advocacy program ensures that your advocates have access to a catalog of top-notch content relevant to their growing audience's interests and questions. This way, they can consistently work towards growing their own reputation on thought leadership platforms like LinkedIn. 
Your employees will be able to have access to this content and can choose and schedule a pre-approved content that advocates not just for your business, but for the person posting it, to go live whenever they want.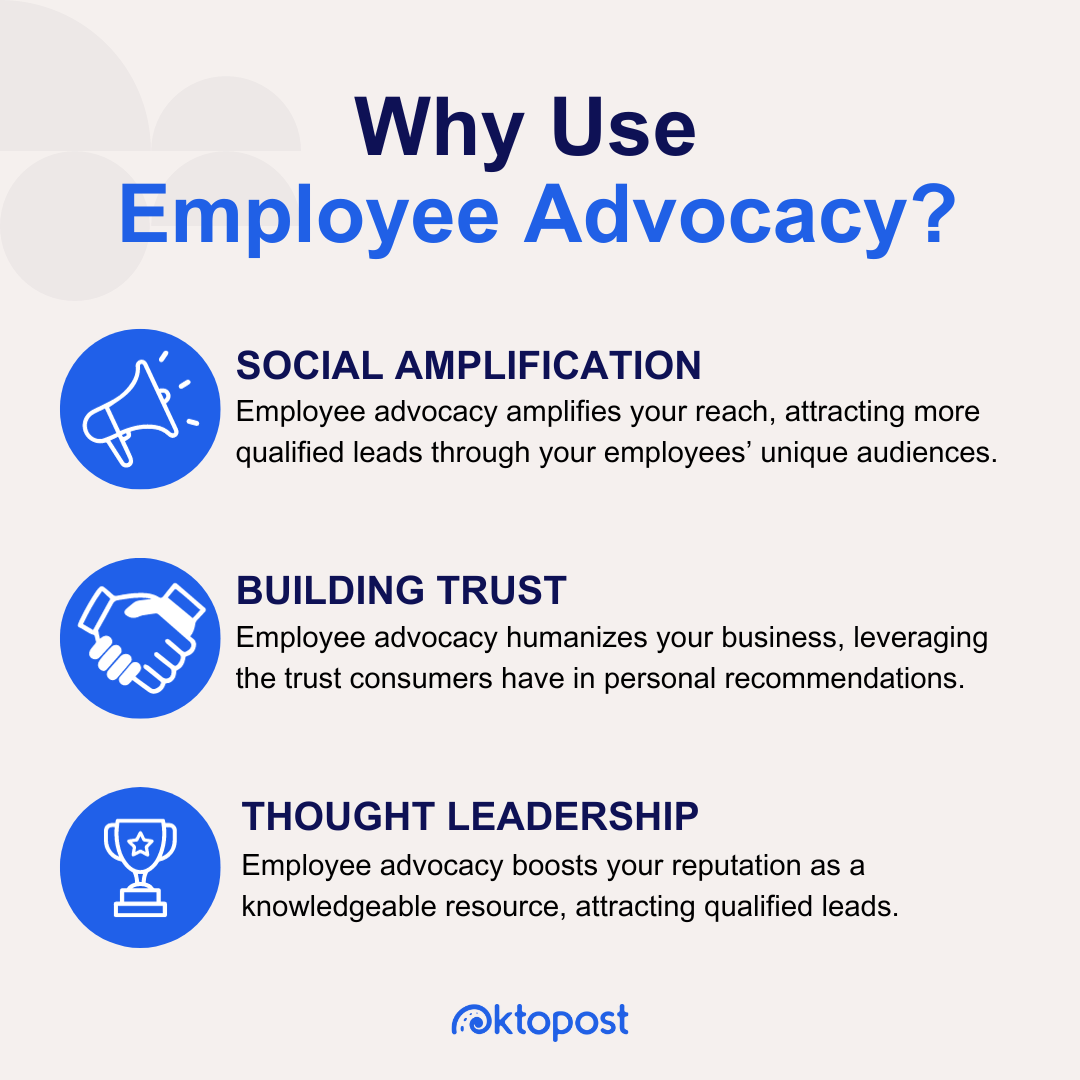 Final Thoughts
Incorporating an employee advocacy program into your business holds immense value to your business and is critical to your brand's success. Corporate social media accounts, while extremely important and not one to halt posting from by any means, can only go so far when building trust with prospective leads. Corporate accounts build the legitimacy of your company, but your employee advocates hold the value of trust, reliability, and driving higher social media reach and engagement with new prospects and leads. 
While this is integral to your business, it also holds many benefits for your employees themselves. Through an employee advocacy program, your employees effectively transform themselves into brand ambassadors while building their image as reliable thought leaders and experts in their fields. 
If you're interested in learning more about the impact of employee advocacy on your business, contact us today.