11 Steps and Goals to Lead Nurturing Done Right
Lead generation is one of the most significant challenges faced by B2B marketers – and 61% of marketers agree. Lead generation is the "foot-in-the-door" that launches any potential customer's path towards purchasing a business' product or service. It is also one of the most critical activities marketers engage in. How important is it? 67% of organizations rely on lead generation as the singular metric of their content's success. And 75% of marketers use data on lead generation from their periodic reports to demonstrate how their campaigns directly influence the company's ROI.
However, lead generation is just the first step – as it turns out, roughly 80 percent of newly generated leads never actually buy. These leads need to be nurtured along the sales funnel until they become paying customers. Helping leads along their buyer's journey by developing valuable relationships with them creates long term success for your business.
In this article, we'll take you through 11 steps and goals to help develop your B2B lead nurturing process into an effective conversion machine.
What is Lead Nurturing?
Lead nurturing is the process through which marketers build relationships with newly acquired leads throughout the consumer journey. The end goal is that your leads become motivated to make purchases. But how do you nurture your leads? 
The answer is to employ a lead nurturing campaign. A lead nurturing campaign is a series of marketing messages sent to leads at preset intervals to keep them engaged. If done right, it gradually convinces them to place their trust and money in your business and its offering. 
Executed manually or automated (in part or in whole), lead nurturing campaigns aim to reconnect and re-inspire leads who have engaged with your business by:
Visiting your website

Calling your offices

Taking part in a conference or event

Downloading free, branded content

Making even the smallest purchase
Successful lead nurturing campaigns deploy across multiple channels and media, including email newsletters, personalized emails, social media, paid advertisements (PPC), blog posts, and other forms of marketing content.
Why Is Lead Nurturing Essential for B2B Marketers?
While some might think of lead nurturing as a largely B2C marketing activity, it is just as important – if not more so – for B2B marketers. In part, this is because of the longer sales cycle endemic to B2B.
It's rare for a B2B sale to happen at the first encounter. Only 2% of customers agree to buy at an initial meeting, regardless of how impressive your presentation is. The rest of your prospects (and B2B leads in general) need more time and information to decide if they want to do business with you.
When done right, lead nurturing campaigns can generate higher-quality leads and more loyal customers for the long term. Nurtured leads get 4 to 10 times the email response rate and drive 47% larger final purchases with increased average order values (AOV). 
Properly nurtured leads reduce the overall customer acquisition cost (CAC) by an average of 33% and bring in a 45% greater ROI for your business.
To ensure your business reaps the rewards of successful lead nurturing, here's the key steps and goals to take that will help your campaigns succeed and create high ROI.
11 Steps and Goals to Lead Nurturing Done Right
1. Set Your Goals and Make a Plan
It's time to join the ranks of 35% of B2B marketers who have a lead nurturing plan. First, set goals for your lead nurturing campaign. Next, plan a course of action that responds to where each lead is in your sales funnel and what your business has to offer them.
It is important to allocate as much time and effort as you invested in lead generation to this stage. It's also most effective to plan multiple lead nurturing strategies for different segments of your target audience.
2. Identify Your Leads
Before you can begin nurturing your leads according to segments, you must first understand which leads are ideal leads – those who are most likely to be persuaded to convert. Namely, it's up to you to learn who will make up each segment, and what each segment can and will be sold. 
Start by learning as much as you can about your ideal customers: their pains, their needs, and what they are looking for in potential solutions. Identify what motivates them. Then, create personas that classify your target audience into meaningful segments. Next, segment your marketing content accordingly, based on who might be interested in it and what value it would demonstrate for that group of leads. 
The goals you set earlier should address all of your segments, while individual action plans should tend to individual segments' needs and customer journeys.
3. Qualify Your Leads
Once you have established customer personas, it's time to determine whether the leads you've generated fit in any of those segments. If they do, there is a greater chance that they will become a customer, hopefully for the long term. To accomplish this goal, you'll need to qualify or score your leads, based on the information they have provided in your sign-up form.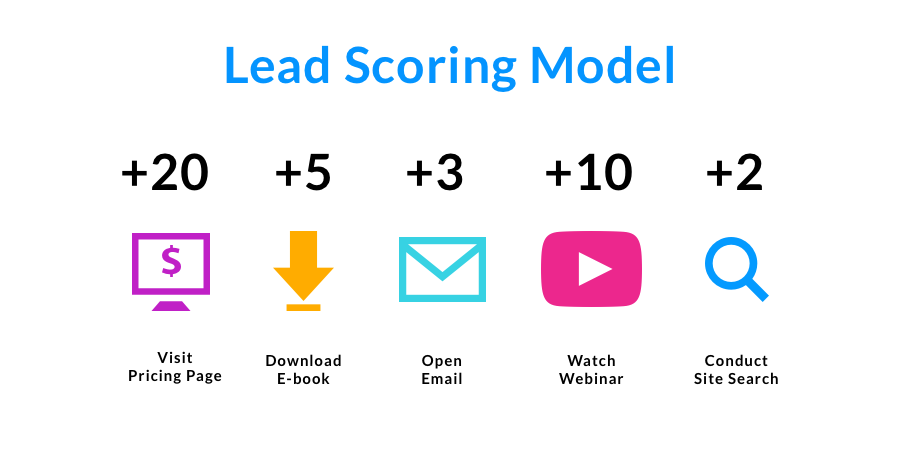 Source: https://www.cyberclick.net/numericalblogen/5-examples-of-lead-scoring
Assign points to your leads reflecting various behavioral, demographic, activity, buying stage, and budgetary data collected. The more points your lead has, the more significant it is to your business.
4. Understand Your Buyer's Journey
It's not enough to know who your leads are to successfully nurture them to convert. You must also understand where they are in the sales funnel and what path they will take on their buying journey. This information allows you to engage them where they are, answer their questions, and help them make the right purchasing decision that meets their needs.
You can map your customer's journey in the funnel as follows:
Top-of-the-funnel awareness stage

: Your goal is to expose them to informational content, so that the buyer becomes aware of their problem and their need to find a solution.

Mid-funnel consideration stage

: Invite your leads to consume engaging content and attend relevant events to help them evaluate your business' stake in meeting their pressing needs. 

Bottom-of-the-funnel decision stage

: To seal the deal, present your leads with proof of your business and product/service's value proposition. A free trial or other special, limited-time offer can also help motivate them to purchase.
Source: https://www.flickr.com/photos/eric-delcroix/21438701322
5. Create Targeted Content
Now that you know what your leads need, it's time to get creative and build a repertoire of carefully crafted and segmented content for each stage of the sales funnel outlined in #4:
Awareness Stage –

Informational content that educates, presents solutions to problems, and responds to questions in an engaging way, such as: blog posts,

social media posts

, videos, infographics, brochures, and buying guides. Your content should include S

EO keywords

to help leads land on your website.

Consideration stage –

Informational content that helps leads learn more about your specific products and services, such as: comparison blog posts, ebooks, whitepapers, webinars, landing pages, datasheets, and product demonstrations. 

Decision stage

: Engaging content that includes

buying keywords

to drive consumers to make a purchase, such as: sales pages, FAQ pages, coupons, customer testimonials, reviews, and case studies. Free trial and live-demo sign-up pages are also highly relevant. 
6. Nurture Leads with Email
Email nurturing is the most effective way to re-engage leads. This is because (1) email marketing tools provide better value for money compared to other forms of advertising, and (2) lead-nurturing emails result in 4 to 10 times more click-throughs than standard blast emails. 
Email marketing campaigns can also be completely automated to save your business on time, money, and human resources. Creating drip email campaigns that deploy relevant, aligned, and consecutive email communications to leads as they make their way through the sales funnel is a lead nurturing must. 
Find the right people to get in touch with. Start with a welcome email, followed by an onboarding email and various educational, promotional, and re-engagement email campaigns, set at regular intervals based on time and the buyer's location in the sales funnel.
7. Engage on Social Media
Why wait to start nurturing your leads once they've already been generated when you can engage prospective customers with seed nurturing as an initial touchpoint? Social media is an excellent form of inbound marketing that allows you to connect with your target audience throughout the stages of the buying process.
Automated email marketing campaigns mostly rely on generated leads opening and clicking through emails. But social media marketing campaigns present audiences with free content that raises awareness, builds trust, and promotes sharing whenever they log in. Remember to engage in social listening and follow conversations to precisely respond to prospective leads with value-adding content – and position your business as a thought and industry leader.
When used correctly, an active and engaged social media presence becomes an invaluable source of lead generation and nurturing.
8. Personalize Experiences
Customers want a personalized shopping experience, even when buying online or from a B2B business in a conference room on the 47th floor. 91% of consumers admit they are more likely to make purchases when presented with offers and recommendations relevant to them, and 80% are more likely to buy when their consumer experience is personalized. 
Deploying less formal content, addressing customers by name, and tailoring content to their interests and needs is a smart move that makes touchpoints feel less generic, simulating the salesperson-consumer relationship one might encounter in-store. Another powerful method is to set up your website to utilize attribution-based personalization software. It maps out visitor journeys, then serves up real-time personalized content that has been proven most effective in creating conversions.
9. Retarget, Retarget, Retarget!
It can cost up to five times more to acquire a new customer than it does to retain an existing one. The same goes for leads who have visited your website, engaged with your content, attended an event, or even acquired a lower-level product or service. Retargeting is the best way for you to make the most of your marketing efforts and budget. 
Retargeting leads with display ads can make them 70% more likely to convert.  You can get similar spikes in conversions from social media retargeting, too. Another strategy to keep your leads' heads in the game is to ask them to provide feedback with a push notification. 
10. Automate Communications and Campaigns
68% of B2B marketers use automation. Automation software is powerful, versatile, and saves time and money. Email isn't the only form of marketing content that can be automated. You can also nurture your leads using behavior-based marketing automation, automated content delivery, and automated social media campaign management.
Set up automated lead nurturing sequences and workflows to capitalize on the available technology. For example, once a lead volunteers an email, it triggers a series of events, including email sequences, segmented content suggestions, thank you notes, and more. The more you can automate the process in conjunction with personalization, the more effective your lead nurturing will become.
11. Keep Nurturing Post-Sale
Once you have nurtured a lead until they convert to a paying customer, the next step is to keep them. It is essential to retain customers post-sale by engaging with them and motivating them to make repeat and additional purchases. Continue building the relationship by instilling trust in your brand. Reach out from time to time, just to say "Hello" like you would an old friend. Offer advice and share content that is not directly related to your offering to demonstrate your business' human touch. 
Continuously strive to exceed customers' expectations by over-delivering on realistic promises, and always follow-up post-sale or encounter with a courteous "thank you." Remember, a little effort goes a long way.
Conclusion
Rome wasn't built in a day – and your lead nurturing campaign won't be either. Investing in strategy and planning before executing your B2B marketing efforts will provide you with more lead-to-customer conversions and greater ROI for the long term. Luckily for you, there are tools and platforms designed to ensure your lead nurturing is done right.
Adopting a B2B social media management platform can help maximize your sales and marketing efforts to obtain optimal content visibility, more engaging customer experiences, and a most significant impact on your business's bottom line.