Top 11 Sales Automation Tools for 2021
What part of sales do sales automation tools actually automate? It's not so much the actual selling, so don't go thinking that AI chatbots are going to be closing your B2B deals for you anytime soon. Where sales automation really excels is in taking care of the administrative tasks attached to the sales process. This way your sales people can spend more of their time actually selling. 
According to a recent survey, the average sales rep spends just over a third of their work hours actually prospecting, meeting, and following up with leads. The rest of the time, they're managing CRM records and doing many other non-sales tasks. Many of these tasks could be automated.
What is Sales Automation?
In today's markets, sales teams are beholden to data-driven insights, and that has given CRM platforms a place of great importance. However, a good CRM is only as useful as the data it contains. When sales reps are responsible for capturing, entering, and analyzing that data it can take them away from the thing they do best—making person-to-person connections that create the kind of relationships that lead to purchases.
Sales automation tools can take over the following CRM-related tasks:
Logging emails and phone calls
Creating lead records
Scheduling communications (email, voicemails, etc) and meetings
Prioritizing and assigning leads according to preset rules
Providing guidance and reminders to sales reps working on leads
Why Sales Automation is Key to Business Growth
Companies thrive or fail based on their ability to earn revenue. Most often, the division in charge of bringing about that magic moment where the lead hands over their money and becomes a customer is sales. This makes the work of sales professionals one of the most vital functions of any business. Any errors, inefficiencies, or gaps in your CRM records can slow down the sales process and cause you to lose deals.
Sales automation tools are designed not just to remedy these issues, but to apply your rules and logic to execute processes like:
Lead scoring
Follow up timing
Assigning sales reps to leads
Call or meeting content suggestion
With sales automation tools capturing more information and painting a more complete picture of customers and leads in your CRM, you'll also have access to better data, better reporting, and more insightful analytics. You'll be able to engage in better sales forecasting and track the productivity and effectiveness of your strategies and manpower with greater accuracy.
Beyond just optimizing existing processes, sales automation tools can allow for large scale personalization of your content and communications, which is a critical component of any B2B marketing strategy.
But when you crunch the numbers, does sales automation really work?
According to research from Instapage, using sales automation tools can cut down the length of your sales cycle by an average of 18%, reduce time spent on administrative tasks by 14%, and increase deal closings by as much as 30%. B2B companies saw an average increase of 10% to their sales pipeline when using sales automation tools. The numbers back it up—sales automation can make a big difference to your bottom line.
Now we are ready to meet the top movers and shakers in the sales automation software industry.
Top 10 Sales Automation Tools in 2021
If you're looking for an established, trusted provider, look no further than Hubspot Sales. Hubspot's platform will automate your outreach, help you create sales templates, and track key performance indicators through your entire sales pipeline.
Hubspot Sales is flexible, easy to use, and integrates well with other products. If you're already using Hubspot's CRM, this might be the obvious first choice. Some users report minor glitches with reporting and email sequencing, but overall it's one of the highest rated solutions out there. 
Pricing for the software automation tools within the Hubspot suite starts at $500 per month.
This platform has a lot of components designed to help you get the most out of your sales team. In addition to the usual features like email and scheduling automation, Outreach has some unique and interesting features. It can allow reps to receive live call coaching, and also features a detailed team performance dashboard so you can monitor sales rep activities and outcomes in real time.
Outreach is known to occasionally crash at inopportune times, but most users seem to be happy with how well it streamlines their processes and boosts the effectiveness of their sales team. 
Outreach is available to download for a free trial, but you'll have to contact them for pricing.
According to Prospect.io, sales lead prospecting is boring. This is why they're looking to make sales lead prospecting more interesting, as well as more effective with the Prospect.io multichannel sales automation platform. 
Prospect.io focuses on two of the main pillars of sales automation: eliminating the need for manual data entry, and improving your processes and performance through data analytics.
While the software gets high marks for how easy it is to integrate and use, some customers have reported issues with the quality of their customer service. 
Pricing starts at $129 per month for businesses, plus $39 per month for additional users.
Now for something completely different. Well, almost. Gong brands itself as a revenue intelligence platform, which, bottom line is what sales software is all about. However, Gong takes a more personal approach to automation by helping sales managers get the most out of each rep. Gong offers features like AI based sales coaching, and contextual deal pipelines.
EngageBay offers a free sales automation tool that can help sales managers automate a wide range of sales processes.
The key features of EngageBay for sales teams include sales pipeline management, sales process automation, sales forecast reports, and sales activity monitoring.
EngageBay has a sales CRM at its core. It can help sales teams manage deals and tasks, while also acting as a centralized hub for all sales communications. The platform is designed for small business owners, so there's no learning curve and even beginners find it super easy to use.
Apart from the free version of the sales automation tool for small businesses, EngageBay also offers a paid version at $10.39 with enhanced features to support enterprise-level sales teams.
Companies looking for a structured solution that can get you up and running quickly with automated outbound sales should take a close look at Growbots. This solution offers automatic prospecting from a pool of 100 million contacts, multichannel follow-up sequencing, A/B testing tools, and detailed reporting.
Growbots can integrate with your existing CRM, but companies with long-established sales processes might prefer a more customizable solution. They don't offer a free trial, and you have to contact them to get pricing information.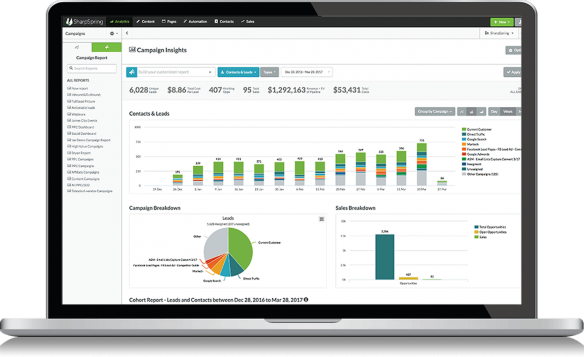 It might be fair to say that SharpSpring is primarily a marketing automation and CRM solution with sales automation included in the package. But that can actually be a great deal for businesses that don't already have an existing solution for their marketing team.
SharpSpring is easy to use and affordable for small businesses, but it doesn't have all of the reporting features and integrations you might find in competing, enterprise-centered platforms. 
Pricing starts at $550 per month for 1,500 contacts.
This tool was purpose-built to launch, manage, and monitor B2B email campaigns. With Autoklose you get access to their lead database, automated email sequencing, and reporting dashboard. All these make it a good option for companies that need to launch outreach efforts from scratch.
Autoklose doesn't have the greatest range of CRM integrations, but users praise it as one of the most cost effective tools for email automation. 
It costs $49 per user per month, but you can get a better deal and some additional services with an annual subscription.
If you're looking for a CRM on a budget, you could do worse than FreshSales. A CRM with sales automation features included, Freshsales is designed to present a clean, intuitive interface. Its target audience – users who don't need the full range of complexity offered by more customizable CRM solutions. It provides essential sales automation tools like AI-based lead scoring and pipeline tracking. 
Monthly prices range from $12 per user for small businesses and up to $79 for enterprises.
Voicent serves up a robust package of software automation tools. The suite features cover pipeline monitoring, lead assignment, visual performance reports, workflow triggers, and more. You also get access to powerful and versatile tools for creating personalized, multilingual voice messages.
Voicent uses a one-time purchase pricing model, so there aren't any monthly or annual subscription fees. You can contact them for pricing based on the size of your business.
The developers behind Sales Creatio are known for their business process management software. This means you can expect lots of useful features and customization options in this comprehensive sales automation solution. From forecasting to lead management to email templates, Sales Creatio will have you covered.
Some may find the learning curve intimidating, but Sales Creatio offers a 14 day free trial. After that, it costs between $30 and $60 per month for each user, depending on the size and featureset you need.
Bonus solutions:
Respona specializes in outreach and more specifically PR and blogger outreach. This is not your classic sales outreach solution. However, a solution like Respona is very helpful when you don't know who to reach out to since it also incorporates research solutions into the mix.
Respona is affordably priced at $95 / month and up.
SPOTIO is a leading field sales engagement platform used by over 1,500 outside sales teams across dozens of industries, including business services, telecommunications, distribution, solar, healthcare and more. The platform provides a range of features that help automate many of the time-consuming tasks that prevent reps and managers from focusing on sales-based activities.
Automation Ahead
Obviously, you're not about to integrate ten different sales automation tools. The best way to figure out which sales automation tools you need is to first map out your sales processes. Then identify specific areas where you'd like to see improvements, and only once you've  determined that, you can begin to consider which tools would be the best fit.
Our above list of market leaders in the industry will help you narrow down your choices before you select the provider that's right for your business needs. It's worth remembering that some sales teams will already have figured out efficient ways to handle various administrative tasks. So you want to make sure your investment in automation goes toward your areas of greatest need. 
With the right tools, your sales reps will have less data entry to fuss with and more time to get out there and close deals.