LinkedIn vs Facebook: Which Will be Better for B2B in 2021?
When it's time to launch a B2B marketing campaign on social media, LinkedIn seems like the obvious platform of choice. There's no mystery why B2B marketers keep flocking to it – it simply works. By the numbers, LinkedIn is supposedly the best social media platform for B2B lead generation. 
However, that also means that the competition is getting steeper, and the costs to advertise and promote your business on LinkedIn keep rising. For savvy B2B marketers, it is an opportunity to explore a channel typically used by their B2C counterparts.
When you think about Facebook, what comes to mind are probably things like fake news and your cousin's awkward family photos. Content relevant to B2B decision makers and said decision makers? Not so much.
So how can Facebook compete with LinkedIn—a professional network geared toward facilitating business relationships—when it comes to B2B marketing?
Facebook vs LinkedIn by the numbers
In terms of sheer magnitude, Facebook is hands down the biggest social network at 2.7 billion users. LinkedIn, by their own reporting, has 706 million. But is bigger always better? If you're looking at consistently active users in the United States, as many marketers are, the numbers flatten out somewhat: Facebook has 223 million compared to LinkedIn's 170 million.
Bring demographics into the mix and the gulf between the two platforms grows even wider. Facebook skews younger, with more than 90% of 18-29 year old internet users registered to the platform, whereas LinkedIn has only signed up 28% of that age cohort.
According to LinkedIn's internal stats, four out of five or their members are decision-makers at the companies where they work. In addition, according to some studies, LinkedIn users convert to leads at a rate nearly three times higher than Twitter or Facebook users.
The difference of quality versus quantity is clearly reflected in the advertising costs on either platform. The average CPC (cost per click) on Facebook is 64 cents, while on LinkedIn, it's an impressive $3.49.
What do all these statistics really tell us? There are significant differences between the two platforms. That said, the numbers tell an incomplete story. 
Facebook may have more users overall. LinkedIn may have a higher concentration of users who will engage with B2B marketing content. But no business exists as a perfect statistical average. It is up to every marketer to find the right mix to get their message in front of the right social media users, and to convert them to leads.
Know your target audience for B2B marketing
So where should you spend your marketing dollars? There's an easy answer—wherever you get the best return on your investment or in advertising terms – the best ROAS (Return on Ad Spend). The hard part is figuring out where and when, exactly. To do so, you want to have a clear, data-driven picture of the "who" – the person most likely to sign a contract with your business. In a B2B context, there's rarely just one such person you need to market to.
To understand where you should be and with what message, you must map out the buyer groups within companies in the industry you're targeting. Then, you can craft buyer personas to match each member of these buyer groups. 
Depending on your product and the complexity of your sales process, this is the point at which you'll start to see which platforms and channels have the best chance of getting these personas to convert. Also, you'll begin to understand what types of content may resonate with each.
What you're likely to find out is that the decision makers you seek use both platforms, at different times and for different reasons.
Not sure which to use and when? Here are some points to consider.
How and When to Choose Facebook for B2B Marketing
1. Advertising
Sometimes it pays to be the cool underground product nobody's heard of yet—but only for a little while. When you want to get your name out there in a big way, Facebook gives you a better reach for your dollar with its considerably lower CPM. This is very top-of-the-funnel stuff, but sometimes you need a lead to have heard of you before they're ready to listen to a more focused pitch.
In addition, Facebook is by far the more mature advertising network. The ad tools Facebook offers out-of-the-box to its advertisers far surpasses those provided by Linkedin. Facebook also delivers better conversion optimization based its super advanced machine learning algorithms, user data, and web tracking and analytics.
In the other hand, LinkedIn offers the type of B2B targeting you can get only with LinkedIn.
Bottom line, go with Facebook to strike long-term gold if you have:
Time and budget to run tests
A large target audience
Are ready to to think out-of-the-box for audience targeting
2. Retargeting
Facebook gives its advertisers the Facebook Pixel, an analytics tool that you install on your website to measure your Facebook Ad performance. More importantly, it lets you track your leads across different devices and retarget them with ads on other platforms.
Linkedin also have its Insights Tag. You can use it for retargeting but since LinkedIn is more expensive as a rule of thumb, and since you don't usually enjoy LinkedIn's targeting benefits when using retargeting, then Facebook is a much better choice.
By the way, even if you don't use the Insights Tag for retargeting you should still install it on your website to get LinkedIn insights on your web traffic.
3. Thought leadership
Facebook Groups and Communities can be a great place to find an audience for intelligent writing and commentary on your industry and its related topics. Since Facebook content tends to get shared socially, it may be a better place for more general content rather than posts that dig deep into technical or insider material.
Facebook Groups are awesome for lead generation too and can act as a great hack to go beyond the lack of B2B targeting in Facebook's ad platform. self admittedly, LinkedIn generally offers less engagement for unknown brands.
4. Targeting local & small businesses
Local businesses got wise to Facebook long ago. Many of them will find that it's still the best online channel to connect with their customers. That means that the owners of said businesses are right there checking their feed every day. This makes them easily targetable by B2B marketers who have great things to share with them. 
If you're selling professional gear to wedding photographers, odds are pretty good that you'll reach more of them on Facebook than on LinkedIn. If your product is an enterprise-scale software solution, on the other hand, you might have better luck engaging prospects and decision-makers on LinkedIn.
How and when to use LinkedIn for B2B marketing
1. Lead generation forms and unique ad formats
LinkedIn has some unique ad features that can be especially effective for B2B marketers. With LinkedIn Lead Generation Forms, you can create ads with a call-to-action button that auto-populates a form with the lead's LinkedIn profile data when they click on it. It's fast, it's painless, and it works.
In fact, 90% of marketers using LinkedIn's Lead Gen Forms reported it reduced their cost per lead.
We're also big fans of InMail, which puts customized messages in your target's inbox when they're actually online and likely to notice it. According to LinkedIn, the clickthrough rate for InMail ads is three times higher than traditional marketing emails.
2. Professional thought leadership
LinkedIn is business-oriented. When its users log in they're not looking for memes and cat pictures. They're ready to talk shop. On LinkedIn you can find a receptive audience for deeper, more technical content about industry topics. Building a brand reputation and establishing your expertise this way will give your promotional content credibility.
Establishing yourself as a thought leader on Linkedin has greater overall potential to leverage build a living and breathing community around your B2B brand than on Facebook.
In short, Facebook will hack your growth but LinkedIn will build your community.
3. Employee Advocacy
When your employees can speak sincerely and engagingly on your brand's behalf on social media, it can be a really powerful way to cut through the usual ad noise.
When it comes to B2B marketing, employee advocacy is especially impactful. Your employees' Facebook friends might not be especially interested in your companies' latest whitepaper, but their followers on LinkedIn just might.
4. Brand "Sniping"
Unlike Facebook, LinkedIn lets you target specific job roles in specific organizations in specific locations. That means that when it comes to paid promotion you can zoom in with sniper-like accuracy on key individuals on LinkedIn, whereas on Facebook you're casting a broader net and hoping it catches the right buyers.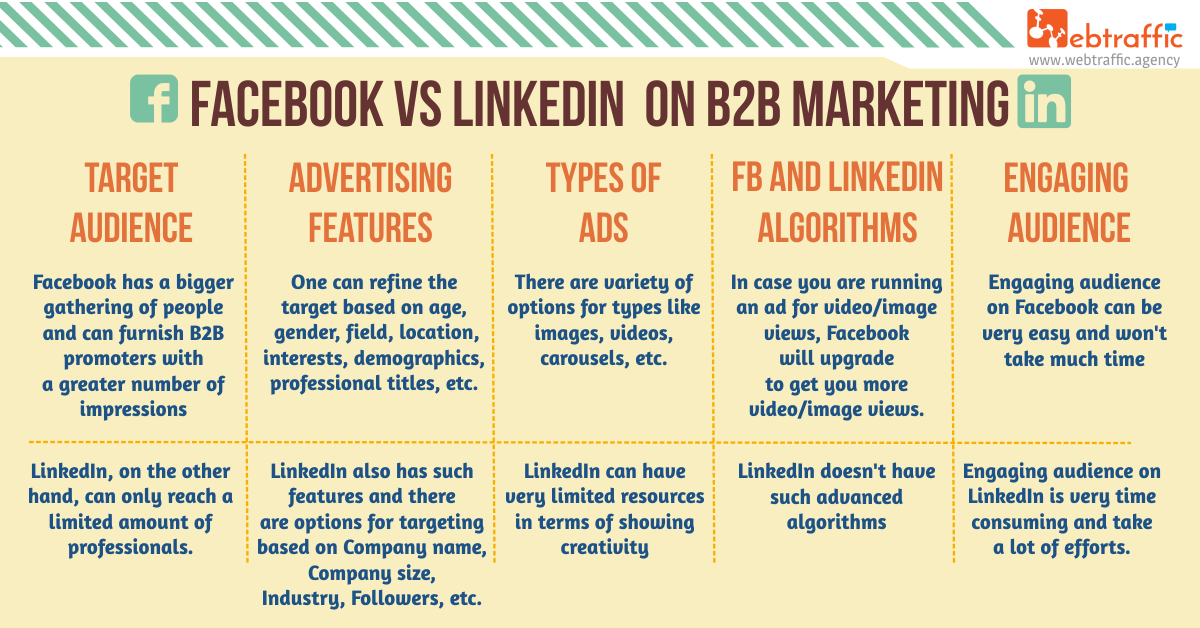 The conventional wisdom may be that Facebook is for B2C and LinkedIn is for B2B, but the reality for any individual business is rarely that simple. The share each platform should occupy in your digital marketing budget shouldn't be determined by ad formats or even lead conversion statistics. What really matters is your target audience, buyer persona, and where their buyer journey takes them.
At the end of the day, the best results can be reached by combining the two to create a consistent and cohesive social media strategy across all marketing channels.