The Top 10 B2B Marketing Software Solutions
With multiple diverse platforms to target, intense competition, and jaded audiences, it's not getting any easier out there for B2B marketers. B2B marketing campaigns need to be smart, focused, and tuned in to the needs of buyers if they expect to reach the key decision-makers who ultimately determine what their companies will purchase. 
The complexity of today's marketing environment has made marketing automation platforms and other marketing software solutions essential for companies of all sizes. But with all the options out there, it's easy to spread yourself so thin that your target audience can't even see you. 
That's why companies need to focus their MarTech stack on what's actually working — and these are the methods working right now:
Account-based marketing that synergizes sales and marketing team activities to deliver higher ROI than traditional marketing 97% of the time.
Marketing automation tools that distribute content more efficiently and with greater precision are already being used by more than half of all B2B marketing professionals.
Bots powered by artificial intelligence that can not only chat with leads to answer simple questions, but steer them further down your sales funnel.
Customer-centered content delivered in the most-relevant formats — like video, which more than 70% of B2B customers use for purchasing research.
Email personalization that lets leads know you understand their needs by actually taking the time to address them individually.
Without adequate tools, trying to implement all of these methods can quickly become overwhelming. The right software solutions can take the busywork, number crunching, and other routine tasks off the desks of busy marketing professionals. It allows them to focus on learning more about potential buyers and crafting content to deliver their message.
Let's take a deep dive into B2B marketing software, its benefits, and 10 great solutions you might want to add to your MarTech stack.
Types of B2B Marketing Software
B2B marketing software can be categorized according to the primary function it serves:
Account-Based Marketing (ABM) software facilitates the exchange of relevant lead information between sales and marketing teams.
Analytics software monitors your KPIs. It helps you make sense of the data to see whether you're meeting your objectives.
Customer Relationship Management (CRM) software helps you manage your databases of information about leads and customers, helping marketers better understand and communicate with them.
Demand Generation software makes it easier for marketers to create content and experiences that engage audiences and boost interest in your brand.
Email Marketing software covers subscriber management, design templates, message scheduling, engagement tracking, email verification, and other functions needed for email marketing campaigns.
Marketing Automation software takes care of the routine tasks involved in all aspects of marketing.
Social Media Management software lets marketers view, schedule, and post content for various social media platforms from within one single integrated hub.
Benefits of B2B Marketing Software
By putting together a marketing technology stack consisting of relevant and useful software, you improve the overall efficiency of your marketing endeavors. Automating manual tasks, generating higher-quality leads, and providing meaningful analytics to help optimize your content are a few of the key benefits.
When you've got the right software solutions, your marketing and sales teams can work together more effectively. The desired end result is more conversions and higher ROI for every marketing dollar you spend. Here are 10 solutions that can help.
The Top 10 B2B Marketing Software
Type: Marketing Automation
Price: $49/month
From lead generation to nurturing, Autopilot takes care of the customer journey for you by automating engagement activities. Its unique feature is a "visual canvas" that makes it easy to create unique and compelling experiences for your target audience.
Reviewer says: "Great platform, easy to learn and use, engaging for the team, awesome customer support, truly helpful content. No regrets."
Type: Social Media Management
Price: Inquire
The only social media marketing solution built specifically for B2B companies, Oktopost integrates with the most widely-used CRMs and other third-party tools. It assists marketers in orchestrating social media campaigns across multiple platforms while monitoring your leads and tracking KPIs.
Reviewer says: "Oktopost allows us to deploy a fully scheduled campaign in about 5 minutes. We can also see analytics for each and every campaign, across a whole range of KPIs and metrics. Reporting on our communications activities is now as easy as exporting a few PDF's."
Type: Analytics
Price: Free
A must-have for any digital marketer, Google Analytics is easy to use. It offers powerful, adaptable features for tracking your website traffic, conversions, and anything else you need to know about who's visiting your pages and where they came from. For the $0 price tag, you really can't afford to launch a campaign without it.
Reviewer says: "It works seamlessly with your website to give you the numbers that you need while breaking every info down to what's essential."
Type: CRM
Price: Free, up to $1200/month for the Enterprise version
Small businesses in need of a powerful CRM solution that won't use up their budget should check out HubSpot's free platform. It integrates with a wide array of third-party tools and includes features for content creation, analytics and reporting, ad tracking, and email management.
Reviewer says: "The best thing about HubSpot besides their highly intuitive sales templates is their customer service!"
Type: Demand Generation
Price: Free for the Lite version, premium starts at $55/month
Leadfeeder is a handy tool for finding new leads. It sifts through your website visitor data to identify which companies are checking you out, where they came from, and what their intentions might be — even if they never interact with your forms or other capture methods.
Reviewer says: "Helpful and quick customer service, continuous product improvement and solid integrations."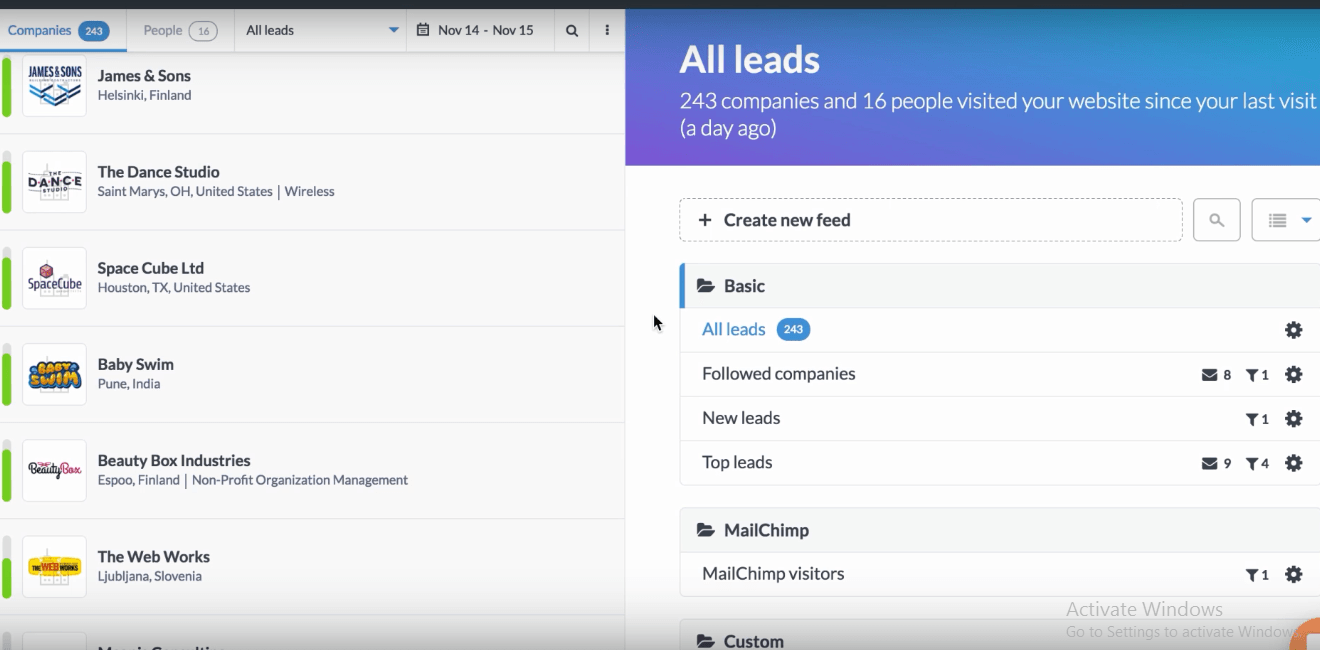 Type: Email Marketing
Price: $59/month
Built for managing cold email campaigns, Mailshake is easy to integrate into your existing systems. It lets you create messages, schedule mailings, and engage with your contacts from within a single dashboard interface.
Reviewer says: "Most companies, I roll my eyes at the mail they send to my inbox, but Mailshake gives VALUABLE training that adds so much value on top of how I already use the platform."
Type: ABM
Price: $3250/month
Metadata.io utilizes patented artificial intelligence technology designed with B2B marketers in mind. It works to boost conversion rates by constructing customer profiles, identifying potential buyers, and managing your campaigns at scale across multiple channels.
Reviewer says: "Using Metadata significantly lowers our cost of acquisition and has improved the quality of the leads we're generating."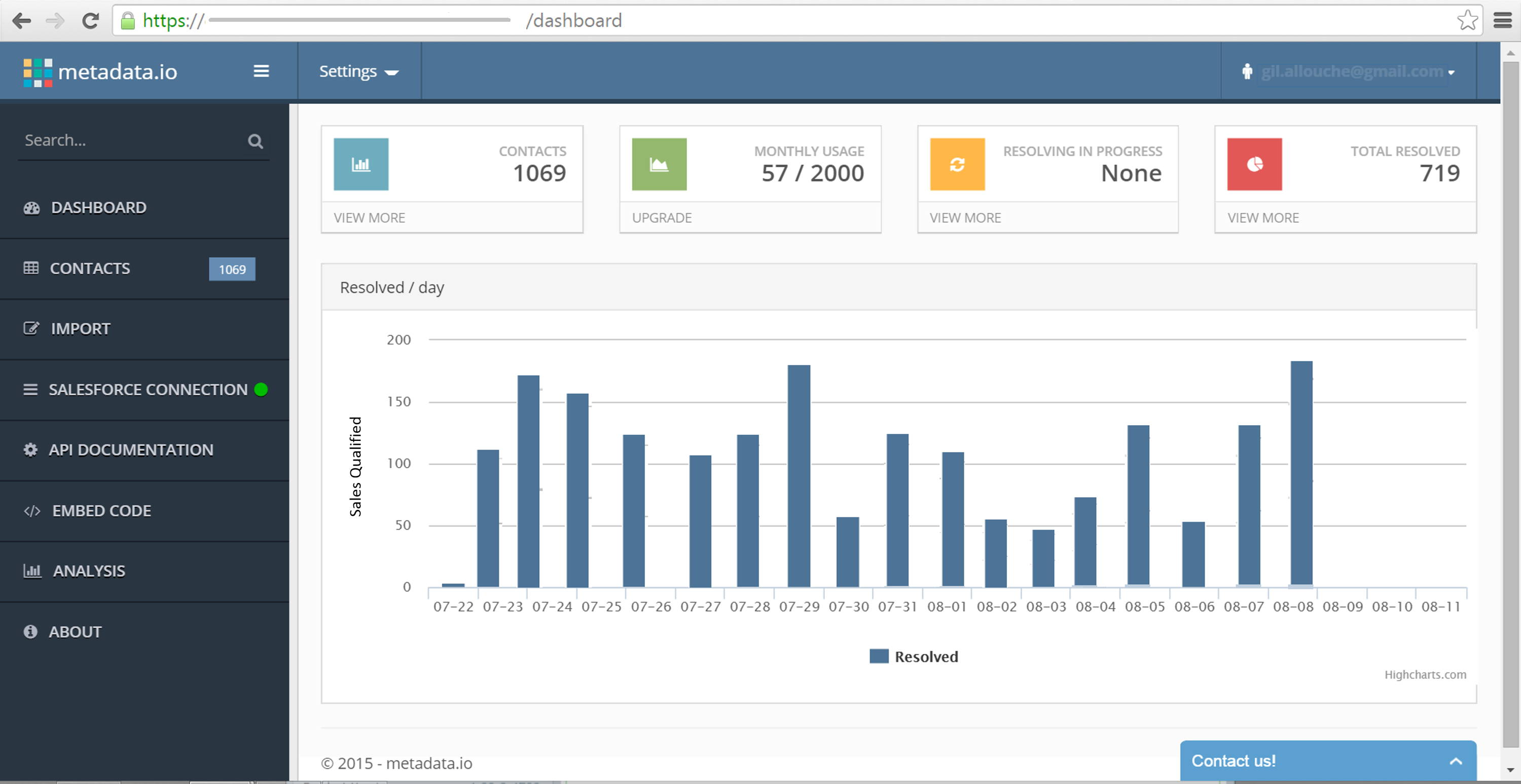 Type: Marketing Automation
Price: $19/month
This purpose-built tool is an artificial intelligence chatbot designed to work on Facebook Messenger. By answering your most frequently-asked questions and keeping leads engaged, it can help nurture them along the sales funnel to eventual conversions. It can also assist with basic customer service inquiries after the lead becomes a customer.
Reviewer says: "Having a chatbot allowed me the time to fulfill my day-to-day functions and minimized my time spent replying to customers/prospects."
Type: Marketing Automation
Price: $1250/month per user
Pardot is a powerful, full-featured marketing automation program built to work alongside Salesforce's popular CRM platform. While it is on the costly side, it offers everything a marketer could need to effortlessly run a campaign, including email marketing, lead scoring and nurturing, audience segmentation, ROI calculation, and much more.
Reviewer says: "Pardot has made it easy to understand how our marketing is working, know who is a hot lead versus a disengaged one, and to create content that is easy to share and delivers good ROI."
Type: Demand Generation
Price: Free for the Basic version, up to $199.90/year for Pro
The killer app of 2020 has been this video conferencing tool. Zoom has been facilitating everything from cocktail hours to kindergarten classes to high-stakes business meetings — and now that everybody has it, it's perfect for video marketing.
Reviewer says: "Of all the video conferencing tools out there — and there is no shortage of them, either past or present — I have to say that Zoom works probably the best as far as logging in and everything working."
As trends, platforms, and technologies rise and fall, effective B2B marketing is in a state of constant change. The one thing that doesn't change is the need for smarter campaigns that get better results — and that's where B2B marketing software offers an easier, more efficient way to get it done.
With a solid strategy, marketers can stay ahead of the curve by using the right tools to find receptive audiences and deliver targeted content that works. By tracking your KPIs and other metrics, you can determine which tools and tactics are increasing your sales and generating good ROI. Automating your B2B marketing campaigns with software solutions is one of the best ways to find promising leads for your sales teams. By using the right tool for the right job, you'll be setting your B2B marketing efforts up for sustained success.