The Top 12 Best B2B Marketing Podcasts for 2023
Did you know that while podcasting seems new, it's been around for nearly 40 years? "Audio blogging", the ancestor of podcasts, dates back to the 1980s. Today, 28% of the US population regularly listen to podcasts—that's 80 million people! It's no wonder that savvy B2B marketers are taking advantage of this popular and portable format to create value-packed audio programs.
B2B podcasts are a powerful form of outbound marketing. Podcasts' advantage over the radio is that podcasts are recorded and distributed through multiple online platforms and remain there for current and future listeners. In other words, podcasts have become a potent source of evergreen content. 
But the question is, who's listening to that content? A recent study of podcast audiences on LinkedIn found that 44% of senior-level employees listen to podcasts regularly. That audience could lead to a breakthrough in your marketing if they engage with you. The great news about podcasts is that not only can they create engagement with prospective customers, but you can also learn the latest tips to perfect your campaigns from seasoned B2B marketers that have stepped behind the microphone. 
Let's take a closer look at B2B marketing podcasts, learn why you should add one to your marketing plan, and survey the top ten best B2B marketing podcasts for 2022.
Jump to Best B2B Podcasts
What is a B2B podcast?
A business-to-business podcast is a show produced by a B2B company with the primary outcome to build relationships with their ideal customers. B2B podcasts tend to reach larger, more engaged audiences, with up to 80% listening to the entire episode. 
B2B podcasts also help:
Create greater brand awareness
Grow your brand's audience
Establish your brand as an authority in a specific niche or industry
Any public media your company produces becomes the voice of your company. A B2B podcast is one of the best ways to fine-tune your voice while reaching out to a vast pool of potential leads.  
The three most common types of podcasts are:
Solo Podcasting – Solo podcasting is one host talking about a topic of interest without additional hosts or guests. It is incredibly difficult to achieve success with only this method. Keeping the audience engaged and providing original ideas every episode can be difficult. Occasional solo episodes are good for filling in gaps within a release schedule. If a guest cancels or hosts are out sick, solo podcasts can fill in the gaps.
Interview-Based Podcasting – Interview-based podcasting reigns supreme for B2B companies and is a great way of producing original content every episode. The focus of interview-based podcasting is to create relationships with the guest and make it all about them. Hosting for well-known industry guests also helps to showcase the legitimacy of your voice. This method led to one company driving over $4m

in revenue through their

podcast

.

Panel Podcasting – Panel podcasts regularly feature the same, multiple hosts on every recording.

You can also rotate hosts to keep ideas fresh and showcase your company's wider talents and areas of expertise.

Panel podcasting can be used occasionally, but is not recommended as the typical format. However, if the hosts can produce outstanding commentary and high-quality content each time, they can grow a following for your business.
4 Reasons to Include Podcasting in Your B2B Content Marketing Strategy
B2B podcasts are an easily consumed media with extremely high marketing potential. They offer several valuable benefits for marketers, including:
Low Barrier to Entry/High ROI
Podcasts have experienced an undeniable boom in popularity because they can be made and produced with minimal and inexpensive equipment.  A podcast can be recorded through your phone, computer, or a simple voice recorder. Since they aren't played in real-time, you have room to make errors and fix any mistakes before publishing. A successful podcast can have a very high ROI.
Lead Generation
Podcasts come in various niches, especially within the B2B industry. As people push forward in expanding their knowledge and delving into thought-provoking discussions, podcasts can transform from learning platforms to generating new leads and acquiring clients.
Podcasts are portable and can be listened to anytime, anywhere, meaning high-value potential clients can search for relevant content at a time convenient to them. If your podcast is tools- or software-oriented, and you speak its value well, that high-value listener may ultimately become a high-value client. 
Content Can Be Repurposed
With a well-thought-out structure and plan, and some basic recording equipment, podcasts can be created and published fast. Short clips, highlights, and advertisements created from your podcasts can all serve a purpose in your marketing, especially on social media. 
You can also repurpose existing content to serve as new content, such as using existing blogs, videos, or whitepapers as the basis for a podcast. 90% of B2B marketers believe this strategy is more powerful than creating fresh pieces every time. 
Brand Awareness and Growing Your Audience
Content creation will always be a necessary element within your marketing efforts, but podcasts are a particular area of specialty among media platforms. A substantial 80% of listeners will listen to all or most of each episode. This means there is an opportunity to retain listeners' attention for the entirety of your podcast, no matter its length. The longer your content is consumed, the more loyal a person will begin to feel to your brand, ultimately leading to audience growth.
Top 11 Best B2B Marketing Podcasts for 2022
Here are some of the best B2B podcasts you'll find on the internet, serving as great examples of what top-level podcasts can look like – and powerful resources that will help you level up your marketing strategies.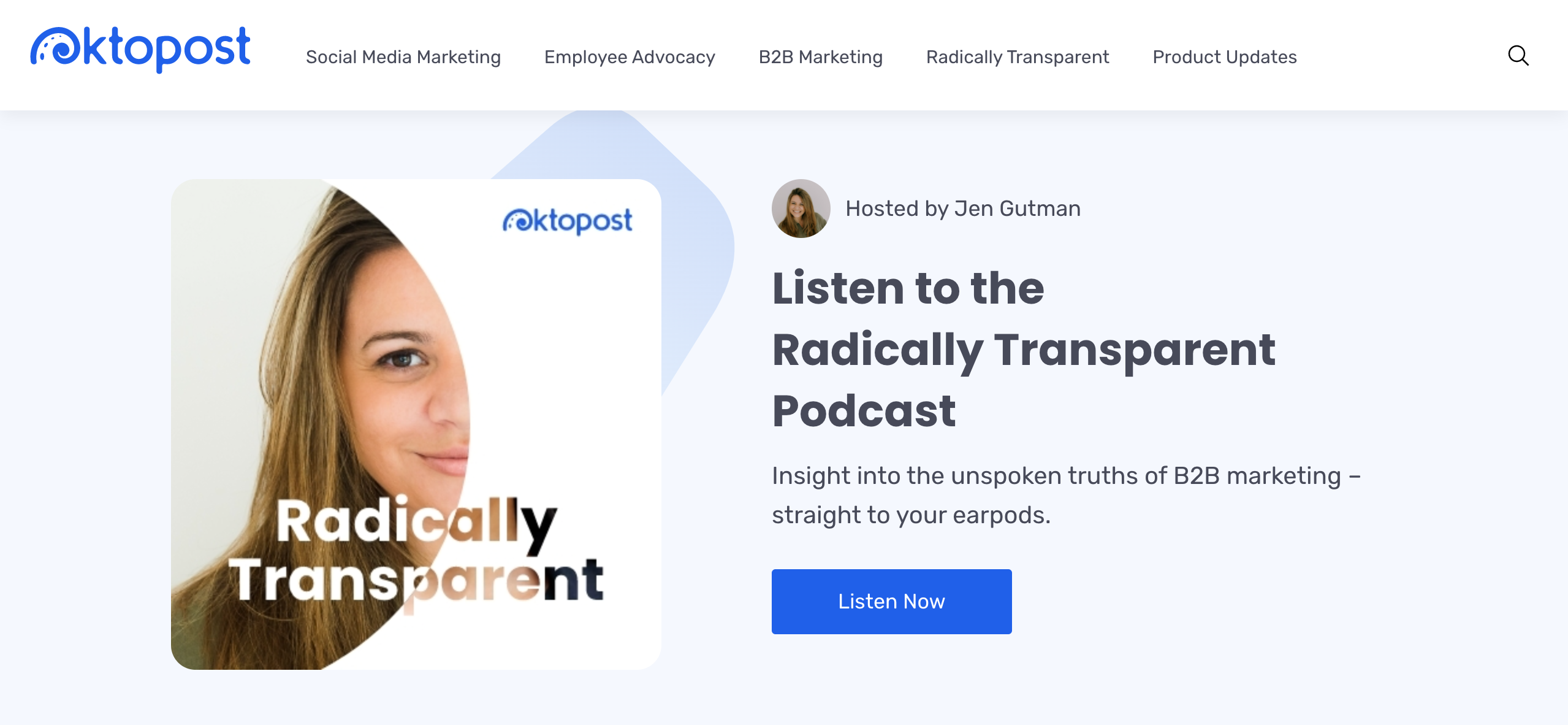 Host: Jen Gutman | Company: Oktopost
Apple Podcasts | Spotify | Google Podcasts
Radically Transparent is a weekly high-energy explosion of B2B knowledge from one of the industry's finest, Jen Gutman, Director of Social Strategy at Oktopost. Jen brings her experience into the limelight, with guests from all walks of life within the B2B industry. This podcast brings a fresh perspective of the industry, humorously challenging guests to expose the radically transparent truths behind being a modern-day B2B leader.
Reviewer says: "Love this podcast series! Keeps me both entertained and informed on all things B2B."
Check out this episode: Justin Levy on How to Grow Reach without Driving Down Engagement
2. Behind the Post – 5.0⭐
Host: Olivia Messina | Company: Oktopost
Apple Podcasts | Spotify | YouTube
If actionable tips and tricks for B2B social media is more your speed, Oktopost's Behind the Post with Olivia Messina is the podcast for you. A newer podcast publishing new episodes weekly, Olivia brings on successful social media managers to talk through how to use social media effectively in the B2B space, tips to stay creative, and best practices for managing several social accounts at once. 
Reviewer says: "I love this podcast. There's a great takeaway in each episode!"
Check out this episode: Haily Moulton on the Recipe for B2B TikTok Success
Host: Benji Block | Company: Sweet Fish Media
Apple Podcasts | Spotify | Google Podcasts
B2B Growth is an interview podcast with a host who has an extensive background in sales and marketing. Each episode introduces a new guest in the B2B world to discuss their specialty topic, so there's something for everyone in the industry. Benji has hosted 2000+ episodes, and the podcast has over 4 million downloads.
Reviewer says: "Interesting discussions with guests as well as short solo episodes – a nice blend I look for in an audio show."
Check out this episode: Stop Avoiding Brand in the Boardroom, with Drew Neisser
Host: David Rowling | Company: B2B Marketing
The B2B Marketing Podcast covers a wide range of areas within the marketing industry, from expert opinions, discussions, how-to's, and B2B fundamentals. It's an interview-based podcast, and each show features new insights into B2B marketing.
Reviewer says: "Much needed insight to the marketing world."
Check out this episode: David McGuire on How to Create Stand-out Content in 2022
Host: Travis Tyler | Company: Pandadoc
Apple Podcasts | Spotify | Google Podcasts
The Customer Engagement Lab is a business-comedy show investigating the most creative sales and marketing campaigns used to attract customers. It's also one of only B2B video podcasts that does in-person interviews, round table discussions, and TikTok reaction segments. The host, Travis Tyler is a 7-year marketing veteran from the tech unicorn, PandaDoc. Be warned his teaser clips will probably make you spit your drink out laughing.
Reviewer says: "Laughing and learning – this is one of my fave podcasts ever!"
Check out this episode: Couples Counseling – to Align Sales and CS Teams
Host: Mark Evans | Company: Marketing Spark
Marketing Spark is a podcast that features the unique insights of Mark Evans, an industry veteran who has worked with 100+ B2B SaaS companies. As a fractional CMO, strategic advisor and coach, Mark invites numerous guests on his podcast to discuss innovations and recurring problems within the industry. 
Reviewer says: "Mark is uniquely focused on B2B SaaS, and it's so helpful to have such specific insight into what the experts are doing."
Check out this episode: How to Work With B2B Content Marketing Freelancers
Host: Klaudia Tirico | Company: B2B Marketing Exchange
Apple Podcasts | Google Podcasts
The B2B Marketing Exchange focuses on interviewing the industry's top influencers who live and breathe B2B within some of the world's leading companies. The emphasis is on content strategy, demand generation, account-based marketing, and sales enablement. The podcast offers new insights from high-level B2B practitioners in every episode.
Reviewer says: "Awesome podcast for anyone who works in B2B. It's a nice weekly check-in for your marketing brain."
Check out this episode: Breaking Through the Digital Noise: Content That Wows Audiences
Host: Pam Didner | Company: Pam Didner
As a B2B marketing consultant, author, and global speaker, Pam offers a unique perspective on B2B marketing. Hosting solo podcasts as well as featuring guests, this podcast is good if you want to hear individual opinions on what guests are passionate about. Episodes range from six to thirty-three minutes in length, so it's ideal if you're pressed for time and want to get to the crux of the matter.
Reviewer says: "Short, sweet, and totally on point. Pam's podcast is an excellent way to absorb her wealth of marketing and sales-enablement knowledge in small chunks."
Check out this episode: How to Encourage Innovation in Your B2B Business
Host: Jason Bradwell | Company: B2B Better
Apple Podcasts | Spotify | Google Podcasts
B2B Better is aimed at early-stage marketing teams within the B2B industry, with tips and tricks proving useful to all businesses using marketing to navigate change. With guests spanning from founders to CMOs, the diversity of information is valuable to everyone with a passion for marketing.
Reviewer says: "As you're growing your B2B business, this show is an absolute must-listen."
Check out this episode: Navigating Moments of Change
Host: Brian Burns | Company: B2B Revenue Leadership
Brian Burns is a 25-year veteran of the B2B industry, with skills in spring selling, advanced selling skills, SaaS, B2B marketing, and more. Focusing on sales within B2B, Brian truly understands how customers make their purchasing decisions and delves into numerous techniques and tricks that most of us will never have heard of. If you are in sales or like selling, this is well worth a listen.
Reviewer says: "Brian is in a league of his own. Essential listening for anyone who wants to win big."
Check out this episode: The #1 Thing That Differentiates the Best in B2B Sales
Host: Michael Stelzner | Company: Social Media Examiner
Apple Podcasts | Spotify | Google Podcasts
Michael Stelzner is the CEO and founder of the Social Media Examiner. His company has brought new insights into how B2B businesses can conduct themselves through social media marketing. If social media is your focus, this podcast is a useful font of relevant information in 45-minute weekly chunks.
Reviewer says: "This podcast gives amazing overviews, but dives deep enough to be extremely valuable to new people on the platform."
Check out this episode: How to Use LinkedIn Newsletters: A Guide for Marketers
Host: Yaagneshwaran Ganesh | Company: Yaagneshwaran Ganesh
Apple Podcasts | Spotify | Google Podcasts
Yaagneshwaran is an award-winning marketer, author, and TEDx speaker, who is an authority in the B2B industry. The ABM Podcast talks about strategies, tactics, engagement, and more. Notable guests include Seth Godin, Guy Kawasaki, and Neil Patel, and deconstruct the marketing strategies and tactics used by the top minds in B2B marketing.
Reviewer says: "This show shares amazing wisdom and experiences with remarkable guests."
Check out this episode: When to Monetize Your Podcast and How to Do it
B2B Marketing Podcasts Create Opportunities
Creating a B2B podcast can lead to many opportunities within your B2B content marketing strategy, including customer engagement, lead generation, and establishing your company—or yourself—as a thought leader in your industry.
When used alongside social media, podcasts can be a powerful way to speak to current and prospective clients. B2B marketing podcasts also offer a way for you to grow the success of your marketing campaigns by learning tips and tricks from experienced professionals. 
Along with being an evergreen source of outbound marketing, a B2B marketing podcast offers many opportunities to boost social media campaigns with repurposed content.
Using a powerful social media management tool like Oktopost allows you to track exactly which posts result in conversions and determine your social media ROI. Combining a B2B marketing podcast with social media is a great way to give value to prospective and existing customers—and let them have fun while doing it.