The Power of Social Engagement
Following the success of our "From the Experts" webinar series, I wanted to provide you with this content through another channel to make it easily accessible and digestible for our audience.
This is a summary of our latest webinar "From the Experts: The Power of Social Engagement", hosted with our good friend and partner, Jamie Lewis, Director of Business Development at Marketo Engage, an Adobe Company.
Watch the full on-demand recording here:
Why Do I Need Social Media?
Well, for the same reasons you need a marketing automation platform, and to adopt SEO and market intelligence. It's because social media is the third-largest engagement channel just after email and website. In a world that is constantly evolving, in order to stay consistent, competitive, and current, we need to up our digital transformation game.
As Colin Day, Managing Director, EMEA, and APAC at Oktopost put it: "the B2B buyer's journey has changed and customers have started to adopt a level of self-sufficiency and proactiveness that no longer aligns with what we would class as a 'conventional sales model'."
If we know that our buyers are engaging on other channels, why wouldn't we want to measure that impact? Social media plays a significant role in shaping the way our prospects and our customers engage with us as individuals, as well as the brands and the companies that we work for. If we look at the B2B buying journey more than 50% of B2B buyers now turn to networks such as Facebook, Twitter, LinkedIn, and even Instagram, in order to get peer reviews and information that can help them with those key strategic purchasing decisions.
Gone are the days where SDRs would just pick up the phone and cold-call prospects. How can they without their mobile numbers? Remember conferences and events? Well, we can say goodbye to those for the foreseeable future. The opportunities to engage with people in person is no longer, which is why now, more than ever, people are turning to social media in order to fill some of that void and be able to maintain some level of human connection.
How Can I Benefit from Social Engagement Data?
Understanding how social media contributes to your organization's bottom line will help you make better decisions as to where to allocate budget and resources. 
Once we understand where and how we're generating data, we can then leverage this social engagement data to enhance our existing lead nurturing, scoring, segmentation and attribution models to better understand the buyer's journey from start to finish.
Let's take lead nurturing, for example. From a social perspective, we put a lot of content out there. Sometimes this is done on behalf of the company or brand, sometimes it's done by individuals in the organization. The power comes from the interactions on these social posts. Based on what your audience is engaging with on social, you can route the individual into a nurture stream to drip additional, relevant content through other marketing channels, such as email. That's exactly where marketing automation comes into play. It enables us to do these things at scale and once we know that people are engaging with us, and we are properly nurturing them based on content that is interesting for them, we put them into a scoring model.  
How do we use social engagement activity to impact and influence lead scoring? Let's say we put out a post to our LinkedIn company page, our prospect engaged with it, and even added a comment (a positive one at that). Let's take that social interaction back to lead scoring, and maybe based on the positive comment, this leads' score increased by five (it's worth noting here that any social interaction and its variables can be factored into a scoring model). This positive interaction is likely a higher indication that someone is going to buy rather than just opening an email or clicking through on a CTA.
Bringing all of this together is the glue called marketing attribution. Where did my leads originate from? What marketing tactics worked for this particular individual or this specific opportunity? Most organizations will see a huge gap if they aren't monitoring social engagement data brought into their attribution models. 
As Colin Day says "I always talk about the three V's of sales –  volume, value, and velocity.  So hopefully, social starts to impact those three V's, especially the velocity side of things. How fast can I flow something for it from the top of the funnel to the bottom of the funnel and impact the bottom line of the business?".
When we're not measuring social media's effectiveness, we don't know it's effective. Now's the time to understand how that content resonates with your audience and how far that reach goes with your advocates. Once you're able to identify which touchpoints are most effective for specific individuals, you will likely find that social has played a critical role along the way.
The Power of Social Engagement Data
When we're talking about the impact of social engagement data and the power of social media, we're not saying "only focus on social and put all of your efforts into a social media strategy". It's simply to understand how social media contributes to the bottom line and the impact it has on your overall marketing strategy. 
We know that we get our data from three main sources – email clicks and opens, website visits, and CRM data. When we're adding social data into the mix here, we're just enhancing and improving our existing programs and the overall customer experience down to the communication strategies.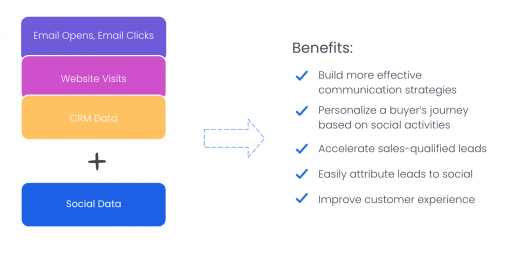 Because of the nature of social media, it makes it incredibly easy to take action and react in a timely manner and engage in meaningful conversations according to what our prospects are interacting with on social. It's imperative that we have an integrated campaign strategy as to not rely so heavily on one activity versus another. It's all about the blend, and an important part of that blend includes social.
Social Data & Marketo Engage
Jamie Lewis, Director of Business Development at Marketo Engage, has had a lot of experience working with customers on developing strong marketing strategies. And as we know, a successful marketing strategy must include social media. He and his team have come up with four easy steps to make sure your social strategy is a success.
First things first, our martech stack needs to communicate. Think about how your organization integrates marketing automation with CRM. Social media should be no different. Making sure your social media management platform is deeply integrated with your marketing automation platform and your CRM platform allows you to:
Simplify data unification and eliminate a social silo

Grow the database with social conversions

Enable more accurate lead scores 

Take social behavior into account when triggering new campaigns

Prove ROI and build more accurate attribution models
Next, develop a marketing plan that orchestrates engagement across all of your channels. I'll say it again for the people in the back: social media is not siloed! Our buyers' are moving between various different channels which means we want to personalize the content across channels and ensure that our messaging and tone is aligned. 
Third, we will want to calculate lead scores based on social engagement and activities. Lead scoring drives success in sales, and the more touchpoints we have to score off of, the quicker these leads move through the funnel. By incorporating social activity data into our lead scoring models, we can more accurately understand how interactions on social media affect the buying process and customer lifecycle. 
Last but not least, understanding the ROI of social media and how it contributes to the organization's bottom line. We can think of a sales cycle in three distinct stages: Early, Mid, and Late Stage. 
In the early stage, we're looking to understand the value we're creating with our early-stage social marketing. Think follower growth on our corporate channels, how it changes over time, what type of content affects these changes, and what actions are our followers taking (commenting, retweeting, sharing, etc). Really take the time to understand who these people are, what the cost per lead is, and how much we invested in that channel.
At the mid-stage, we're moving these leads from marketing automation and into CRM in order to easily track how many MQLs were generated from social channels. How many of these individuals were really engaged? Secondly, the SQL. How many of those marketing qualified leads were accepted by the sales team? This is a key indicator of the value of social media. Of those SQLs, how many turned into opportunities, and what is the value of that pipeline generated? 
This brings us to the last stage and what we can do now that we have all of this data and insights and the ability to tie it back to that person, or group of people. Based on that data collected, we can now fully understand what touchpoints attributed to this lead and understand how many opportunities are won by the people engaging on our social channels. Ultimately, how much revenue did social generate for my company? And lastly, the lifetime of those customers. Did they renew? Are they engaged? 
The power of social engagement data has to start with a social media presence. Without this, you are falling behind your competitors. Take the time to understand your audience, the content that best resonates with them, and put in the efforts just as you would with any other marketing channel, and you will undoubtedly reap the benefits of social media.