How to Use Intent Data to Fuel Lead Gen Efforts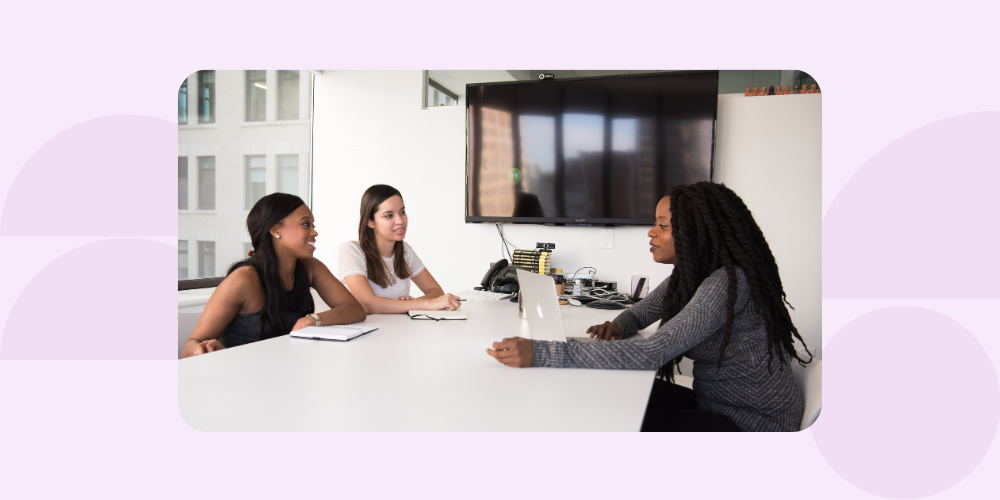 Cutting through competitive noise is difficult for B2B marketers, making lead generation tricky. Fortunately, you're not alone. 
Lead generation is proving difficult for 68% of B2B companies, and 61% of marketers pinpoint it as their top challenge. The B2B buyer journey has shifted, with sales reps now only having roughly 5% of a customer's time. Since B2B buyers primarily research solutions on their own, effective marketing is crucial. But how do you subtly engage your prospects when they are researching solutions online?
Intent data is your key to simplified B2B marketing lead generation. The best way to identify, target, and convert these invisible leads is by reaching them whilst they're silently searching for the best solution. Intent data allows you to build robust targeted campaigns, boosting lead generation efforts, enhancing conversion rates, and increasing ROI for your business. 
Over 80% of B2B companies are now using intent data to personalize their marketing efforts, and to stay competitive, you need to be too.
Jump to Section:
What is Intent Data?
Intent data is information about the online behaviors of your prospects and evaluates their interest in purchasing your product or service. 
Intent data simplifies lead discovery by pinpointing prospects showing buying signals. It provides deeper insights into prospect behavior, enabling precise and personalized marketing strategies for better conversions. Essentially, intent data gives you an indication of whether a lead is likely to convert to a customer.
How Do You Collect Intent Data?
There are two main methods of collecting intent data:
First-Party Intent Data (Internal)
First-party intent data is collected by your organization from your own digital assets.
Sources include your website, email campaigns, ads, surveys, social media, or customer interactions. 
Third-Party Intent Data (External)
Third-party intent data is collected from external sources, that are not owned by your organization, revealing a broader view of your target audience's behaviors. 
Third-party data providers help you identify potential opportunities that are in your blind spots. This includes insights into your prospects' browsing habits and location, as well as a broader view of industry trends, competitor analysis, and market interests. 
Zero-Party Data
Zero-party data is information that online users voluntarily provide to businesses. This provides you with accurate information and reliable insights that reflect the preferences, interests, and intent of your target audience.
You can find zero-party data from interviews, surveys, and even from the signals they leave on social media.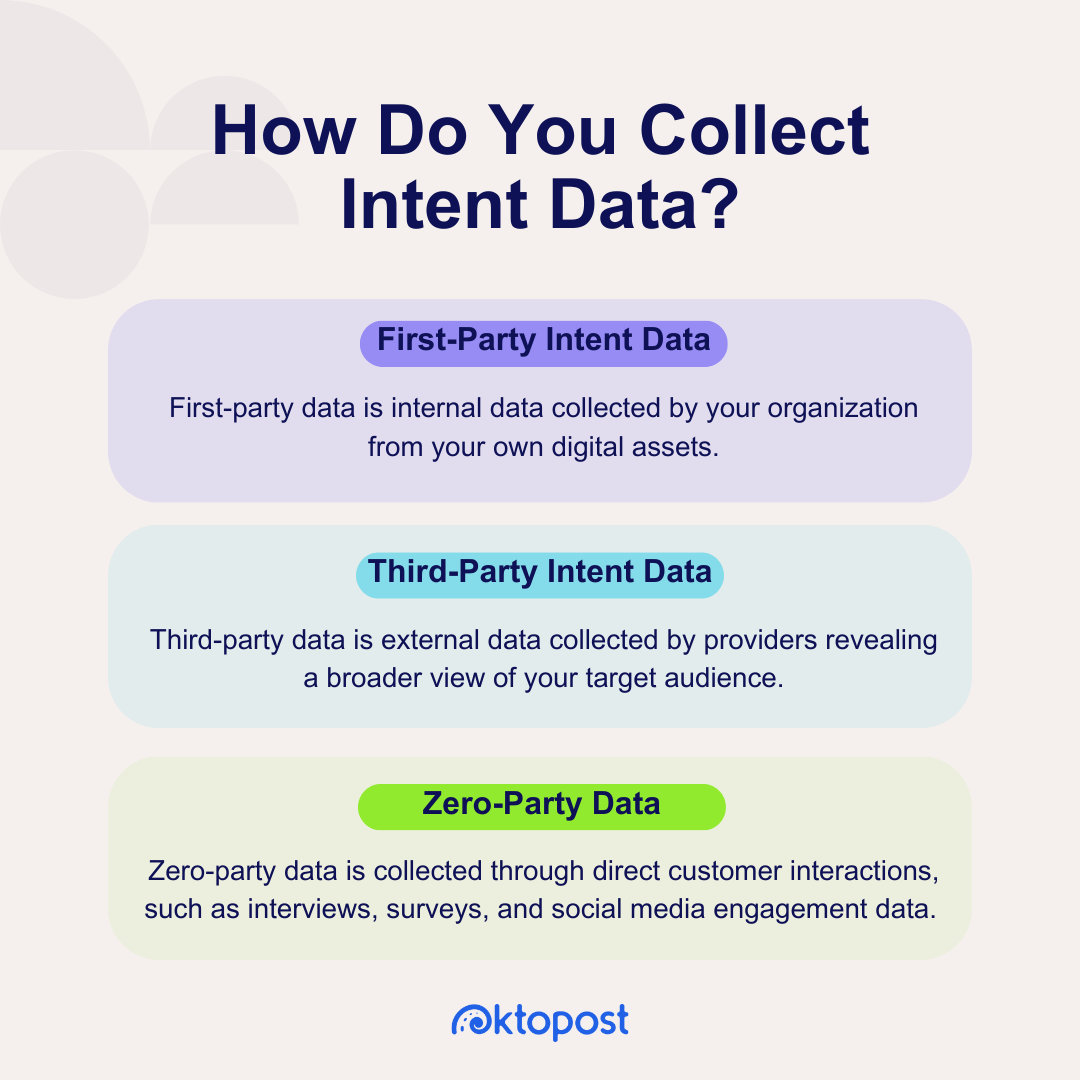 Types of Intent Data Sources
Search intent data: 

Search intent data is created when someone types a phrase or keyword into a search engine. 

Firmographic data: 

Firmographic data is a type of data that describes the characteristics of a business or organization. This includes the industry, company size, location, and revenue.

Technographic data: 

Technographic data reveals what software and hardware solutions your target audience is using.  You can use this information to customize your product positioning, emphasizing unique features or the benefits of integrating your product with their current software.

  
Engagement data: 

Engagement data discloses the level of engagement your target audience has with your content. This can include website visits, newsletter sign-ups, and ad interactions. 
But there's a whole pool of information sitting in silo that is invaluable to your strategy. This is where the fun stuff comes in: social media.
Social Media Engagement Data
Research shows that 75% of B2B buyers use social media to make buying decisions, and 50% use LinkedIn when evaluating these decisions. So, if you want to connect with potential buyers, it's crucial to incorporate social media in your intent data research. 
Compared to other sources of intent data, the information social media intent data offers you is more tailored and specific about your audience. Social media platforms capture intent data through interactions, engagement, and online conversations. This gives marketers a chance to capture a real-time glimpse of their audience's preferences, challenges, needs, and interests. When a prospect is engaging with content on social media, they are flagging social signals that they have an intent to buy. 
Here are some ways you can find these social signals and start using them to boost your lead gen efforts: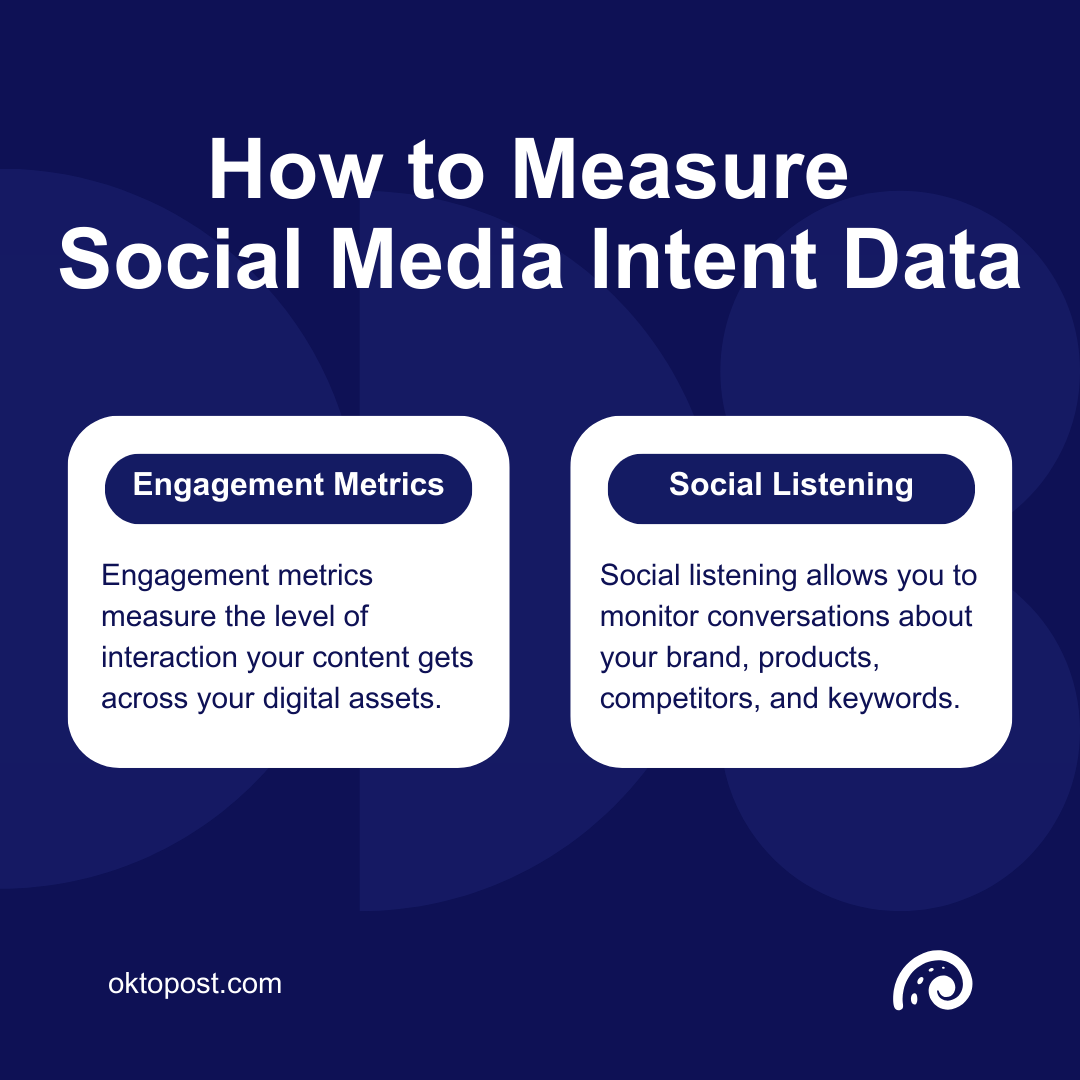 Social media engagement metrics:
Engagement metrics measure the level of interaction your content gets across your digital assets. Here are the most important engagement metrics on social media you should be tracking:
Likes 

Comments 

Clicks

Shares
Social media engagement metrics reveal online behavior patterns that can empower your strategy. 
Every time your content is gaining engagement on social media, you're receiving information on active prospects in real-time. For example, if your prospects are interacting with specific topics, you've now uncovered inside information, giving you the advantage of knowing their specific interests and challenges. You can now use these deep insights to continue nurturing them with the right content. 
Overall, social media engagement data is a win for your marketing efforts. You can use this data to inform your strategy, spot prospective customers, and, ultimately, fuel your lead generation efforts.
Social listening:
Social listening is a method of monitoring conversations on social media. Through social listening, you can track conversations about your brand, products, competitors, and any keywords you are monitoring. 
You can then use these insights to define your content for lead-generation efforts. For example, if your audience is talking about the challenges of organizing and recording customer data, you can create targeted content that promotes your CRM tool that solves the pain points that they have, and convince them your CRM solution is the best option on the market. 
Essentially, with social listening, you can reveal your prospects' intent to buy, and gain a stronger evaluation of their interest in your product. Then you can use that information to nurture them through the funnel and turn them into a customer.
All in all, social media intent data is integral to your marketing strategy. With the right social media automation tool to centralize all this data, you can use these insights to enhance your lead-scoring strategy, personalize your content to connect with your audience and amplify your lead-generation efforts.
How Can Intent Data Boost Lead Generation?
While intent data is valuable, it's crucial to use it effectively to enhance lead generation. Don't just keep it as a reference; leverage and integrate it into your marketing strategies.
There are several ways you can do this:
Understanding your audience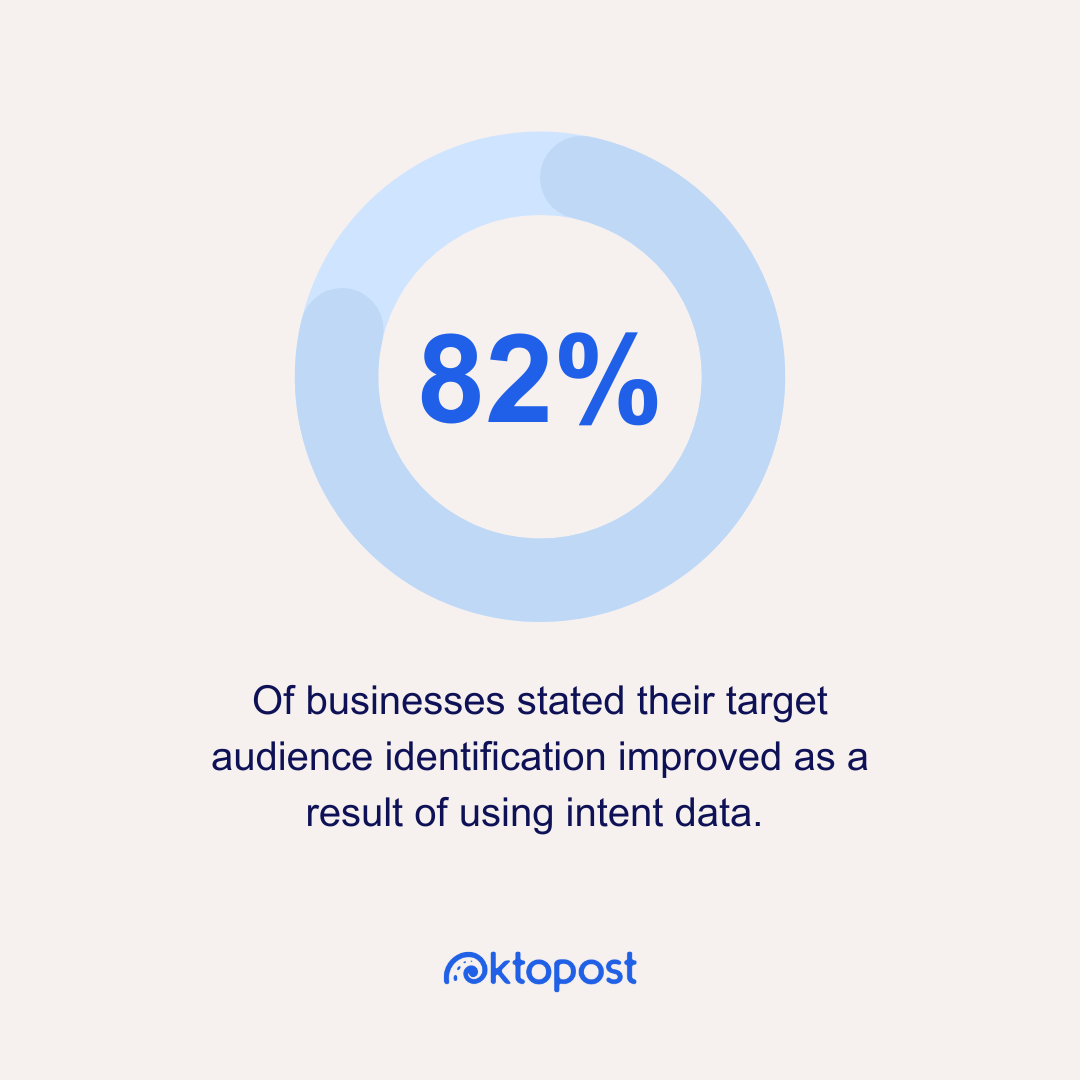 Source: Abdalslam
By combining the interests, pain points, and needs of your audience, intent data allows you to build robust customer personas that will make your marketing strategy much more effective. Businesses are seeing these results, in fact, 82% of businesses stated their target audience identification improved as a result of using intent data. This allows you to identify new quality leads and learn how to position your offerings to your audience. 
Our pro tip to make the most out of intent data: segment your audience based on their search intent and provide specialized targeted information about your product or service to each of these segments. This will result in an increase in engagement with your marketing efforts, attracting more leads to your business. 
Inform your content strategy
Intent data goes further than understanding the demographics of your audience. It reveals the motivations that are driving your audience to look for a solution that you can provide. From a simple search on Google, to signing up for a webinar, to liking your corporate post on LinkedIn, this data arms you with insights and allows you to optimize your content strategy efficiently. 
Based on the data you collect, modify your content to accurately address your target audience's pain points, personalize your content based on audience segmentation, and create timely, tailored content that feels authentic to your prospects. 
Efficient lead scoring 
Intent data provides real-time insights into potential customers' interests and behaviors, and by analyzing these insights, you can score your leads in terms of purchase intent more accurately. The prospects that show strong purchasing signals are likely to convert faster, allowing you to focus on nurturing the right leads effectively. 
Enhance your ABM campaigns 
Account-based marketing (ABM) is a marketing strategy that focuses on creating personalized marketing for each identified account or company, rather than individual leads. 
With intent data, you can identify which accounts are most likely to convert to leads and ensure your marketing is tailored to the needs of each account.
Final Thoughts
Intent data allows you to unlock deeper insights into the thought processes of your audience. By truly understanding your audience's needs, interests, and online behaviors, you can elevate your strategies to resonate with your target audience and catalyze your demand-generation efforts. 
Social media intent data should be at the heart of your marketing strategy to fuel your lead generation. What sets social media intent data apart from the rest is its ability to accurately identify your audiences' interests and online behaviors – which other forms of intent data cannot reveal – enabling you to successfully target them with relevant content that will inspire action. In addition, social media intent data is relatively easy to come by. Monitoring social interactions and engagement with specific content can yield valuable insights into your prospects' needs and buying readiness, without the expense of third-party intent data services.
By uncovering these hidden opportunities, you can enhance lead quality and conversion rates for your business. Statistics show that intent data can improve conversion rates by up to 202%. 
So, once you've nurtured your prospects with marketing, you can hand over a list of leads ready to convert to your sales team – and be very popular in the sales department. 
If you're interested in gaining a deeper understanding of the role of social media in intent data and how it can help you gain better-quality leads, contact us today.