4 Effective LinkedIn Strategies to Master B2B Marketing
It was only in 2003 when LinkedIn launched as a tiny professional networking site with only 20 signups a day. Since then it went through numerous transformations and is now considered the number one social media platform for content marketing among 94% of B2B companies. Research also indicates that more and more companies are using social media's power to generate leads. Despite being a popular strategy, many B2B marketers are not using social media and specifically LinkedIn to their full capacity.
Kristina Jaramillo, a LinkedIn strategist, argues that CMOs at top organizations only use LinkedIn as a tool for brand awareness instead of revenue generation. While brand awareness is a key marketing goal for B2C companies, B2B organizations focus their marketing goal on lead generation.
Jaramillo's examination of what top CMOs are doing wrong with their LinkedIn strategy should teach all B2B marketers what they need to do right. Instead of just focusing on distributing engaging content to your LinkedIn followers, you need to look at the complete picture. Many CMOs and social media marketers only consider the top of the funnel on LinkedIn. They start with the awareness stage, pull prospects in, then abandon someone moving down the cycle.
Before I give you some great tips, it's important to realize that LinkedIn does help B2B companies generate leads. In fact, if you look at the image below you'd be happy to know that LinkedIn is at the top in terms of lead generation.
This infographic by business2community will break down LinkedIn into real numbers. As you can see, over 10% of leads are generated from posts on B2B company pages!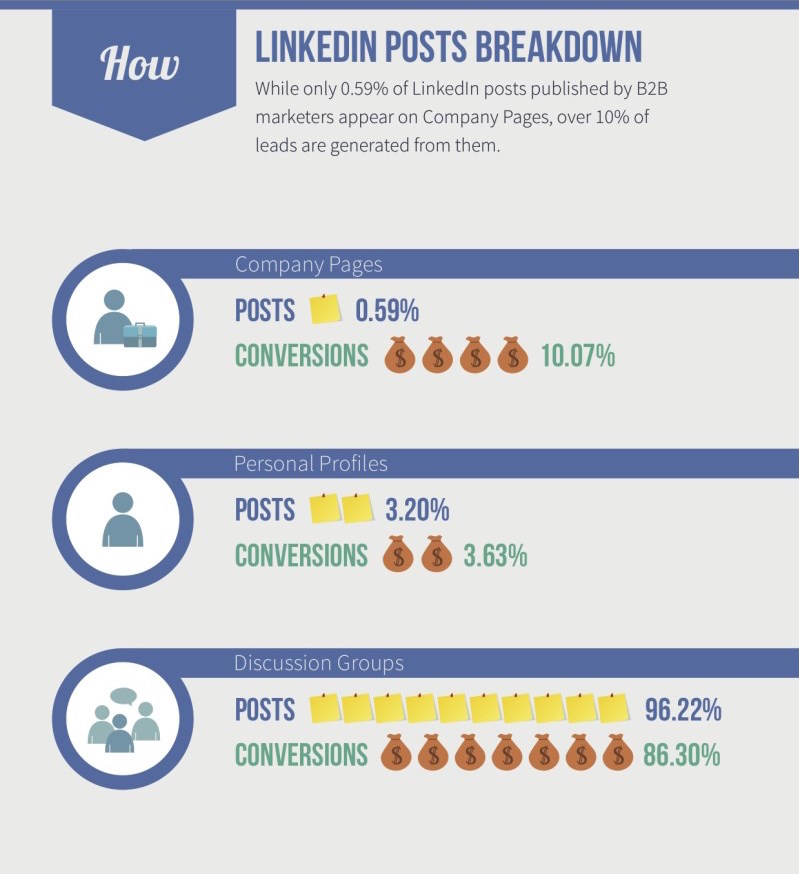 The underlining point is this: LinkedIn has great potential if you properly nurture leads from initial post to final sale. And here are 4 LinkedIn strategies to help you do just that.
1. Don't let your page become an extension of your website, turn it into a lead generating page
If all your company is doing is using LinkedIn to recruit employees and post product updates, then you're not seeing the bigger picture. LinkedIn should be a place for engagement and building connections.
Stand out from competitors by creating engaging copy and using attractive visuals. The banner image is the first thing prospects see, so it should not only be aesthetically pleasing, it should also add value through compelling text (e.g. having a certain call-to-action, highlighting something that makes you different from similar products, promoting exciting events, celebrating a recent accomplishment, etc.). The company description also serves as a pitch. That's why the first 2-3 lines should cut right to the chase, talking directly to your audience and getting them hooked so they want to click to "see more".
Build your company's thought leadership status in the industry by distributing and sharing relevant content, such as blog posts, infographics, webinars, or other thought leaders' content. Make sure that your feed is constantly updated with engaging content to show potential customers that you're more than a profile page with a link to your website.
Create showcase pages for better advocacy. LinkedIn offers this feature to help B2B companies generate leads by enabling them to present a brand, initiative, or a business unit to specific customer segments. Showcase pages basically help you target the right customers with the right information, so you can build long-term relationships with them.
2. Don't let marketing automation take over
When a CMO makes the first contact on LinkedIn and then allows a marketing automation program to do the rest, it makes the company look insincere. When people are browsing through LinkedIn groups, pages, and profiles, most of them are looking to establish a real relationship with a company. That's why it's important to take the time and initiate a personal interaction with prospects and show them your expertise throughout the buying process. Even if this personal touch is not coming directly from the CMO, as long as the company shows that it's there when you need, that's what prospects care about.
3. Join groups and create your own
Start searching for groups that fit your interests and the industry you work for and actively participate in them. Keep in mind that LinkedIn ranks groups according to their level of activity, so you ideally want to choose groups that are very active. This is a great way to foster relationships with like-minded individuals from the B2B world. Once you become more knowledgeable of a successful group you're ready to build your own. Having your own group is important to establishing your thought leadership – you can choose whether you want to be in control of who becomes a member ('Unlisted groups'), or have people join without permission ('Standard groups'). As long as you approach the group as an expert in the field and not a salesman, you can easily connect and interact with your target audience.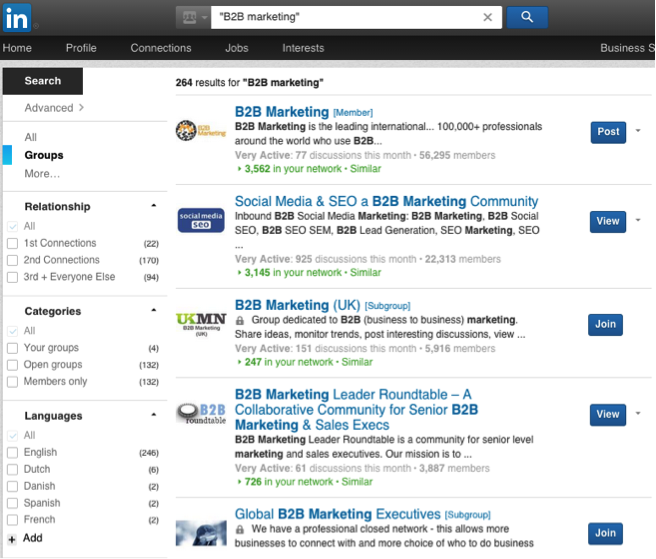 4. Don't forget to foster relationships
Above all, you need to remember that LinkedIn is a great place to engage with buyers, not just bombard them with information. It's a professional environment for building relationships between companies, customers, and experts. Whether it's the CMO or an entry-level marketer, you can build a diverse and supportive community where you can share your own advice and learn from others. As a result, you gain the authority to nurture leads all the way down the funnel and turn prospects into valuable customers.
Conclusion
For marketers, LinkedIn is a breeding ground for brand awareness. But they must start thinking beyond this basic tactic and focus on how they can turn leads into customers. This is only made possible if they apply the entire funnel to any social plan and consider how buyers engage on each platform. By taking advantage of the tools LinkedIn has to offer, publishing the right content on a daily basis, and seeking relationship-building opportunities, marketers will begin to see measurable results.